Ableworld Franchise Scotland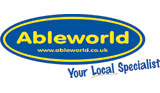 Request FREE franchise prospectus
Ableworld is looking to expand their operation in Scotland…could it be the opportunity you are looking for?

Ableworld is the largest mobility and stairlift retailer in the UK. Since its founding in 2001, Ableworld has provided a range of products and services enabling the elderly and people with disabilities to live independent, active and comfortable lives. With the UK's population living longer than ever due to medical advancements, our top quality products, such as mobility aids and specialist home furniture items, are constantly in demand. This demand means that Ableworld wants to expand our business to new locations in the UK, and we are looking for the right people to join us as franchisees.
Why become an Ableworld franchisee?
As an associate member of the British Franchising Association, we pride ourselves on ethical franchising and do everything we can to support our franchisees. We provide full training and ongoing support, so no prior experience is required.
Ableworld franchisees benefit from two revenue streams: a retail outlet and a stairlift business. Operation of the retail outlet places the franchisee in the role of a specialist retail manager providing high levels of customer service. The responsibilities involved in running the stairlift business include providing quotes, installing and repairing equipment. The two-sided nature of the business makes it an ideal venture for a couple or for joint business owners.
How much does an Ableworld franchise cost?
In comparison to other high-investment retail businesses, an Ableworld Franchise can be started with as little as £25,000 of your own money*.
*The total cost of a typical retail outlet and stair lift operation is c.£75,000 but our franchise proposition has been approved by all the main high street banks, finance (subject to status) can be arranged for up to 70% of the total investment.
We are looking for ambitious individuals who have what it takes to follow our proven business model and develop a thriving retail outlet. Sound like you? If yes, get fuller details on this exciting opportunity, please request our FREE and non-obligatory franchise prospectus by filling in the form below.