McDonald's Franchise Scotland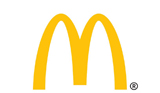 Request FREE franchise prospectus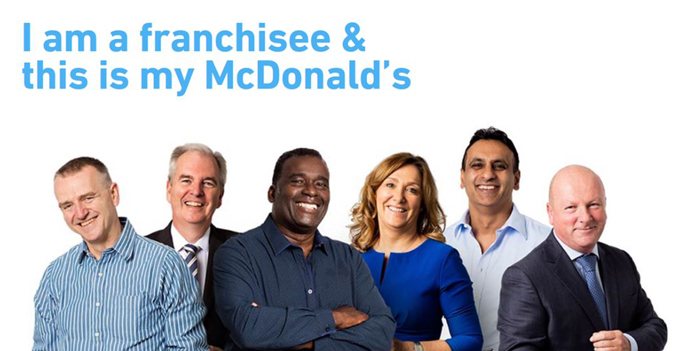 We're always looking for hands-on, ambitious people who are ready to make a long-term commitment to our business. As a franchisee, you'll need to make a significant up-front financial investment, which means having at least £85,000 in unencumbered funds. You'll also be ready to lead from the front and work within our framework to give yourself the greatest chance of success.
A franchise at McDonald's is an appealing investment, but it's also a big ask. We look for dedicated individuals who are willing to work hard, and we have a rigorous selection process to ensure we choose the right people. If you're up to the challenge, the rewards can be worth it – the average restaurant has a cash flow of between £95,000 and £200,000.

"I left school at 18 and joined the Army as an officer, I stayed in the forces for 21 years and was attached to various regiments and corps.
I took voluntary redundancy because I didn't want to send my children away to school. And it was during my resettlement that I discovered my passion for business. Deciding what to do after such a varied career was a big decision, but McDonald's was the perfect fit for me and my skills."
What will it cost?
Restaurants typically cost between £150,000 and £400,000 to buy.
You'll need to provide 25% of the investment in unencumbered funds upfront – the rest can be funded through a bank loan
You'll need to pay a one-off franchise fee of £30,000
Training costs of around £750
You'll need to pay a refundable 5000 security deposit when you start your training, which we'll refund when you buy your first restaurant.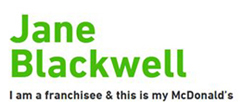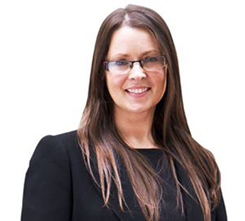 "I joined the police force when I was 21 and stayed there for around nine years. But I had caught the bug for business. My first venture was in retail, and was a real community hub. That's part of the reason I chose McDonald's: community is important to them too. I also visited regularly with the children, so it was a brand I trusted. It was within my financial research and, when I did my research, it ticked all the boxes."
Community
As a business, we're passionate about giving back, whether that's through charity work that allows parents to stay near their sick child in hospital, or initiatives like our involvement with the FA's Grassroots Football programme. We do a lot for our communities – and we expect our franchisees to do the same.
Support
When it comes to training and support, our franchisees receive some of the best in the industry. That's because we believe that our success starts with yours.
So you can look forward to support from our Franchisee Consultants as soon as you start your training programme. They'll help you to optimise sales and profitability while keeping quality, service and cleanliness standards high.
Franchisee Consultants usually work with three franchisees in total and have many years of experience in our industry. Their operational knowledge is second to none. They really know our business, inside out, from the top down.
And because they've run restaurants they know exactly what you're going through and how to help you. So there's nothing they don't know about getting the very best out of you.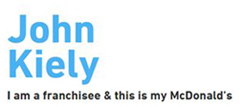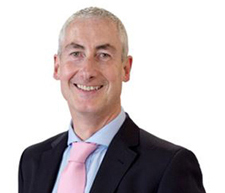 "Before I became a franchisee, I worked in civil engineering manufacturing. My role meant that I travelled all over the world building sales teams. However, I was bringing up a young family and being away so much wasn't fair on them. I also wanted to start up my own business and create my own legacy."
The Application Process
The time taken to select a Registered Applicant (a franchisee in training) varies considerably. In 2014 we invited nine applicants to join our training programme.
The speed of the process depends on both your availability and that of our Operations and Senior Management Team. While it's an extensive selection process, we work hard to be as transparent as possible to ensure we make the right decision for both of us.
Add a minimum of nine months of training to our selection process, and you can see why we only want to hear from people who share our passion, dedication and long-term goals.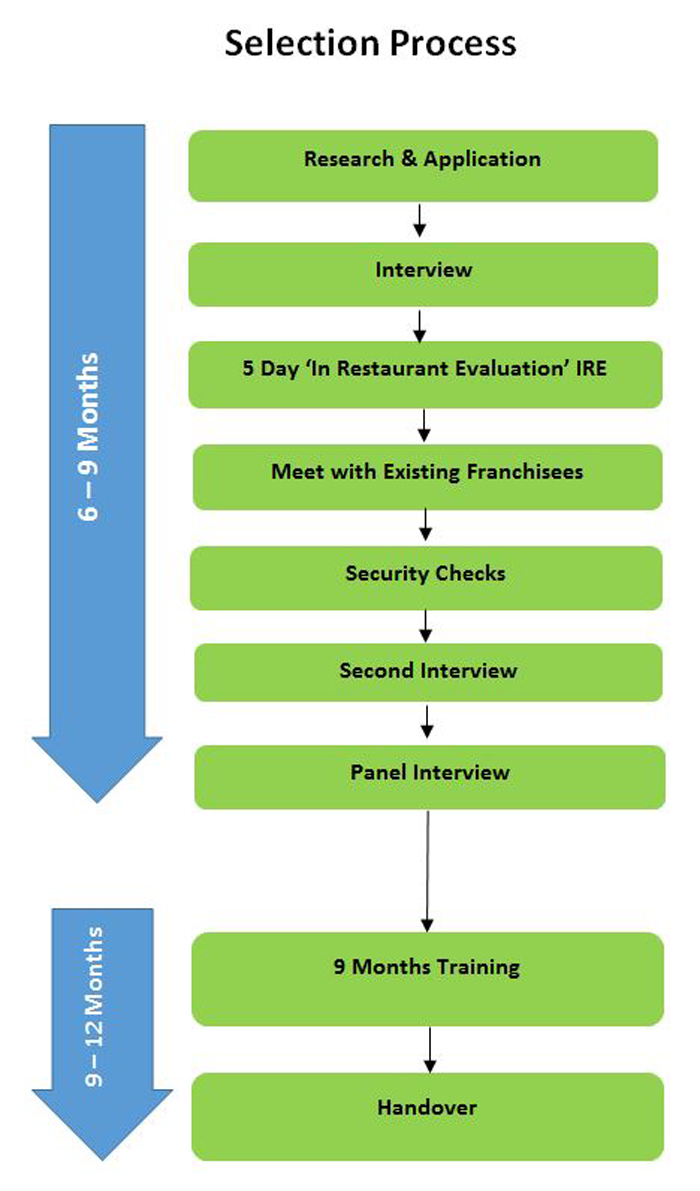 Register Interest
Before we accept an application, we'll want you to understand exactly what we offer. To that end, we host insight days for potential franchisees at locations all over the UK. Complete the form below to book your place.
We also attend exhibitions and industry events to give you the chance to meet our people and hear about what being part of the McDonald's story has meant to them.
Please complete the short form below to
receive more information: