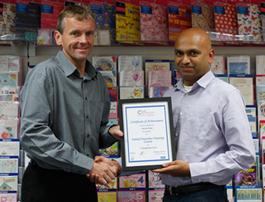 Leading greeting card publisher and franchisor, Card Connection has today announced that Hanish Patel has taken over its London territory. Hanish will now supply Card Connection's extensive range of quality greetings cards and accessories to 285 stores in Central and North West London.

Previously, Hanish ran his own gift and stationery shop in Oxford for five years. However; "the commute became too much and London was calling," confirms Hanish. "I became familiar with Card Connection's range and award winning service through the franchisee who merchandised my Oxford store. I realised owning a Card Connection franchise could offer me the flexibility of running my own business, much closer to where I live. I also felt my experience as a retailer could be helpful with customers.

"I have now completed my training which was excellent," continues Hanish. "It provided an in-depth look into how to deal with customers, merchandising and all the processes needed to successfully run the franchise. The head office staff have been really supportive to help me with the hand over which has been be full-on in the run up to Christmas – one of the busiest times of year for card sales.

"I am particularly excited about the products," explains Hanish. "The constant stream of new card designs is really strong. In addition, the association with UKG also means Card Connection has a great portfolio which impresses the retailers and this sets us apart from the competition. I am also looking forward to introducing the brand new, bright pink point of sale displays very soon as they are sure to make an immediate impact on sales!"

Card Connection franchisees supply greeting cards and accessories in retail outlets on a 'consignment' basis, also supplying the display equipment free on loan if appropriate, minimising the retailers' costs and maximising their profits. This is one step beyond 'sale or return' as retail customers don't have to buy the stock initially; they only pay for what they sell. Card Connection's award winning merchandising service provided to retailers has proved popular all over the UK and Ireland.

Card Connection which last year celebrated its 21st year in operation as a franchisor is one of the UK's largest card publishers and is the market leader in the franchised distribution of greeting cards. The business' unique model of consignment sales has resulted in a strong brand and established reputation which has been proven over many years. Through its franchisees Card Connection supplies about 12,000 retailers throughout the UK.

Card Connection is part of UK Greetings, which is a subsidiary of American Greetings Inc., one of the largest greeting card publishers in the world and has limited vacancies for franchisees that are keen to run an expanding business. Since the franchise network in the UK is complete, the available opportunities now consist of acquiring an already-established territory from an existing franchisee. These vary in price according to their level of development, but start at £7k + Stock + Card Connection fee with earnings potential in excess of £50k per annum.