Join the UK market worth an estimated £4.7 billion with a Merry Maids franchise business
If you are searching for an opportunity to be in business for yourself but not by yourself, the Merry Maids franchise should be on your 'one to watch' list!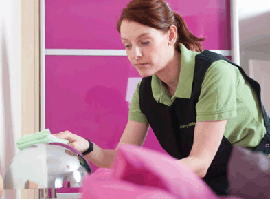 Not only do Merry Maids offer you a proven franchise model but, by becoming one of their franchise owners, you benefit from an established and globally reputed brand name behind you. Additionally, at every step of your franchise journey, the Merry Maids franchise team are on hand to help you build your own thriving business.
Merry Maids are currently looking to expand further in the UK with ambitious, like-minded individuals. Sound like you?
Request our FREE, non-obligatory franchise prospectus here for more detailed information on our franchise offering.

Be part of our success story
Merry Maids' success is built upon our understanding that time is a precious commodity and that domestic cleaning services can take a lot of stress out of our clients' lives.
By continually offering a top-notch, professional service every single time, Merry Maids have a large and growing base of loyal customers who reward us with their trust in their homes.

Established brand and global presence
Merry Maids is proud to be a member of the ServiceMaster Family of Brands which was founded in Chicago in 1929 and was first launched in Britain in 1959; with over 55 years' experience of franchising in the UK, you can be sure to be investing in an established franchise which a globally recognisable brand.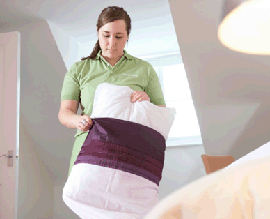 Merry Maids was created in 1979 in Nebraska, United States and became part of the ServiceMaster family in 1988. This makes Merry Maids the largest domestic cleaning franchise network in the world.
Merry Maids has expanded globally with more than 600 locations throughout the US and Canada, as well as franchises found in Malaysia, the Philippines, South Korea, Japan, and Hong Kong. Merry Maids employs more than 8,000 home cleaning professionals globally, who clean more than 300,000 homes worldwide.
How much does a Merry Maids franchise cost?
As this is a home-based, management franchise overheads are low; you would invest only £19.995+ VAT*.
*As a bfa registered franchise, banks may lend 50-70% of the cost depending upon your financial history.
Merry Maids want you to succeed, so for this investment you would receive everything you need to launch and build your business.
What do I get for my investment?
Your investment in a Merry Maids franchise will give you all the tools, training and support necessary to create a thriving Merry Maids business.
Primarily, new franchisees attend three weeks of comprehensive training which provides essential practical and theoretical training to ensure they have a successful franchise journey. This includes business and marketing planning, financial management support, and publicity support for business launch. In addition to your own bespoke territory, you also receive:
Your own web pages
Additional 10,000 personalised leaflets
Yell.com advertising package for 12 months
Google AdWords 'silver' package
Access to online shop for products and equipment etc.
Bespoke business stationery
Bespoke Merry Maids Brand Management System
Up to one years' cleaning products*
Branded uniforms for four teams of maids
All tools and equipment, including 10 vacuum cleaners
IT set up, guidance and on-going support
Brand email mailboxes inc. up to 10 email addresses
Access to SM Support e-portal for all documentation
To get full details of what your receive for your investment, request our FREE prospectus here.
Next steps
For more information on this exciting franchise opportunity, please fill out the form below to receive more information about this business prospect and to enquire about Merry Maids' Discovery Days.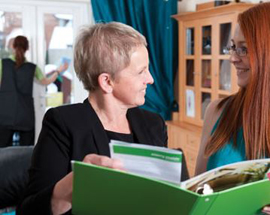 Discovery Days are a unique opportunity to meet the support team in an informal way for a non-obligation chat about the franchise business. They would be delighted to answer your questions and help you understand if this is (or isn't) the right way into business for you.
At the Franchise Support Centre in Leicester brand operations manager will discuss all things Merry Maids. All questions on the franchise model and Merry Maids proposition will be answered.