---
Buying a franchise is a complex process that should be undertaken in a logical order. You need to make sure you do your research thoroughly including finding out the basics of what franchising is, before looking at whether it is the right route into business ownership for you. Once you understand this, you are able to evaluate and find out more about the franchise opportunities available.
Our Franchise Guide takes you step-by-step through the franchise buying process. In this first stage we will look at what franchising is including the two different types of franchise methods, and the advantages and disadvantages of buying a franchise.
What is a franchise?
In simple terms, a "franchise" is an agreement between two parties which allows one party i.e. the franchisee, to market product or services using the trademark and operating methods of the other party i.e. the franchisor.
There are two types of franchise methods - 'Business Format Franchising' and 'Product and Trade Name Franchising'.
1. Business Format Franchising
The most common method in the UK is Business Format Franchising. By using this method the franchisor grants the franchisee the rights to use their logos and trademarks, as well as a turn-key system for doing business.
A franchisee often received help from the franchisor in regards to site selection, store layout and design, recruiting and training staff, marketing the business, preferred supplies contacts and more.
The franchisee in return has to pay an upfront franchise fee as well as ongoing royalties to the franchisor. The franchisor uses this money to help further develop the system through marketing, product and market research, and ongoing support.
2. Product and Trade Name Franchising
The other franchise method is Product and Trade Name Franchising. This type of franchising does not involve royalty fees.
The most important thing that the franchisor provides is the product; the franchisee is required to purchase the product or range of products exclusively from the franchisor. The franchisor also provides national marketing and advertising campaigns, logos and trademarks.
This type of franchising is mainly associated with industries such as petroleum, soft drink distribution and automotive.
Product and Trade Name Franchising has 3 distinctive characteristics:
The franchisee sells goods which are supplied by the franchisor or a person affiliated with the franchisor
The franchisor helps the franchisee to secure accounts or, depending on the type of business, locations or sites for rack displays or vending machines
Within 6 months of opening the business, the franchisee must pay the franchisor or a person affiliated with the franchisor
Advantages of franchising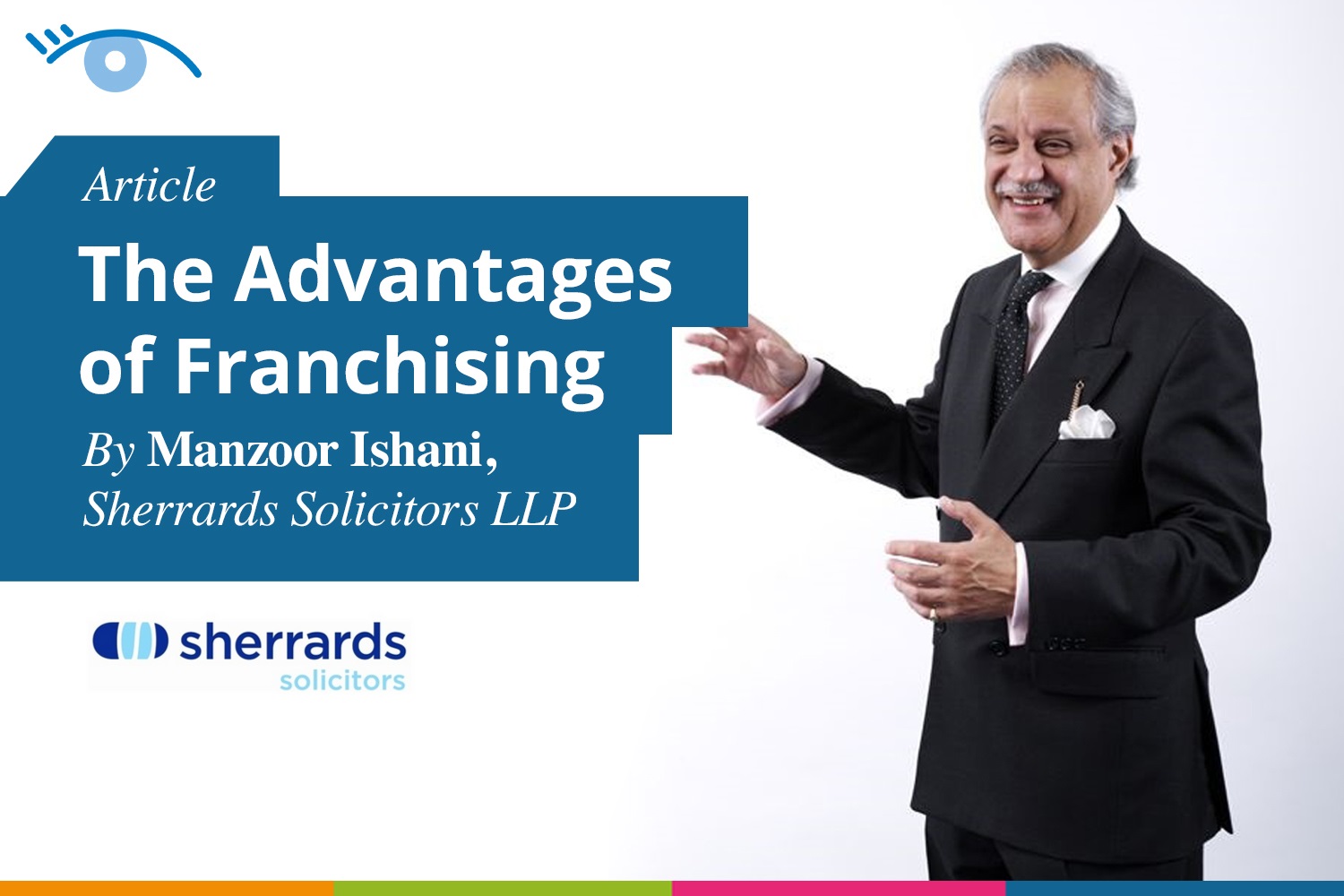 In this article, franchising expert, Manzoor Ishani, Sherrards Solicitors, discusses the advantages of franchising and the top 7 reasons reasons you should consider buying one.
1. Less risk
In a nutshell, the greatest advantage of a franchise system is that it reduces risk of business failure. This is due to the fact that an ethical franchisor will have a tried, tested and proven business concept in the market place. Therefore, most of the wrinkles will have been ironed out and the risks to the franchisee minimised.
It is a well known fact that less than 7% of franchise owners fail within the first 3 years, as compared to over 90% of new business start ups.
2. Competitive edge
Franchising enables a small businessman to compete with big businesses and a franchisee can take advantage of the economies of scale. All franchisees acting together can buy more cheaply and on better terms than an individual small business.
Add to this the franchisor's reputation in the industry, the franchisee can trade under a recognised brand and should have a distinct advantage over any independent small business competitor.
In theory at least, the products, equipment and system will have been previously market tested and therefore they come to the franchisee with a certain degree of 'ready acceptance' by the consumer.
3. Training and Support
Through training imparted by the franchisor, the franchisee climbs a very steep learning curve in a shorted period of time, thereby increasing their chances of succeeding considerably.
For example, someone who wishes to set up a dress hire business would find it very difficult to get the stock mix right at the outset. A franchisee, however, should have the benefit of his/her franchisor's experience and should receive advice on the range and mix of the stock to carry etc.
The franchisee has the benefit of the management and administrative experience of the franchisor in addition to which most franchisors provide back up and support including trouble shooting services to assist franchisees in their daily endeavours.
This support includes managerial and administrative services, product information and marketing support
4. No previous experience needed
No previous experience in a particular business is necessary for a franchisee to operate it. All deficiencies of know-how are made good, again, by training imparted by the franchisor.
Indeed, one of the proudest boasts of franchisors is that they have the ability to turn a butcher, baker or candlestick maker into a fryer of chicken, dry cleaner or quick print shop operator.
Any lack of knowledge on how to run a business is not a problem as a franchisor will provide the necessary training to the franchisee.
5. Hit the ground running
Franchisees "hit the ground running" when they open a franchised outlet as they enter the market with a recognised brand name, proven business system and products and or services which have been market tested.
6. Pooled resources
A franchisee has the ostensible backing of a large organisation and this is achieved by the pooling of resources, particularly in the field of advertising, marketing and promotions where each franchisee, by contributing a little, can have the benefit of a large fund for this purpose.
Franchisees are therefore able to have their goods and services promoted through media which would otherwise be closed to them.
In a well-run and structured franchise business, the franchisee is left to concentrate on selling the goods or services while at the same time receiving the benefit of continuous market research and development to improve the business and the franchised system.
7. Exclusive territory
In many cases franchisees are given exclusive territorial rights and this, in effect, gives them a monopoly over the area allocated to them, certainly in terms of doing business under the franchisor's trade name.
The "Disadvantages" of franchising
Whislt we believe franchising is a great model for those looking at business ownership, we do appreciate it might not be right for everyone. To help identify if franchising might be right for you, we have outlined some so called "Disadvantages" or drawbacks that some prospective business owners may not be comfortable with / need to understand in more detail before proceeding with their franchise research.
1. Lack of independence
An important feature of franchising is that every aspect of the business format is defined and each outlet is operated strictly in agreement with this format. Not everyone would be happy to operate a business under such constraints and you must consider how well you can accept this aspect of the franchising system when looking for a franchise to buy.
Discipline: Buying (licensing) a franchise means working within a system in which there is little freedom or scope to be creative. Almost every aspect of operating the business is laid down in the manuals.
Franchisor Monitoring: Regular field staff monitoring visits are welcome initially, but as time passes you will feel able to do your own trouble-shooting and you may come to regard the franchisors interest as an intrusion - it is after all your business.
Service Charges: At first these services are necessary and franchisees do not mind paying for them. However as time goes on, if less use is made of the franchisors services then franchisees can resent making the continuing payments.
Reputation: Each franchisee affects the reputation of the whole system depending on their performance and ability. In many franchises there is a wide gulf in the quality of product or service between the best and the worst franchisees. Thus any franchisee can harm the reputation of all outlets in the chain, even internationally.
2. Inflexibility
Responding to the market: Franchising tends to be an inflexible method of doing business as each franchisee is bound by the franchise contract to operate the business format in a certain way. This can make it difficult for a franchisor to introduce changes to the business format, refit outlets, or introduce new types of equipment. In some franchises it can be difficult for a franchisee to respond to new competition or to a change in the local market.
The job itself: What may seem an attractive challenge now could become boring after a few years so it is important that you choose a franchise to buy in which you will enjoy the work, or which has potential for growth.
3. Risk associated with franchisor performance
It is important to recognise that not all franchise businesses are soundly based or well run. In signing the franchise agreement you are formally binding yourself to a particular franchisor and it is, therefore, vital to select one which is competent and ethical.
There are 4 different categories of franchisor; some should be avoided at all costs, while others will vary in attractiveness according to the level of risk you are prepared to take.
1. The Established franchisor: This represents the least risky type of franchise opportunity. The business format will have been fully tested in a number of locations, most likely abroad too, and although the initial cost of opening such a franchise may be relatively high, a franchise with this type of company will be highly attractive to anyone for whom security is important.
2. The New Franchisor: There is nothing intrinsically wrong with a new franchise but great care must be taken in deciding to invest in any particular franchise. As franchisors incur high initial costs, they need a minimum number of franchises to break even. When a franchisor has fewer than the break-even number of franchises it is likely that
More effort will go into selling franchises than into providing support services.
There will be some deficiencies in services in order to keep costs down.
Financial resources will be strained.
In this start-up phase the franchisor is vulnerable to financial problems if franchises cannot be sold quickly enough. Franchises in this take-off phase are potentially those, which will earn the highest returns, for example if the product or service is outstanding in some way a large territory can be covered. With a franchisor you are in a position near that of an independent business - greater return. Depending on the risks you are prepared to take, this type of franchise may be attractive, or one to be avoided.
3. The Unethical Franchisor: Unfortunately some franchisors have no intention of entering a long-term support relationship with the franchisee, instead they have heard that franchising is a way to make money quickly out of gullible franchisees. This is done by setting up a shell franchise - lots on offer but nothing to back it up, then selling such franchises to those who are so keen to become a franchisee that they fail to make a thorough appraisal of the business on offer. Make sure that you spot this type of franchise, take time to investigate different opportunities.
You cannot afford to learn from your mistakes.
4. The Incompetent Franchisor: These are franchisors who are not offering franchises to perpetrate fraud but who are incompetent in one or more of the following ways:
The basic business is unsound
The franchisor is under-resourced and may not be able to fund the initial running of the business
The franchisor has not run a pilot test so cannot confirm that the business is actually franchiseable
They have not used experience or accredited franchise consultants or lawyers
Their manuals and start-up assistance and support if of poor quality
How long is a franchise term?
When you buy a franchise, you are not buying the rights to own that franchise for unspecified period of time, instead a franchisor will grant you a license to run your franchise for a specific period; this is known as the Franchise Term.
The franchise term can vary between franchises, this is usually between 5-10 years, with the option to renew made available if you are a franchisee in good standing. The period and the terms of renewal, such as the payment of a renewal fee and whether you are obliged to refurbish or update aspects of the business, will be outlined in the franchise agreement.
In general, the period needs to be fair and hence long enough for you to recover your investment and loans associated with the purchase of the franchise.
Franchisees are able to sell their business before the end of their franchise term. If doing this you must contact the franchisor and work with them to make sure that you take the correct legal steps.
It would be worthwhile seeking legal advice from a franchise specialist lawyer when looking to sell your business or renew, especially if the certain areas of the agreement need renewed also.
Tips for creating a bulletproof franchise strategy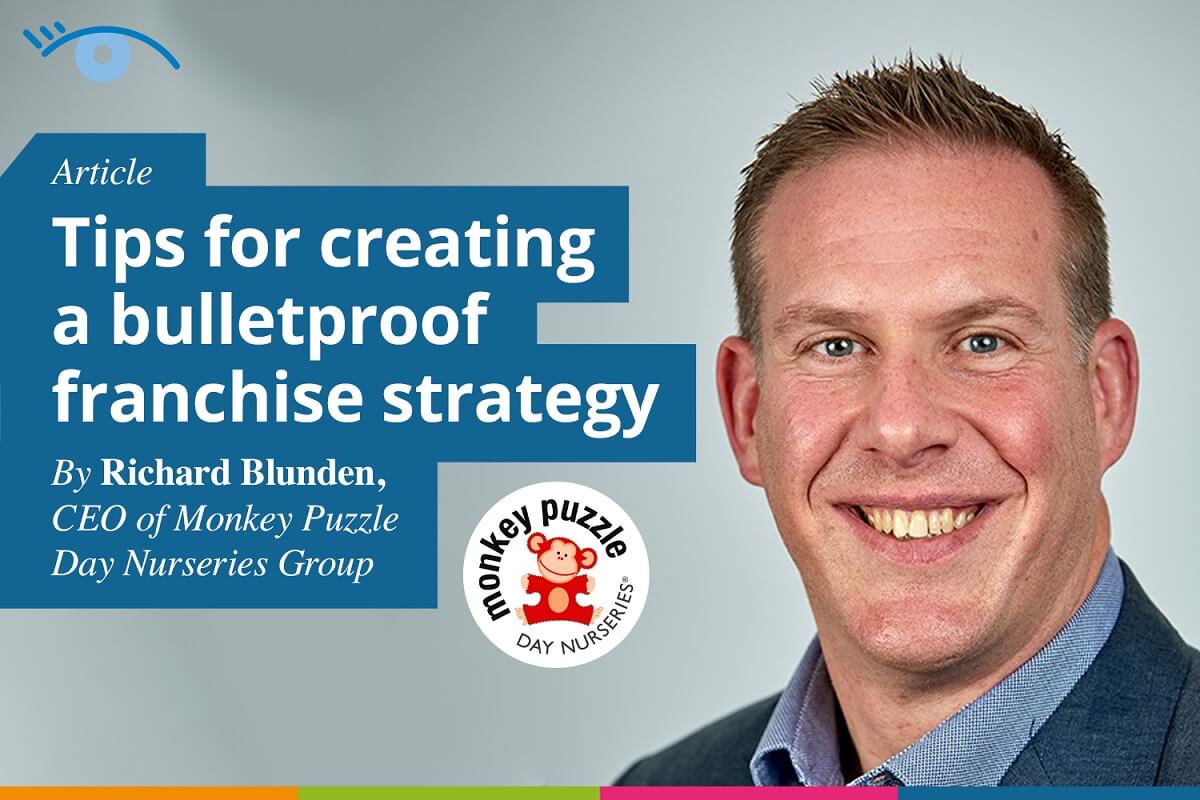 Opening a franchise has many benefits, the first of which is the ability for a franchisee to run their own business, but under the umbrella and instant recognition that comes with a national brand. Franchisees enjoy the support of that brand – and guidance from people with an intimate knowledge of business and their specific sector.
The ideal franchise relationship is all about partnership, with expertise close at hand, but the independence and autonomy to run your own business.
Richard Blunden has over 20 years' experience in franchising, working for some of the largest and most prestigious brands in the world at their UK head offices. Here he reveals how to get that franchise relationship right and shares some tips to help you feel more confident with your franchise strategy.
1. Do your homework
No matter how successful a brand is, it has to be a good fit for you. Take the time to understand the market, evaluating the opportunity and understanding the macro-economic factors and challenges your chosen sector faces. For example, how would a recession affect the industry?
Taking a close look at the franchisor is essential and not a stage that can be skipped! What's their market share? What are their plans for the future? And, crucially, what kind of support would they offer to you? Some franchisors set franchisees up and provide training, before taking a step back. Others will provide ongoing support for functions like HR, marketing and finance. How many of the people have you met and who is going to be your day to day contact early on compared to your ongoing operational support?
Don't forget the customers: conducting market research is important. Successful businesses understand their customers, and how to engage them and move the relationship from transactional to emotional.
One of the best ways to gain all this information is to meet current franchisees and visit their premises, helping you to see for yourself and perhaps walk a mile in their shoes.
2. Build relationships
Forming positive relationships with people at the franchisor is an important investment, as interdependency is the healthy place to be - they're important to you and you are important to them. Relationships come down to people, and when you need support, you really need it, therefore don't revert to a 999 relationship whereby you only pick up the phone in emergencies!
Your franchisor will/should be able to introduce you to other stakeholders such as solicitors, accountants, property experts and HR professionals – people who already know your industry and can provide expert advice.
Of course, the most important relationships you will have will be with your employees. They're central to your hopes of running a successful and sustainable business. It's your job to inspire, motivate and lead them.
3. Map out your vision
A mistake that many businesses make is that they don't have a clearly defined vision in place. It's often easy to say what you do and even how you do it, but you need to be able to answer why you do it. A great vision will give you direction, a North star to follow and also reminds you and the business the reason you got into this in the first place, particularly when you're facing challenges.
In the same way that you're trying to move your customers into a deeper emotional relationship with you, this also applies to your employees, who you want to engage far beyond the transactional relationship of a salary. You are relying on your people to unite and be greater than the sum of their parts by understanding the purpose of the business and the values through which you operate, irrespective of whether you are physically there in the business day to day.
Remember, culture eats strategy for breakfast! You can build a great strategy, but if your people don't buy into it or engage with it, you have very little left.
4. Be a fussy recruiter
You deliver your mission through your people and compromising who you bring into the business is compromising on the results that you expect, but also the ambassadorial role that they have for your franchise – and the wider brand.
Hiring people with the right attitude – and aptitude – is vital. You can train people with potential and they'll appreciate the opportunity to learn. Investing in your people gives them the opportunity to be great, builds loyalty and has a significant impact on your business as a great place to work.
Hiring carefully has many benefits: you might be able to introduce new skills to the business, find a committed person or create a new sense of energy. The most important benefit, however, is evolving your culture by hiring those who can bring their difference to the table, introducing their whole selves into the mix.
5. Invest in management information and systems
To lead a business, you need the right information at the right time so that you can make informed decisions and bring data into the conversation. With all kinds of dashboards and systems available (and scalable), do not make the mistake of under-investing in this area and leading the business with blinkers on.
Having easy access to monthly accounts is an absolute necessity, so develop a solid relationship with your accountant, and see your accounts as an opportunity to understand the business and project forwards rather than a dusty department in the corner that only looks backwards.
In summary
Building a business on the shoulders of a larger brand gives you a headstart with immediate advantages, but it is only part of the journey, the rest of which will need clarity of vision, great people, positive relationships, quality information and a lot of hard work! Only then are you setting yourself up to achieve your potential.
About Richard Blunden
Richard Blunden has over 20 years' experience in franchising, centred around the motor trade, working for some of the largest and most prestigious brands in the world at their UK head offices. Automotive is a valuable foundation stone in franchising experience as it is probably the most advanced franchise sector. Richard joined Monkey Puzzle, the largest franchisor in the industry, in 2019 to prepare the business for a period of significant growth and development, building on the fantastic platform from the founders, Mark and Rebecca Crosby, who pioneered franchising in the early years sector.
About Monkey Puzzle Day Nurseries Group
With over 60 childcare settings nationwide, Monkey Puzzle Day Nurseries is the third largest childcare provider in the UK. It's also the UK's undisputed market leader in the franchised nursery sector.
They offer franchisees support on everything from financial forecasting to property acquisition and marketing to recruitment. Their partners benefit from an extremely well-established franchise model, not to mention Monkey Puzzle's 30 years of experience in the industry.