---

Step 7 of our guide focuses on applying for a franchise. We look at how to narrow your list of franchise opportunities down to one or two, requesting information, attending an open day and what to expect at the interview.
Narrowing down your franchise options
When you have completed your due-diligence and have determined which franchise opportunities may suit you, then you should contact the franchisors for further information.
You can narrow down your list of possibilities to two or three companies, using an initial evaluation of the franchisors, their products and services, and their franchise opportunities.
Evaluate multiple franchises
In order to conduct a meaningful investigation of your choices as a potential franchise owner, you should explore more than one franchise company in great detail.
You may have sent an initial request for information to 10 or 15 companies, but you can't do an in-depth evaluation of all of them - and you won't need to.
Know what questions to ask yourself
In most cases, you can tell right away whether or not you are really interested in knowing more about a given franchise. By answering the following basic questions about each franchise that has immediate appeal for you, you will be able to pinpoint two or three real possibilities from among those that you initially thought might interest you.
Would you enjoy making a career out of running this franchise?
Do you have the skills - or could you learn them - to operate this franchise business?
Do you have the resources to invest in and operate this franchise?
Does it seem as if the returns of your investment in this franchise might be in line with your financial needs and objectives?
Does the franchisor appear reputable, forthcoming, and the type of company with which you would enjoy a partnership?
Checking off the above points will help you decide which franchisors you would like to know more about. As you continue your franchise investigation, don't rely solely on the information companies send to you.
How to Wow at a Franchise Interview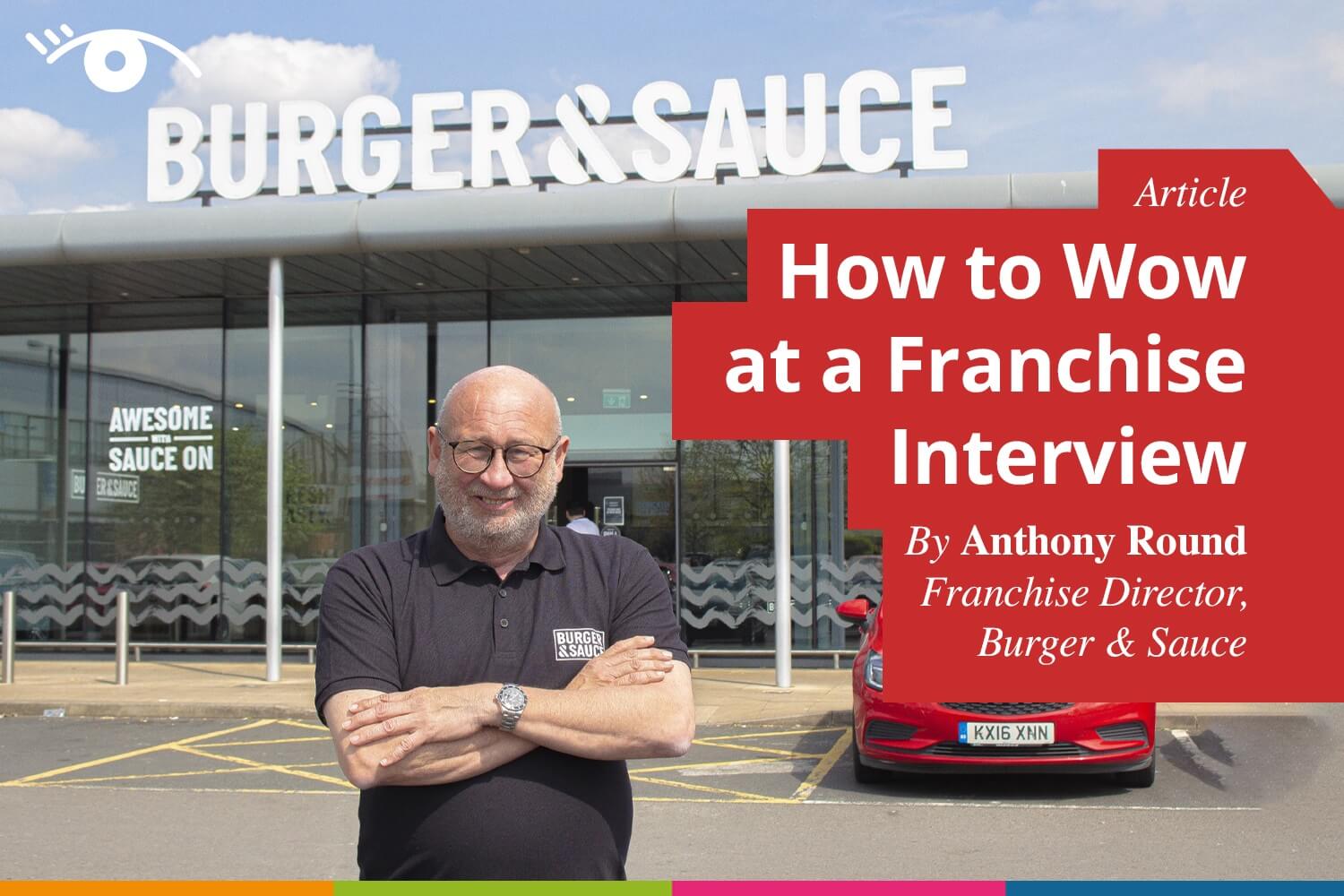 By Anthony Round, Franchise Director, Burger & Sauce
At Burger & Sauce we get lots of enquires from potential franchisees. Only a few of these applications will be successful. As a franchisor, we need to ensure we only work with the best franchisees and those that impress at interview stage. These are the people who will represent our brand and in return we offer them access to our brilliant concept, carefully crafted to create a thriving and profitable business. The majority of franchisors will also be looking for great franchisees to represent their brand, so if you've found the perfect franchise opportunity for you: how can you impress at interview? Here are my seven top tips on how to prepare, demonstrate the right skills and ensure you move to the next stage.
1) Research
I've interviewed hundreds of potential franchisees during my career. I want to know applicants have researched the brand in detail, without quoting bland statistics. As a fast-food operator, I also want to know the candidate has visited a store, tasted the product and liked what they've experienced! They need to have developed an excitement about the brand and show they are serious in order to move forwards.
2) Business Model
Potential franchisees also need to understand the business model and how it works. For fast-food it's important to have a grasp of fixed and variable costs for example. Candidates also need to understand numbers as they will be managing a P&L, staff and supply costs and balancing the books on a weekly basis. As a franchisor we train all our franchisees to manage all aspects of the operation, but it really helps if they have a business mind and are savvy about the numbers from the outset. Prepare examples of when you've managed business expenses in this way.
3) Location
For many franchised businesses, location is important. Most franchisors are selling defined 'territories' so franchisees need to live close by to the available area. In the quick service restaurant (QSR) industry, location takes on an extra importance because a convenience fast-foot outlet situated in the wrong place, aimed at the wrong target market or not able to attract sufficient footfall, will fail. Therefore, always think about where you plan to set up and demonstrate this insight to the franchisor. Your local knowledge of the area will be key here and so use it to your advantage.
4) A Realistic Business Plan
As the A Team used to say: "I love it when a plan comes together!" However, a plan will only ever work if it is well thought out, realistic and backed by solid research. Be prepared to discuss outline business plans at initial interview stage. Show an understanding of timing, an estimate of break once finances are brought into the mix and any timeline for launch. For franchisees considering multi-unit expansion, a more detailed plan including the timing of roll out is necessary for serious consideration.
5) Soft Skills
Interviews are the opportunity to demonstrate soft skills. They are the chance to show you are good with people which is important for any franchise situation. In the hospitality industry, managing staff and customer service is part of the everyday work and so franchisees need to be great communicators. Teamwork is essential in any franchise situation too, so and consider how you can demonstrate you are a team player. Think of examples and evidence where you have successfully been part of a team or have managed one for a successful outcome, to show you are good with people.
6) Business Elements
A franchisor is potentially going to hand over the 'keys' to their brand and successful operation, so they will need to trust that you understand the main areas of the business. For example, this may include: operations, profit and loss, customer service, staff management, rotas or supplier relationships. This list is long, and this will be relevant to individual franchise opportunities. Consider what's involved and show you are across all the different elements of the business.
7) Cooperation
Franchisors will be keen to promote and expand their brand. Therefore, they will be looking for someone who will cooperate. Someone who will work with them not against them. Franchisees will need to follow the franchise manual and take direction when needed. They must be creative and have the flare and drive to set up their business but work with the franchisor and the established business model for ultimate success. In some ways, if a potential franchisee is an "intrapreneur" rather than an "entrepreneur" this will work better. In other words, the applicant knows how to develop a business but sees the value of brand support and the following of a system, without taking reckless risks. Demonstrating these attributes will help at interview stage.
Any franchise interview is a two-way street. The franchisor is keen to recruit a new franchisee to expand the brand but not at any cost. Franchisees therefore have to use the time with the franchisor wisely: to find out information they can't find elsewhere, but also demonstrate they are a good candidate. The better the franchise opportunity the more the franchisor will expect from the franchisee at the interview stage. If you can WOW the franchisor, then this could open the door to a very lucrative business model. Good luck!
About the Author
Anthony Round Franchise Director, Burger & Sauce has worked in the franchise industry for over 30 years, with great brands like Dominos Pizza, Papa Johns, Yum brands GDK, and the COOP. Experienced working in both in Development and Operational Roles, franchising is Anthony's passion, and he loves the challenge of matching great people with great brands, then seeing them develop into highly skilled and very effective multi-site operators. Find out more about Burger & Sauce.
Questions to Ask During a Franchise Interview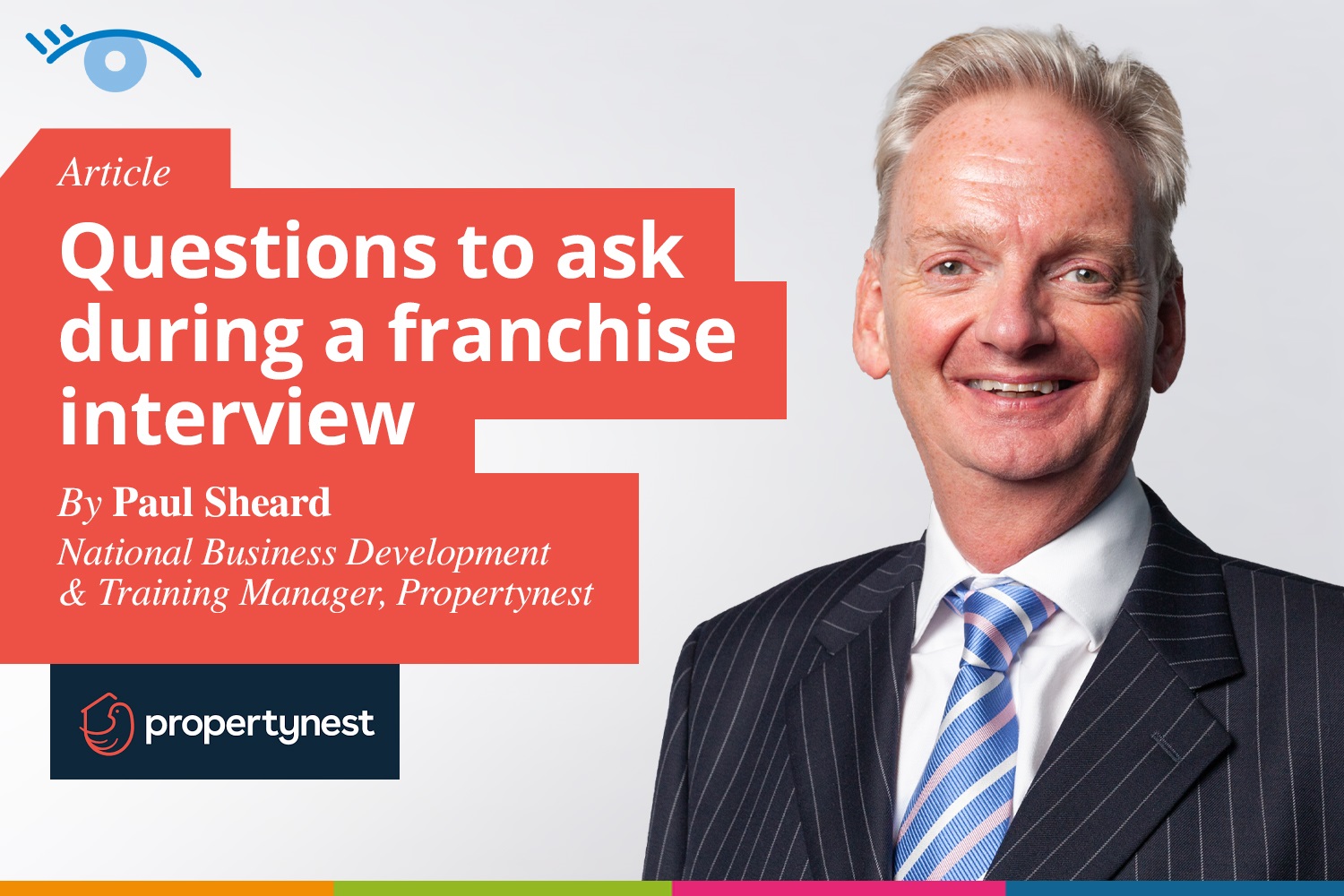 By Paul Sheard National Business Development & Training Manager, Propertynest
I've worked in the property industry and franchising for more years than I care to remember! Interviewing prospective franchisees is always interesting. It's the chance for a franchisee to show they are a good candidate and the chance for an applicant to ask well researched questions. But what questions should franchisees be asking?
How much will I earn
Probably the most frequently asked question! The answer will depend on the structure of the franchise but also the franchisee too. How much effort are they willing to put into building a business? The earnings of franchisees within the same network, all following the same manual and using the same business model can vary widely, so the question might be better phrased as: "I'd like to be earning £X, is that realistic and what will I need to do and how will you support me as a franchisor to achieve that goal?"
How does your business model work?
I'd really like to see that the potential franchisee has researched and already understands the franchise concept here. I would expect more detailed questions around the business model – about advertising, marketing, supplies, territories and support for example.
What Training is included?
Most franchisors will not expect technical knowledge, but they will expect drive, determination, resilience and a raft of soft skills such as communication and the ability to build relationships with customers. For example, as a Propertynest franchised estate agent, a background in property is not necessary but face-to-face sales experience is essential. A franchisee who has the right transferable skills and can identify the gaps where they will need further training, should enquire about the support they will get in relation to filling those gaps to come over favourably. Also be sure to ask about ongoing support.
Why Should I Join You?
This is an ever-popular question, but potential franchisees need to understand franchisors usually have many applicants. A franchise interview is a two-way street and it's as much about the franchisor choosing the right franchisee to represent their brand as a franchisee buying into an opportunity. I would expect to see the prospect demonstrate their research and be prepared to discuss the pros and cons of the franchise opportunity compared to the competition.
Tell me about the Company Culture?
This is a good question as most franchises and certainly the Propertynest franchise opportunity is run as a collaboration between franchisor and franchisees and values need to be aligned on both sides. Some franchises are run more like corporations, and this may not suit those escaping from the corporate world looking for a way out of that 'employees must take direction' type of environment. At Propertynest for example, we work in partnership with our franchisees. If they succeed, so do we and we all share the benefits.
How do you use Technology for lead generation?
Most franchisors these days are embracing technology on different fronts. Tech can be especially helpful for lead generation and franchisees should enquire about this as it can save them huge amounts of admin time, enabling them to focus on their customers and growing their business, if done well.
Can you introduce me to sources of funding?
As a franchisor, I'd really like a potential franchisee to have a handle on the numbers. An understanding of the amount of investment required, how they plan to fund the business and how they will support their lifestyle while building it. Franchisors are usually able to introduce franchisees to quality sources of funding, but franchisees need to be realistic and demonstrate an understanding of where they need financial input. Honesty and transparency are important from the outset to ensure the greatest chance of success.
What will be my breakeven point?
This will vary depending on circumstances. However it should be an important discussion point. Similarly, cover details about the franchise manual. Franchisees who stick to the plan are more likely to succeed and reach their break even point earlier. Find out what is expected.
Can you help with my exit plan?
This might seem like an odd question for a new franchisee! However, franchisors regularly help people build up a business to sell. Transparency from the start will not put a franchisor off an applicant, but instead, help them devise the best strategy to achieve their goal.
Can I speak to existing franchisees?
This question should really be: can I speak to any franchisees I choose, not just your top performing franchisees? Anyone considering franchising needs an honest appraisal of what it's like to represent the brand before they jump in headfirst!
Benefits of attending a franchise discovery day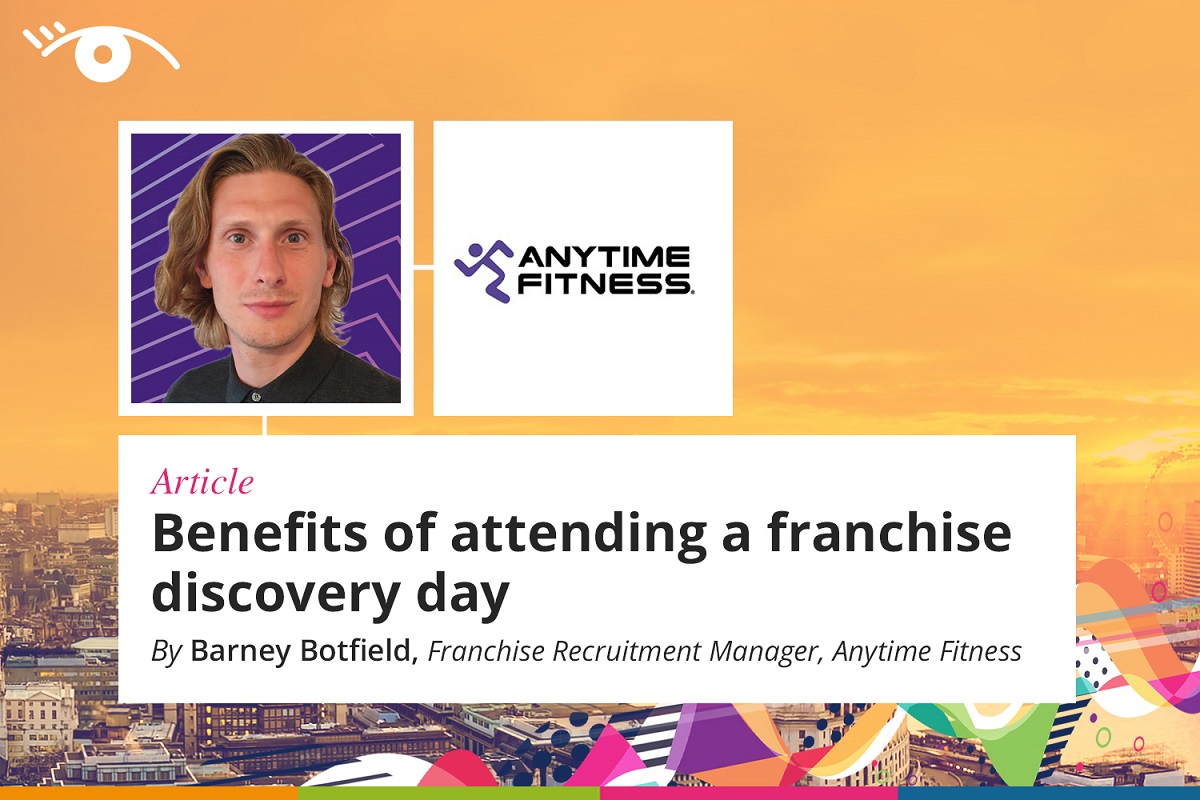 Investing in a franchise is a significant decision and a key part of a franchisee's due diligence process is to attend a discovery day with your potential franchisor. A discovery day gives you the opportunity to speak to multiple members of the Head Office team, as well as hearing insight from other franchisees and their experience of the business.
At Anytime Fitness, we regularly hold discovery days throughout the year and we've put together some of our top benefits for franchisees who are considering attending one:
You get to sample the company's culture
As well as making financial sense, you need to be confident in the team that you're investing in. discovery days give you a great opportunity to experience the culture of your franchisor and if it's a good fit for you. You'll get the chance to speak to multiple team members on a more personal level and leave with a greater idea of whether it's the right investment for you.
You'll hear real-life experience from franchisees
A key part of our discovery days is the presence of current franchisees within the Anytime Fitness network to share their experience. Having the chance to network with franchisees that are already enjoying success with the brand provides another level of assurance and will help give you confidence and see the potential that's available to you.
You'll find out in-depth details about the franchise opportunity
As the popular saying goes; knowledge is power. Discovery days aim to equip you with all the information that you need to make an informed decision about whether it's the right investment opportunity for you. While you will have undoubtedly amassed a wealth of information during your due diligence process, discovery days provide an unparalleled opportunity to ask questions from your franchisor and find out even more detail about the steps ahead of you.
You get to visit head office and see the franchise in action
Many of our discovery days are held at our head office which building on our first benefit, gives you a great insight into the inner workings of the franchise and its culture. With an Anytime Fitness gym just a stone's throw away, our potential franchisors also get the opportunity to tour the gym and speak to the team first-hand, gaining further insight about the business.
It's a more relaxed environment
While our discovery days are well structured and diligently put together, they're purposely hosted in an open and relaxed fashion. Franchising is all about having a successful partnership between franchisee and franchisor and we want you to feel comfortable to ask any questions that are on your mind in a relaxed and welcoming environment.