---

You've now found the franchise for you and have signed on the dotted line. So what next? What do you need to do to prepare yourself for day one of trading?
This doesn't happen overnight and it can take several months to be in position where you are ready to start trading. The franchisor will help you with this stage and should give you a checklist of what needs done and when.
A lot will depend on the type of franchise you have bought e.g. running a retail franchise or a franchise with high street premises will require a lot more preparation than starting a franchise for home.
Areas of consideration include finding the right location for your business, negotiating the lease, advertising for and recruiting staff, training them, getting stock, fitting out your shop or office, and promoting the launch of your franchise.
Be prepared and keep a schedule of everything you need to do. Though you are keen to start running your franchise, it is worth spending time at this stage making sure you are prepared. Opening too soon would just lead to problems further down the line; a prepared franchisee is more likely to have fewer complications and upsets during the initial trading period.
In this section we look at the importance of finding the right location for your franchise, how to recruit the right people for your business, why appoint an accountant and how to promote the launch of your business.
Finding the right location for your franchise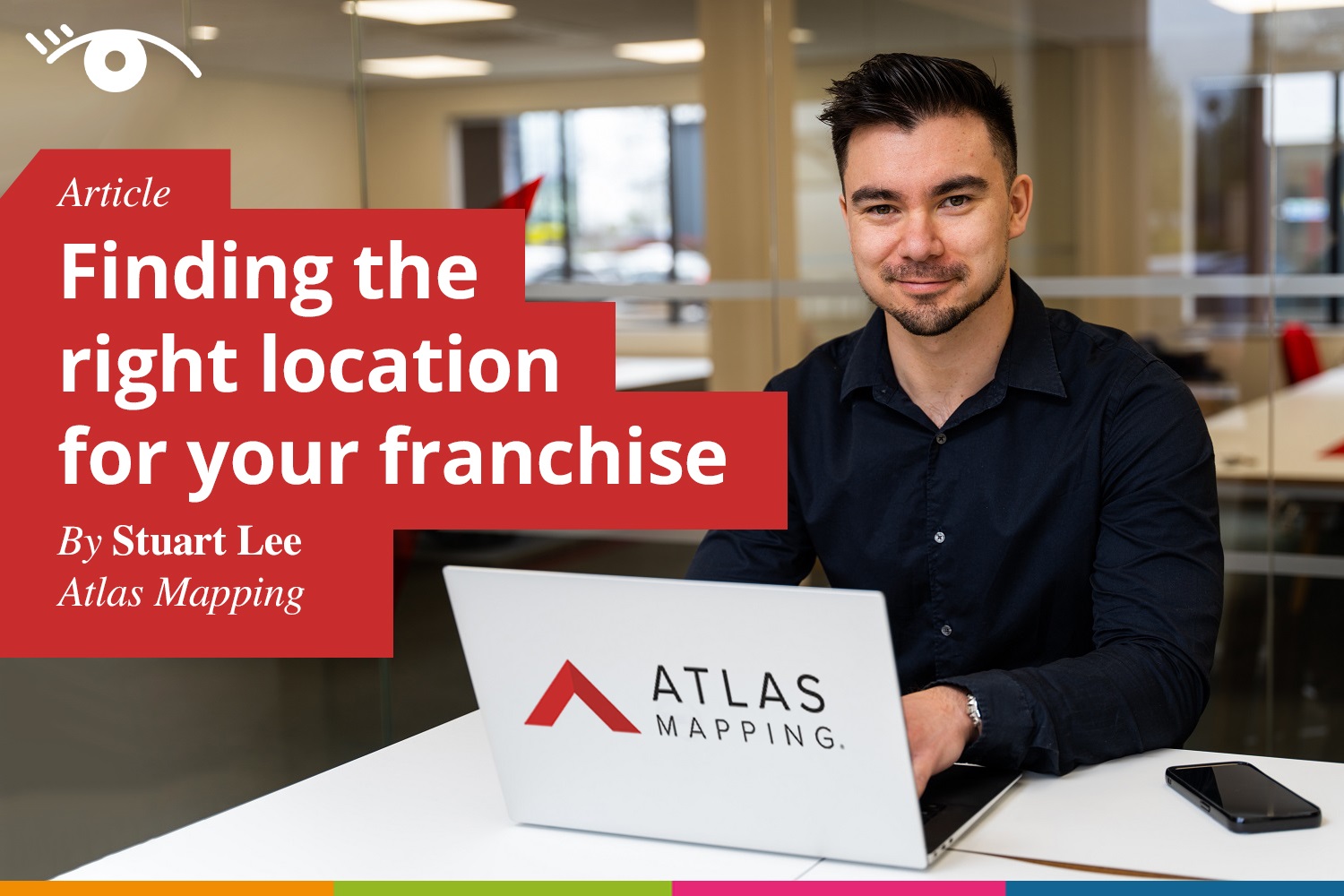 Atlas Mapping offers advice on making sure you are asking the right questions about the territory on offer and setting realistic expectations. This will not only help you during your journey to becoming a franchisee but also have an impact on how you can grow your business.
The opportunity
First and foremost, it is important to understand the size of the opportunity available within the territory and how this has been researched. To understand the opportunity, research should be carried out on the demographics of the territory to determine the size of the target market.
As an example, if you are looking into setting up a children's activity franchise then how many children actually live in the territory? Or if you will be establishing a store or restaurant how many potential customers live within a realistic catchment area?
The demographics being looked at should relate to the customers you expect to be servicing and how they are acquired. If your service is a household service, then the primary demographic should be the number of households and not the number people. This is because in more urban areas you might have a very high population but also a much higher average number of residents per household.
Having knowledge of the size of market you will be servicing is very important for building your business plans as well as gauging the franchise opportunity on offer. If you know the size of the market, then you can be more confident planning the potential growth of your business.
Serviceability
This is a very important and often overlooked element of a franchise territory. It is very easy to think that "more is better" when buying a territory, however the more geography or opportunity you have then the larger the demands on your business to reach those potential customers.
We regularly see the costly mistakes of oversized territories affecting both franchisees and franchisors. As a franchisee, covering a territory that is too large can impact the return on investment (ROI) from your business activities. By spreading out too far you don't concentrate and build up your business in one area, this is often referred to as "the shotgun approach". Being much more targeted in a smaller area can deliver not only greater returns but also in a more profitable manner.
It is even more costly for a franchisor and a brand to award territories that are too large. Doing so can mean lots of geography is tied up in territories that franchisees cannot realistically service. Because the geography is also bound in franchise agreements it becomes difficult and costly to renegotiate territory borders. As a result, many potential customers and markets go untouched and the growth of the overall business stalls and becomes stagnant.
It is more sensible to put in place a multi-territory development plan rather than purchase a singular very large territory. This gives you a more structured growth plan and the franchisor stands a much greater chance of maximising market reach. Ultimately these two things combined give the overall business scope for larger and quicker growth which is good for all parties.
Not all territories are equal
It is unrealistic to expect a franchisor to offer territories of equal opportunity as this is an impossible task. As an example, would a territory containing 50,000 households in South West London deliver the same opportunity as a territory with 50,000 households in rural Cornwall?
A franchisor who has invested in their network will have pre-planned the whole network with a professional third party mapping company. This allows all of the realistic territories to be identified and be built in an optimum manner to provide maximum market reach potential.
You must be careful if you compare your territory opportunity to other territories in the network as each territory has different market demographics and compositions. You may find that your territory contains less target market than one of your potential neighbours but it might be much more densely populated. This will make it much easier for you to reach customers and therefore improve your ROI from business activities.
In summary it is important to take a holistic view of your territory making sure all aspects are taken into account and what it will mean for your business venture. There is a wealth of information available to explore the detailed market composition of any franchise opportunity available to you. Carrying out due diligence research on your area will not only make sure you are comfortable with the opportunity you are purchasing but also give you a good foundation to build your business.
Understanding the franchise agreement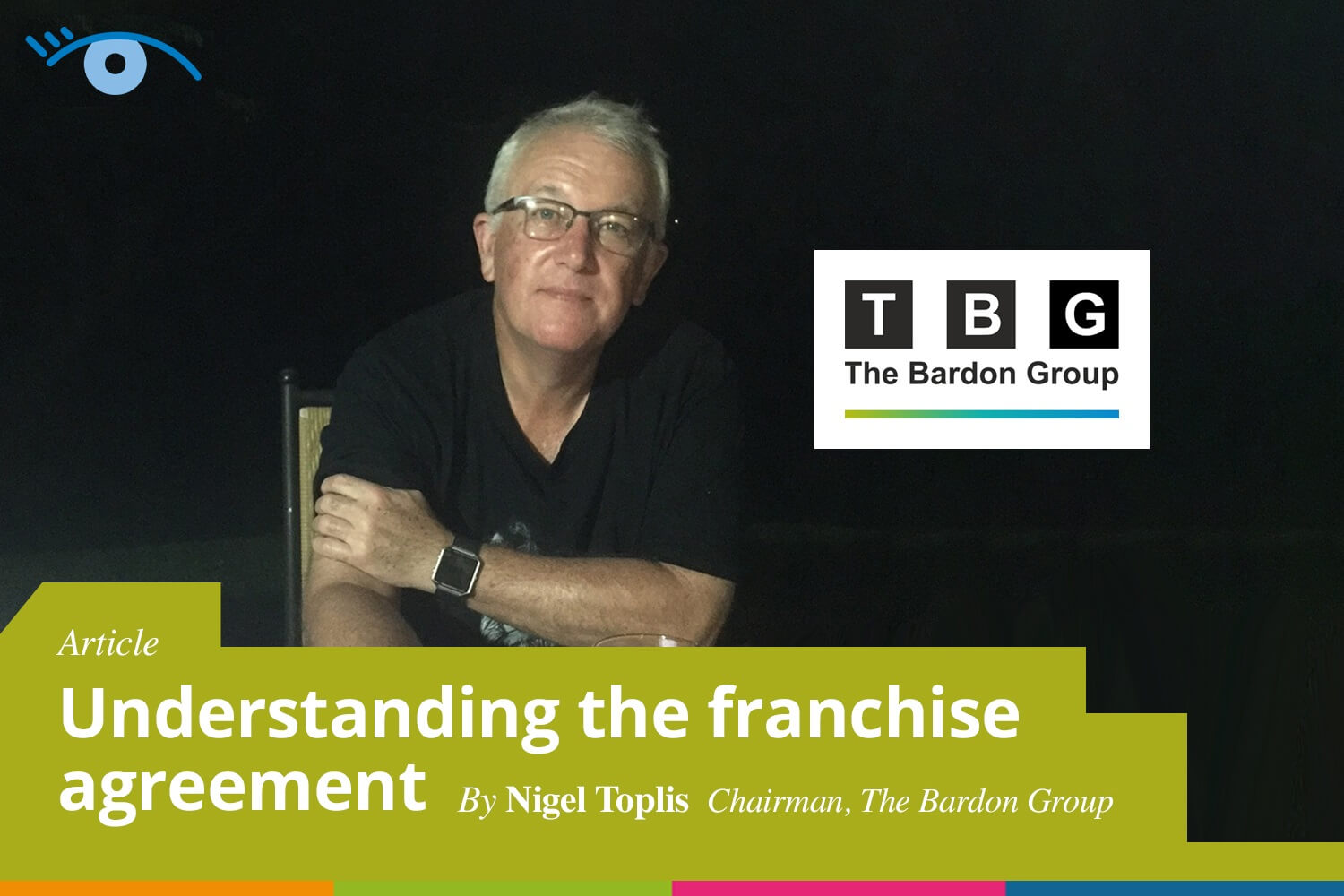 It is critical for franchisees to understand the essence of the Franchise Agreement – not only because it is a contract BUT more importantly because it lays the ground rules for the future relationship between franchisor and franchisee.
I've often said that a successful franchise is a marriage with the franchisor and the franchisee bringing different skills to the relationship but working as one with a common objective of business success.
Trust, respect and a shared vision all help to create a common bond between the two parties. However, to ensure such mutuality you need to base it – from the beginning – on the clear knowledge and understanding of each party's specific responsibilities.
This is where the franchise agreement comes in. It sets out in detail the contractual terms, conditions and obligations of both the franchisor and the franchisee, sets down the rules of the game and it is also the basis of the formal relationship between the two parties.
In essence, a franchise agreement has three fundamental objectives:
to set out the terms and conditions of the arrangement between franchisor and franchisee.
to protect the franchisor's intellectual-property rights
to specify the ground rules for operating the franchise units.
As with any contract both sides need to follow the rules and if they do so then it will be a happy and successful marriage.
Problems only arise when people break the rules.
The franchise agreement is often quite lengthy and will cover a whole plethora of conditions surrounding the running of the franchise, but, as with most contracts, in a good franchise system people seldom refer to the franchise agreement until the contract period is coming to an end.
As a franchisee, you need to ensure that you have enough time to both reap adequate reward for your efforts and to sell on a valuable capital asset.
Often current franchise agreements will provide an option to renew – and certainly with The Bardon Group companies we provide this option for no additional fee – thus giving you the option to either sell on OR to extend your relationship.
Franchises work because everybody rows the boat in the same direction and every franchisee has the same opportunities, rights and obligations.
To this end every franchisee should sign exactly the same franchise agreement and you should be cautious of the franchisor who is willing to change theirs simply to suit the needs of prospective franchisees. If you and your solicitor – who must be experienced in franchising – cannot accept the franchisor's standard agreement, then you should look elsewhere.
Ultimately the magic of franchising is that it combines local knowledge, drive, ambition and individual skills with a proven business system, ongoing corporate support and professional guidance to hopefully create a successful business venture for both parties.
The purpose of the franchise agreement is to sum up the elements required to make this magic work.
Of course, the Franchise Agreement can lay down the rules, provide the parameters and document the means of working together, it cannot detail the most important attributes of a successful relationship – attitude, honesty, integrity.
Article by Nigel Toplis, Chairman of the Bardon Group. Franchise oppotunities for Techclean and Recognition Express.
Franchise Training - why it's critical for franchise success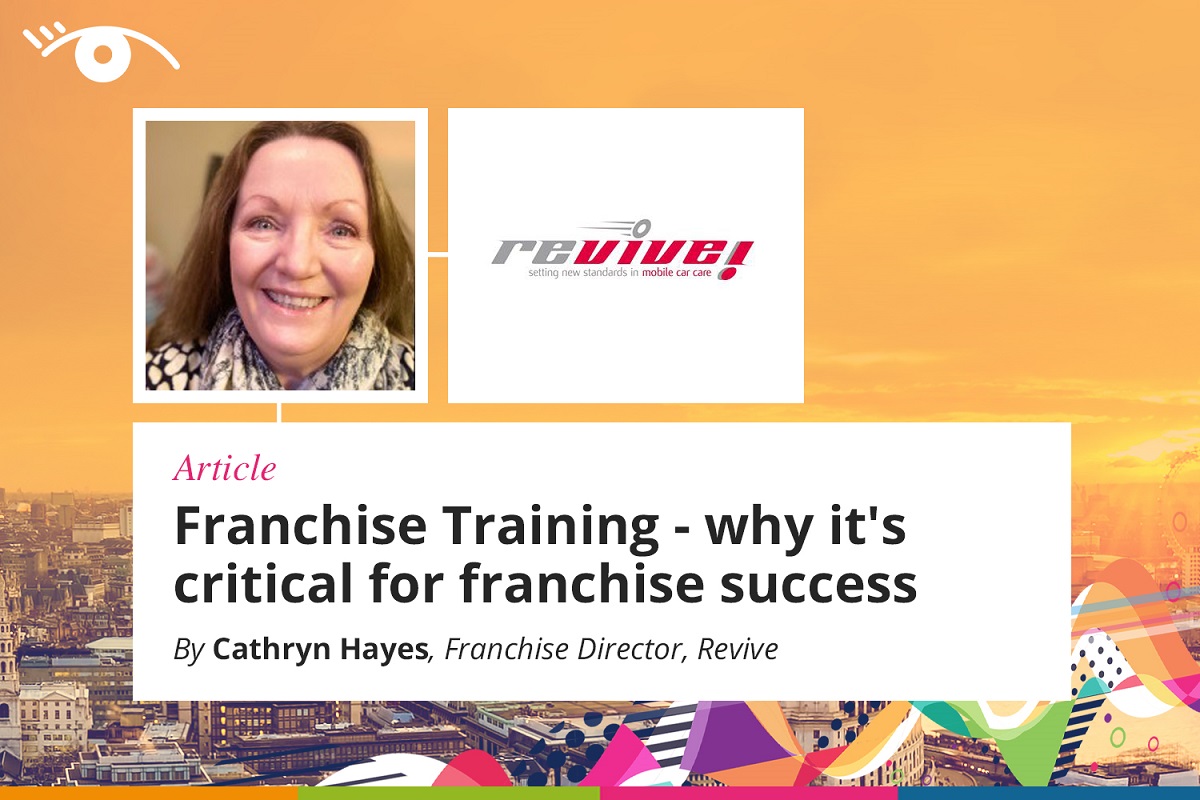 Franchising is widely recognised as a much safer option for would-be business owners than going it alone and the stats bear this out, with failure rates for small businesses in the UK quoted at between 60-80% depending on the source.
So why is franchising different?
Well of course, there is the tried and tested format that the franchisor has piloted and improved over the years. The franchisee is part of a network of fellow business owners who are supported by their franchisor with training, marketing, bulk buying, and lots more, depending on the type of business it is.
If you ask small business owners whose business hasn't succeeded why they failed, you will get a range of reasons, including:
Ran out of funding/cash flow, which could be linked to:
Customers didn't pay or went bust themselves.
Marketing didn't work or couldn't afford to market the business.
Not enough customers wanting the service or product.
Poor location and/or premises costs too high.
But all of these could also apply to a franchise business, so what makes franchising so much more successful?
The part that is not always mentioned but is absolutely crucial, is training.
When you join a franchise, you will be provided with initial training on all aspects of running the business. Apart from product knowledge, franchisees also need training in operational and managerial aspects of running the business. This includes topics such as stock management, staffing, financial reporting, and specific marketing strategies.
This initial training is normally included in the franchise fee and should ensure that you are ready for the challenges that running your own business will present you with.
As a franchisee, your success isn't just about your own skills; it's about keeping the brand's reputation strong and positive. Training is the glue that holds everything together, making sure you and your fellow franchisees have the best chance of success. It is also about consistency, making sure that the product or service offered by a local franchisee is the same in different parts of the country.
A franchisor will normally expect a new franchisee to prepare a business plan and that should help to identify the funding needs that the business will have at the outset. This means that franchised businesses normally have more initial capital than most stand-alone businesses, as a franchisor will make sure that new prospects have enough money to put in.
When you are researching franchises, make sure that you ask for details about your initial training, what will it cover, how long does the training last? Who will deliver the training? Some could be outsourced to training providers, but it is preferable for most of the training to be delivered by the franchisor and their staff, as they will be able to support you with training top-ups and refresher courses if needed.
This initial training is vital to get your new franchise launched and ensure that your business gets off to the best start.
But you should also ask about future training, what does the franchisor offer once you are launched and beginning to grow your business, as over time, your needs will vary. Can the franchisor outline what training will be available to you as you grow?
Ongoing training is essential to ensure the continued success and development of the franchise. The specific training needs can vary depending on the type of franchise, the sector, and the franchise system's requirements, but here are some common areas where training for franchisees will really make the difference:
Operational: This focuses on the day-to-day operations of the business. It includes product or service delivery, quality control, stock management, equipment usage, and customer service. As the franchise grows, operational processes may evolve, and franchisees need to stay updated on the latest procedures.
Marketing and Sales: With ongoing rapid developments in digital marketing, social media and marketing tools, franchisees need to know the latest ways to attract and retain customers.
Financial Management: Managing the finances of a growing business is crucial. Franchisees may need training on budgeting, financial reporting, and understanding key performance indicators (KPIs) to assess the health and profitability of their franchise unit, as well as keeping a close eye on cash flow.
Employee Training: If the franchisee has hired employees, they will need to provide training on company policies, procedures, and customer service. As the business grows, additional staff will need to be trained and managed.
Leadership and Management, building high performing teams, mindset – all these areas are key if the franchisee is growing a bigger business.
Technology and Systems: Many franchises use specialised software and technology for various aspects of their operations, so training on these systems and any updates is essential – how does your franchisor support with IT updates and challenges?
Customer Feedback: Training on gathering and analysing customer feedback can help franchisees identify areas for improvement and make sure that the service provided is being delivered to the highest standard.
Compliance/Regulations: this very much depends on the industry sector involved, for example, Care or Childrens activity franchises will have regulatory frameworks to ensure safeguarding. Food franchises will have different regulations to follow and any failure to comply with the rules can lead to bad publicity or worse!
This is just an outline of some of the areas you should expect a franchisor to be supporting you with as you launch, build and grow your new business.
Networking and collaborating with your fellow franchisees is also important and group training sessions or events that facilitate knowledge sharing and best practices can be hugely valuable.
With all this on offer, as well as the benefits of a tried and tested format to follow, no wonder franchising is a better option for many when it comes to setting up your own business!
Recruiting for Success - Recruiting the right people for your franchise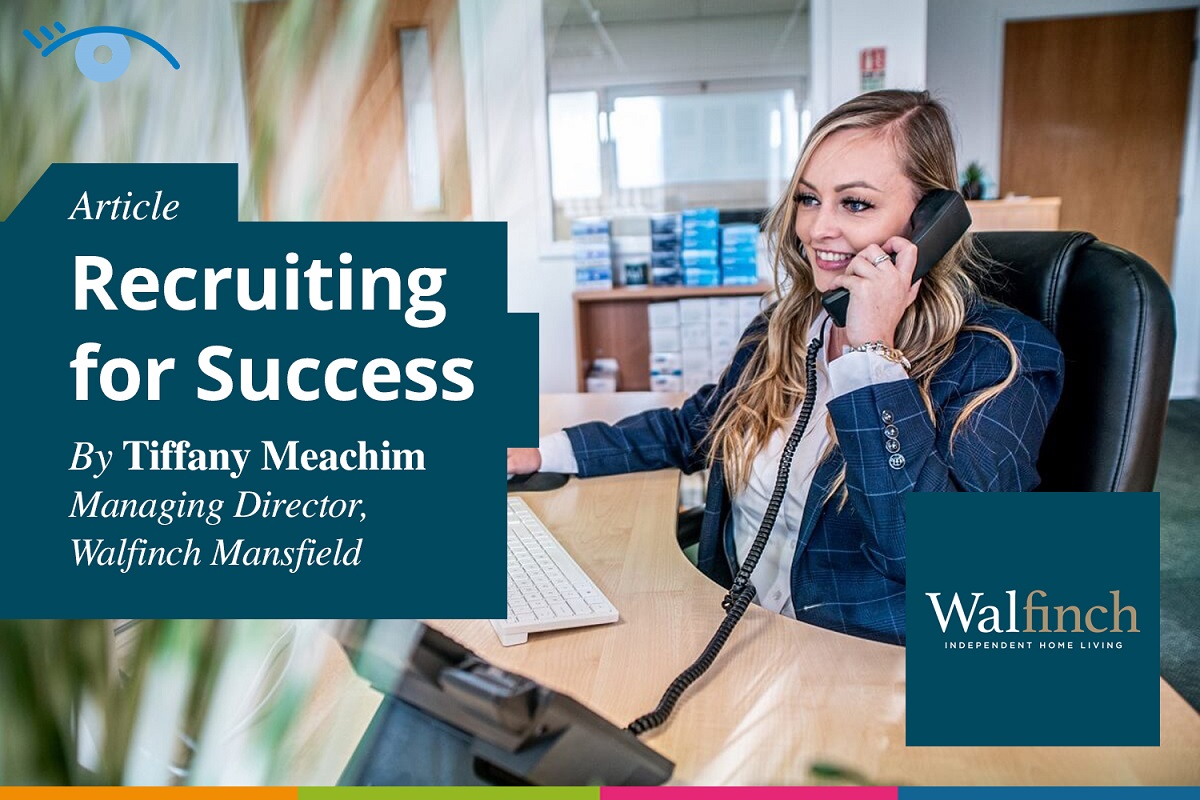 Recruiting staff is critical for any growing business, but there are unique recruitment challenges for franchises. Franchisees must find the right talent, retain that talent, and build a strong team that can deliver the level of service and quality that customers already expect from the franchised brand. In this article, we will explore the challenges around recruiting staff for your franchise business and offer up some ways to overcome them.
Getting Your Recruitment Process Right
One of the primary challenges is finding the right talent. Franchisees need to ensure that candidates are not only qualified for the job but also share the same values as the franchised brand. This means that franchisees need to invest a considerable amount of time to screen candidates and conduct interviews to ensure that they are the right fit for the business. This is why it's worth leveraging technology to streamline your recruitment process to save time and reduce the cost of recruitment. You can do things like sending automated emails and text messages to your candidates and carers through your CRM; you can use software like Birdie to manage your hours; and you can use AI like ChatGPT to help you write job descriptions and interview questions!
Not only this, but if you also work in a regulated sector like homecare, job roles such as "Registered Manager" can be highly demanding, and the screening process is more detailed and can therefore, take longer. This problem is compounded if, a candidate pulls out at the last minute and goes elsewhere through no fault of your own! This is where it can be important to lean on your franchisor for support. Franchisors offer training and support programs that can help franchisees recruit staff. Remember that you are part of a recognised brand too, which can even help attract top talent more easily than if your business was independent of a franchise.
Keep Your Talent Invested
Another key challenge for franchises is retaining staff. Franchise businesses operate in a highly competitive market, and losing a valuable employee can have a significant impact on the business. It can be challenging to keep staff engaged and motivated, particularly if they do not feel valued or are not offered opportunities for growth and development.
This is why it's important for franchisees to invest in their staff by providing ongoing training and development. This keeps staff invested because they can see opportunities for career advancement. Embedding a culture of recognition and appreciation in your business will also go a long way to improving your retention rates. Don't be afraid to reward your staff too. Offering things like referral bonuses, salary sacrifice car schemes and Christmas bonuses can really help with recruitment and retention.
Recruiting staff for a franchise business can be challenging, but there are ways to overcome these issues. By leveraging the resources provided by the franchisor and using technology to streamline the recruitment process, you'll easily build a strong team. Remember that investing in staff development and recognition, building a strong team culture, and offering incentives will also ensure that when you do recruit talented people, they stay with you for the long haul.
When to appoint an accountant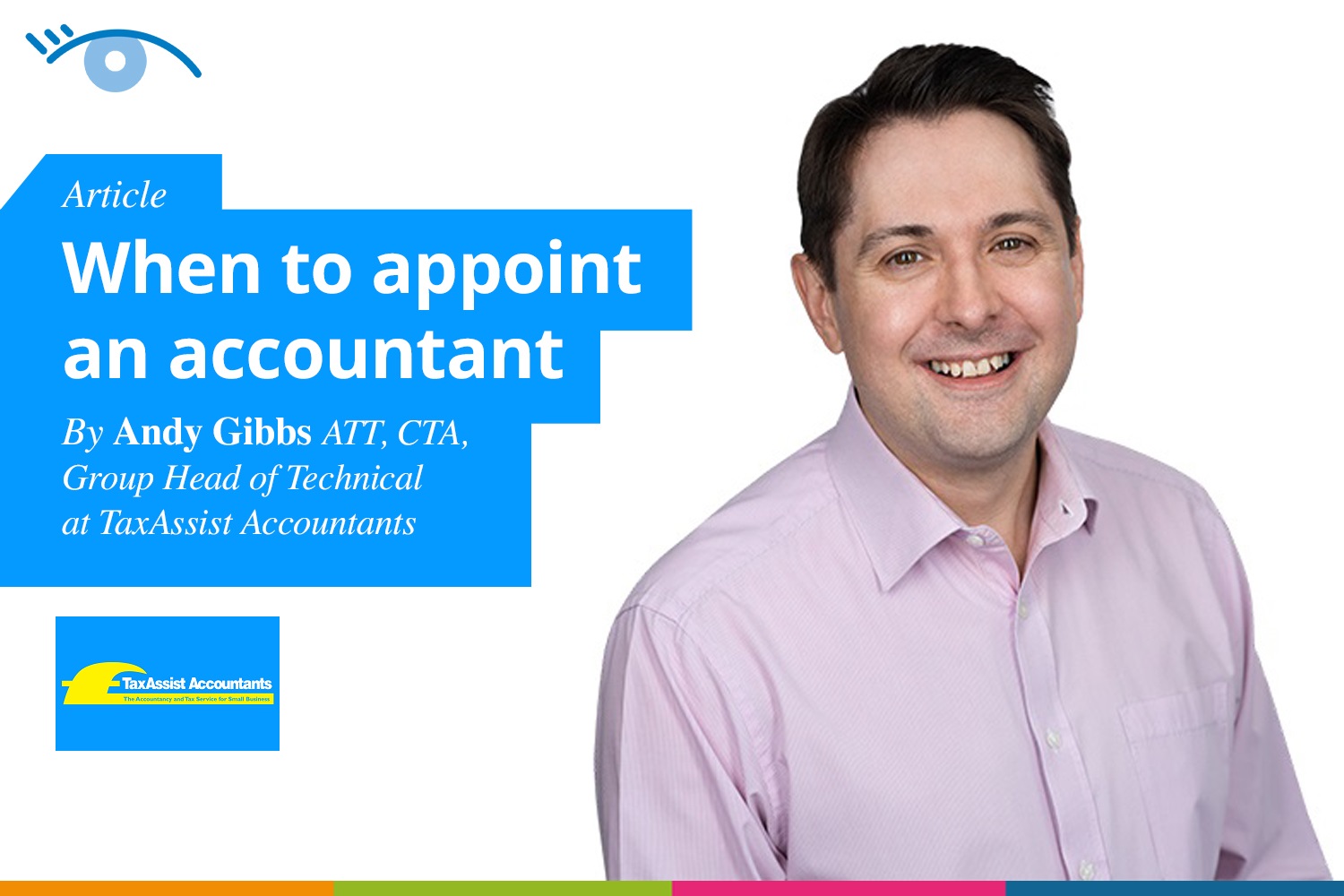 TaxAssist Accountants looks at when to appoint an accountant and the benefits of doing so.
An established franchisor will have an accountant and will advise that when you invest in their business model as a franchisee, that you should also enlist the services of one from the outset. This will help you to keep track of your franchise's finances and cashflow, which is especially crucial during the early days of your business venture.
What are the benefits?
Appointing an accountant can provide your new venture with some essential advice and ongoing support that will steer you through that tough first year and beyond.
A good accountant will help you set up a bookkeeping system to keep track of your invoices and your receipts in real time.
More importantly, you may need your accountant to help with registering for PAYE and VAT and the procedures involved should you need this. It is common for the initial franchise fee to consist of different components and we can advise on how to get as much tax relief as possible, all whilst staying within the rules.
Your accountant can provide the service of being an additional business adviser. Ahead of any funding applications, an accountant will be able to give advice on a business plan and the tax considerations when registering a new business.
Should you operate as a sole trader, Partnership or Limited Company? An accountant can discuss the benefits of each structure and the tax implications, and go through what is right for your circumstances, needs and plans.
Managing your business as it grows
Whether you are a growing business or starting up, an accountant can advise you on the best way to arrange additional finance without putting your business at risk.
When your funding is in place, there needs to be a layer of control to ensure your business grows in the right way. Many of your concerns may be financial – key performance indicators (KPIs), adequate working capital, good stock control, invoicing and so on – an accountant's advice will be invaluable in such matters.
The tax bill should be covered by the business and an accountant will review and look to optimise your tax position and make sure you're operating as tax-efficiently as possible. More importantly an accountant can help you plan to put aside any possible tax so that a large tax bill doesn't arrive out of the blue, putting your business at risk.
How to find the right accountant for your franchise business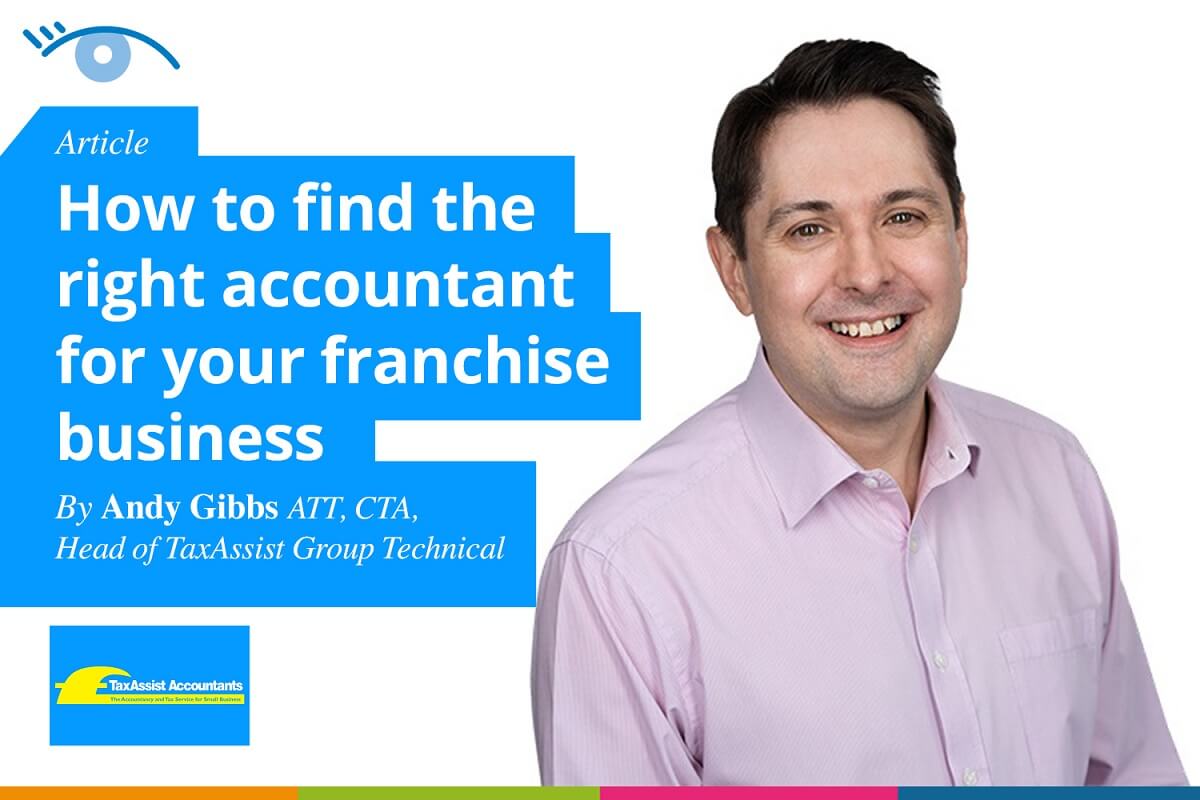 If you are thinking of taking on a franchise, you will need to ensure that you take advice from an accountant on the formation of your business (whether as a sole trader, partnership or limited company), tax, VAT, accounting software, payroll and recording keeping requirements. This guide provides you with an overview of how to find an accountant and the services they provide.
The benefits of a local accountant
Finding an accountant local to you will be very beneficial because of the ease of contact and the ability to meet in person and build and maintain a good relationship.
Having a good understanding of the local business environment where you're operating will mean useful introductions can be made to other local businesses who might be useful to your company.
When researching how to find the best accountant for your business, think about what specific services you are looking for. It's also a good idea to speak to friends, family and other business owners for recommendations.
Online research will also be useful. Visit review websites such as Trustpilot to read about the real-life experiences of other business owners who are already working with an accountant.
Do I really need an accountant?
When running your franchise you will need to wear many hats, particularly in the early days. An accountant will help you to comply with your legal responsibilities and avoid late payment penalties, manage your finances and monitor your cash flow.
As you grow your business, their advice and support will be invaluable to help you to maximise opportunities and scale effectively. You may also need to tap into more of the services they provide to maximise efficiencies for you and your business.
How do you know if an accountant is good?
You should expect your accountant to be proactive and check in with you often to see how your business is doing and answer any questions you may have. They should also respond to your calls and emails within good time.
Having a good relationship with your accountant is key to making the most of the services they offer. They should be able to explain complex topics to you in an easy-to-understand way and if things aren't clear, they should always be willing to clarify and make sure you do understand.
What fees does an accountant charge?
What an accountant charges is dependent on the type of service you are looking for. For filing your self-assessment tax return it might be a one-off charge such, or it may be an ongoing monthly fee for regular support and advice.
During your initial meeting, the accountant should provide you with a proposal which will cover the fees they charge for the services you are interested in. A fixed fee is preferable so that you know what your fees will be each year. Most accountants will be happy to allow fees to be paid monthly to help with cash flow.
Creating a business plan
If you need funding for your franchise, you will need to present a credible business plan to lenders.
Working alongside a good accountant, you can ensure the required information is included and the plan is presented in the best possible way, giving you a greater chance of success.
Filing self-assessment tax returns
The UK system is complicated and so completing self-assessment tax return can be challenging, with various deadlines and legal responsibilities to be aware of.
As well as helping you to be compliant with HM Revenue and Customs (HMRC) and minimise the risk of a tax investigation, an accountant will also help you to ensure you claim all the tax reliefs you are entitled to.
Making Tax Digital
Making Tax Digital (MTD) is gradually being rolled out to different categories of businesses. The aim is to provide businesses with a streamlined system to keep their tax records and submit information to HMRC via approved digital software.
By taking on an accountant, you can make sure you comply with MTD requirements when they begin to affect your business.
Accountants for limited companies
Deciding whether to operate as a limited company will need serious consideration, and your accountant can help you to assess the best way forward.
There are many benefits to operating as a limited company, but also important obligations, including submitting a Corporation Tax return and filing your accounts with Companies House. An accountant will be able to assist with this.
An accountant can also assess if it will be beneficial for you to switch from being a sole trader to a limited company. They can also ensure you maximise the tax benefits.
Accounting software
Many franchisees are still using more traditional methods to keep financial records rather than embracing the latest digital technology. Accounting software solutions such as Xero and QuickBooks can help you to get organised, manage your finances and stay on top of cash flow.
An accountant can talk you through the digital solutions available, to help you select the right package for you and your business.
Payroll
As your business grows, you may take on staff, which means meeting your legal obligations.
An accountant can help you to maintain your responsibilities as an employer, and free yourself of the day-to-day concerns that payroll can bring.
What do I do next?
Once you have drawn up a shortlist of potential accountants, contact them to discuss their services. They may offer a free initial consultation.
About TaxAssist Accountants
TaxAssist Accountants is a franchise and the UK's largest network providing tax advice and accountancy services specifically for small and medium sized businesses, sole traders, partnerships, limited companies and personal taxpayers.
With more than 400 TaxAssist Accountants offices nationwide, the network provides accountancy services, tax returns, payroll, bookkeeping, tax savings and tax advice to 78,000 clients. Find out more about TaxAssist franchise opportunity
How to research your market before launching your franchise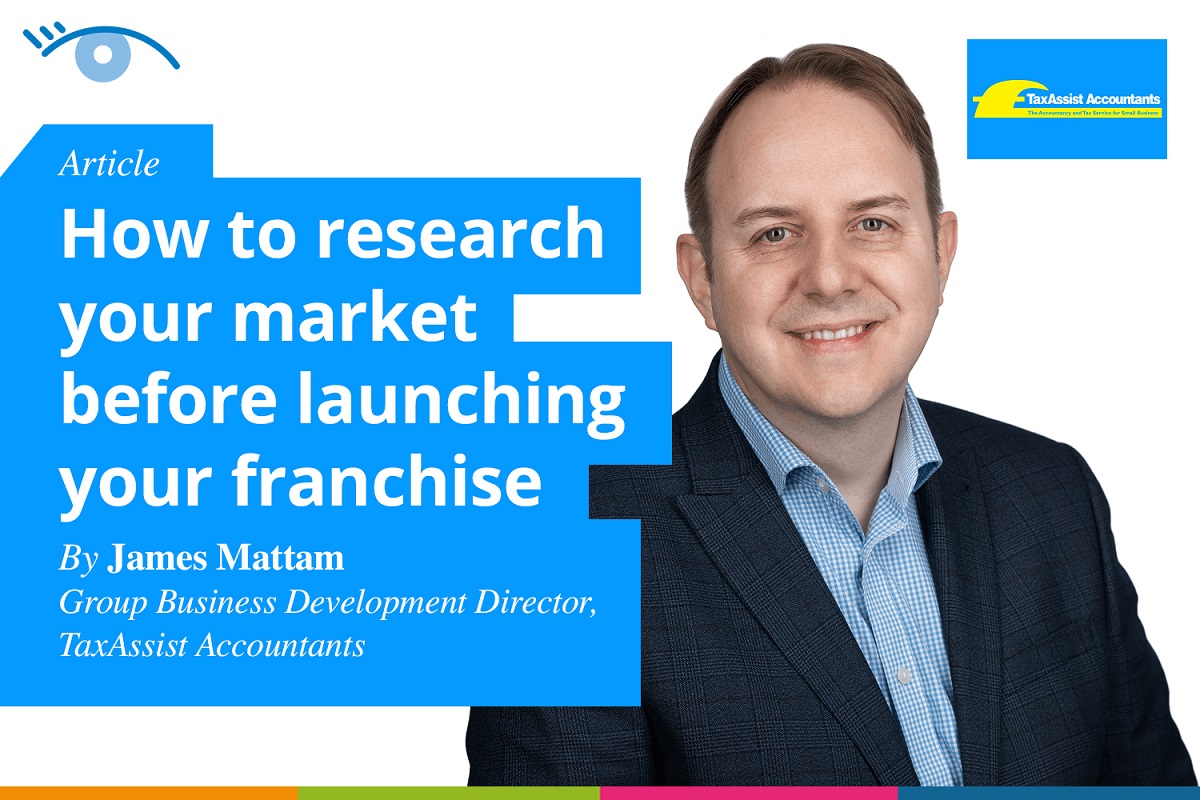 Understanding the market your franchise serves will help you to successfully launch your new venture and build success over time. This guide highlights factors to consider and actions to take.
Research your competitors
Understanding your competitors and how you are different is a key part of researching your market.
Knowing your competitors is key to building your business. It means you can take steps to ensure your product or service stands out, improve your offering, boost your customer service or set your prices.
Once you've identified your competitors, you can analyse factors such as the products or services they provide, the prices they charge and their marketing strategy.
Competitor analysis isn't a one-off exercise. You should keep on top of your competition in case new businesses enter the market.
There are various ways to identify your competitors:
Look at search engines and keywords
Type terms you think your target customers use to find your business into an internet search engine. You may get thousands of results, but the first one or two pages will likely identify the most direct competition to your product or service.
You can also use services such as Google Keyword Planner and Microsoft Advertising Keyword Planner to find relevant search keywords and then check to see which businesses are targeting them for their online marketing.
Check social media, review websites and directories
Look at conversations relevant to your business on social media platforms such as Twitter, LinkedIn, Facebook, Instagram and TikTok. This will help you to see which businesses your target customers are talking about and which businesses are posting about topics relevant to what you provide.
You can also look at online advertising to see which companies are targeting keywords related to your business, and set up Google Alerts so that when certain topics are mentioned online you get an alert.
Other online sources to use to find competitors include review websites, community forums, business directories and lists of press releases.
Consult your customers
Existing or potential customers can help you to identify competitors.
On sales calls with prospects, ask what other businesses they already buy from or might consider buying from.
For your existing customers, ask them on social media who else they shop with and include a question about competitors in surveys and feedback forms.
Check the media
Read media publications relevant to your business to see which companies are being talked about. As well as editorial copy, look at the advertising.
Attend exhibitions and events
Taking part in events relevant to your business will highlight competitors. Look at who's exhibiting, check the speakers and view the delegate list.
Business groups
Joining or engaging with business membership groups and trade associations can give you access to lists and databases that include your competitors.
Create a business plan
If you are looking for funding for your franchise, you need to present a convincing business plan.
An accountant can work with you to ensure the required information is included and the plan is presented in the best possible way. This will give you a greater chance of success when applying for funding from a lender or pitching to investors.
Knowing where your business fits in the market, the gap you are filling and your unique selling proposition are important factors to include in your business plan.
Once your business is up and running
Segment your customers
Segmenting your customers can be beneficial to further understand your market and improve sales.
You can use segmentation in various ways including identifying the least and most profitable customers, improving your products or service to meet the exact needs and desires of particular groups and creating marketing campaigns to reach specific customers.
Business-to-consumer (B2C) businesses can group customers into segments such as:
locations: where they live, work etc
demographics: gender, age, income, occupation etc
interests: sporting activities, outdoor activities, travel, watching movies etc
buying habits: how often they buy your product or service, which features are most important to them, average purchase size etc
Business-to-business (B2B) companies can also use segmentation by grouping clients into areas such as sector, company size, location and purchasing behaviour.
Analyse your sales data
Once your business is set up, you can improve your understanding of your business' market by examining the data you hold about your customers in accounting software such as QuickBooks and Xero or customer relationship management (CRM) systems.
Use the data to identify useful details about customer behaviour and buying patterns and your business' performance such as how quickly you respond to orders and make deliveries.
You can use this information to enhance your products or services, improve your customer service and increase customer loyalty.
About TaxAssist Accountants
TaxAssist Accountants is a franchise and the UK's largest network providing tax advice and accountancy services specifically for small and medium sized businesses, sole traders, partnerships, limited companies and personal taxpayers.
With more than 400 TaxAssist Accountants offices nationwide, the network provides accountancy services, tax returns, payroll, bookkeeping, tax savings and tax advice to 78,000 clients. Find out more about TaxAssist franchise opportunity
Promoting the launch of your franchise
It's all good and well being prepared for the launch of your business, but who knows about it?!
Get the full support of your Franchisor
One of the benefits of being part of a franchise network is having a recognisable brand name as it brings with it a certain degree of trustworthiness from the public before you've even opened for business.
Take advantage of this and work alongside your franchisor to make sure you maximise awareness to your business in your local community.
Get your local community involved
Though the franchisor will help with the launch - the level of marketing help and support they provide for promoting the launch of your business locally and nationally will be outlined in the agreement - you shouldn't solely rely on them as they won't know your local community as well as you.
It's best to get out there and meet with other local businesses and residents, get to know them and vice versa. Join, and be active in, local networking and steering groups and be enthusiastic about the business and the benefits it will bring to the local community.
Get the media involved
If you are a premises-based franchise, speak to local newspapers and invite them along to the official launch. A good write up in a local newspaper and website will help drive traffic to your business.
If a home-based or mobile franchise it may be worthwhile taking an advert out in the local press if they can offer advertorial alongside it. Many local newspapers will offer this and it's a great opportunity to tell your story and let the public know about the services you offer. Let people get to know you; people buy into people (and it doesn't hurt to have a great brand name alongside you!)
Get social
Social media is great for promoting local businesses. Work within the guidelines set by your franchisor on the use of social media to set up Facebook and Twitter accounts. Be clever to create a buzz around the launch of the business; any special launch promotions you can offer?
The franchisor will do their bit as it is in their interest to promote because if you do well then they do too. But remember this is your business, your livelihood, and so you need to be energetic about it and get out there and create a buzz…get people talking about it!
Why you should hold a grand opening event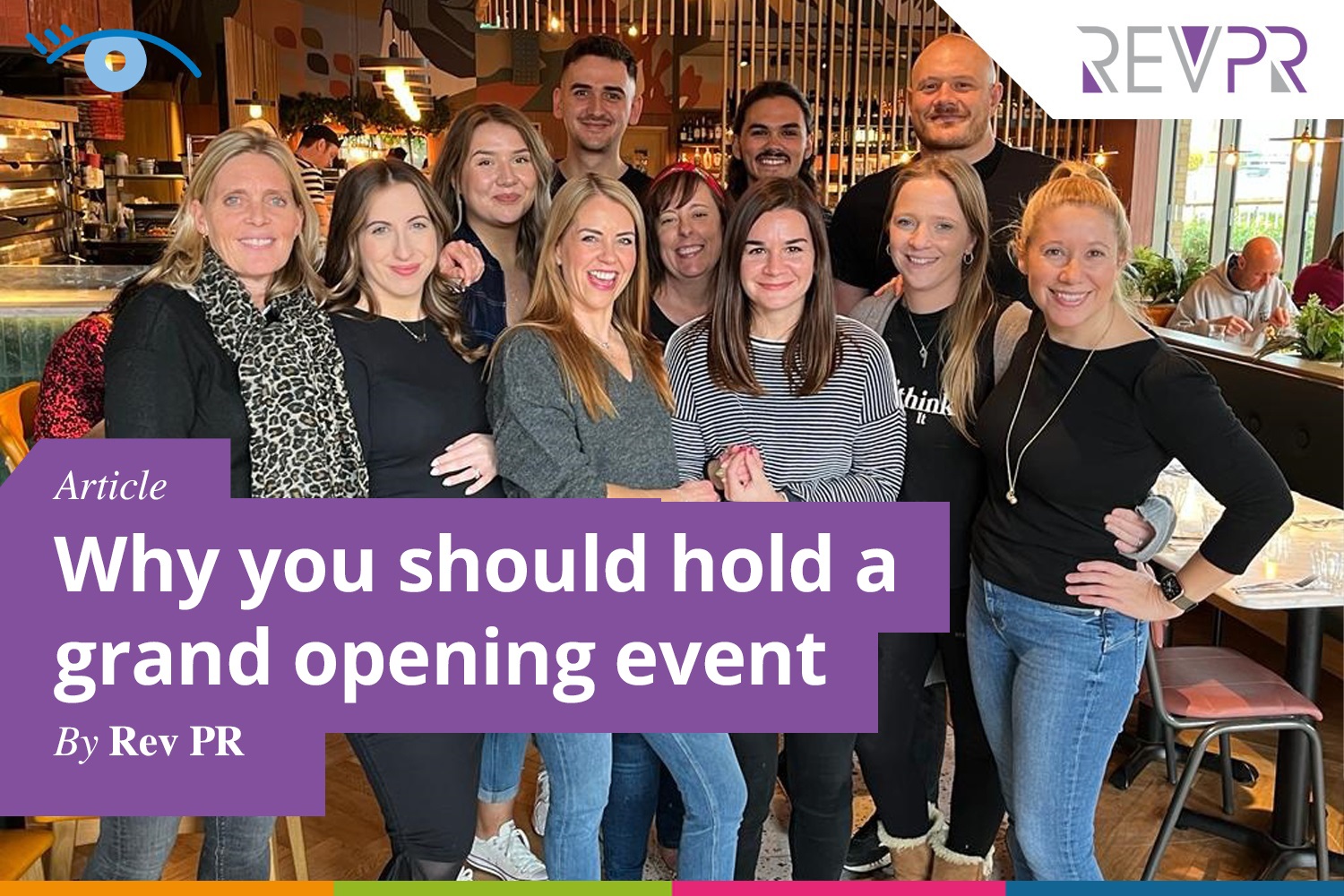 When it comes to getting your new business off the ground, nothing says 'we have arrived' quite like a launch event. Not sure what we mean? Think balloons, red carpets and ribbon cuttings. And don't forget the cake… We love cake.
In all seriousness, no matter your offering, sector or location, new business owners should be undertaking what Team Rev refers to as 'Grand Openings'. Why? Well, aside from the cake, it's an exceptional PR opportunity! It doesn't matter if your business operates from a physical location or not. It doesn't even matter if you sell an invisible service. Yes, we heard you gasp at the back but fear not. Read on.
Your event needn't be complicated
But as with most things, you get out what you put in. When it comes to the PR campaign to support it, think strategically and don't just wait until after the event to drum up interest. Here are some top tips to make the event a success and get the most out of it, for the longest time possible.
Goody bags, special offers, demos, live acts - make sure it's going to be fun!
Have a soft launch to iron out any kinks - invite family and friends as guinea pigs
Set a firm date for the Grand Opening and stick to it!
Invite key local figures and the media
Invite the best local and regional social media influencers
Get photographs – lots and lots of photographs (remember your authority forms)
Collect quotes and video clips (and remember your authority forms)
Craft a strategy that includes both pre and post press releases.
What you can do it you if you aren't premises based or you're a B2B brand
All of the above! Okay, okay we understand that it's not quite as simple. But the principle remains the same. Sometimes, as a B2B or a service-based business, you have to be a little more creative. Look for a local venue to partner with and for added oomph, perhaps tie in a little charitable activity with your launch too. Depending on your target client, the media and key contacts you invite will be slightly different, but the end goal is the same, and is 100% achievable. Trust us, we do it.
The point of all this being, your new business is going to be a valuable asset to the local area and there's more to talk about than just what you're selling. Which by the way, shouldn't form part of your PR activity anyway. We support franchisors and franchisees with Grand Openings every week and see the impact they have. So, to us, this is a no brainer.
But in case you need the benefits spelling out:
Launch PR campaigns kick-start a new business
Business owner profile raising to become a local hero!
Local brand awareness generates more customers and increased sales
Boost attendance at grand openings, showcase events and menu launches
PR builds trust and credibility which, in today's marketplace, is vital.
And finally, when you do hold your own event or celebrate your launch just don't forget the cake will you. Did we mention we love cake? It's not a hint, but if you'd like our help then we do love cake.
To chat about how we help new businesses to launch with a bang and hit the headlines, drop us a line or give our Director, Lucy, a call on 07921 572554.