---
PREPARING TO OPEN YOUR FRANCHISE FOR BUSINESS
You've now found the franchise for you and have signed on the dotted line. So what next? What do you need to do to prepare yourself for day one of trading?
This doesn't happen overnight and it can take several months to be in position where you are ready to start trading. The franchisor will help you with this stage and should give you a checklist of what needs done and when.
A lot will depend on the type of franchise you have bought e.g. running a retail franchise or a franchise with high street premises will require a lot more preparation than starting a franchise for home.
Areas of consideration include finding the right location for your business, negotiating the lease, advertising for and recruiting staff, training them, getting stock, fitting out your shop or office, and promoting the launch of your franchise.
Be prepared and keep a schedule of everything you need to do. Though you are keen to start running your franchise, it is worth spending time at this stage making sure you are prepared. Opening too soon would just lead to problems further down the line; a prepared franchisee is more likely to have fewer complications and upsets during the initial trading period.
In this section we look at the importance of finding the right location for your franchise, how to recruit the right people for your business, why appoint an accountant and how to promote the launch of your business.
Finding the right location for your franchise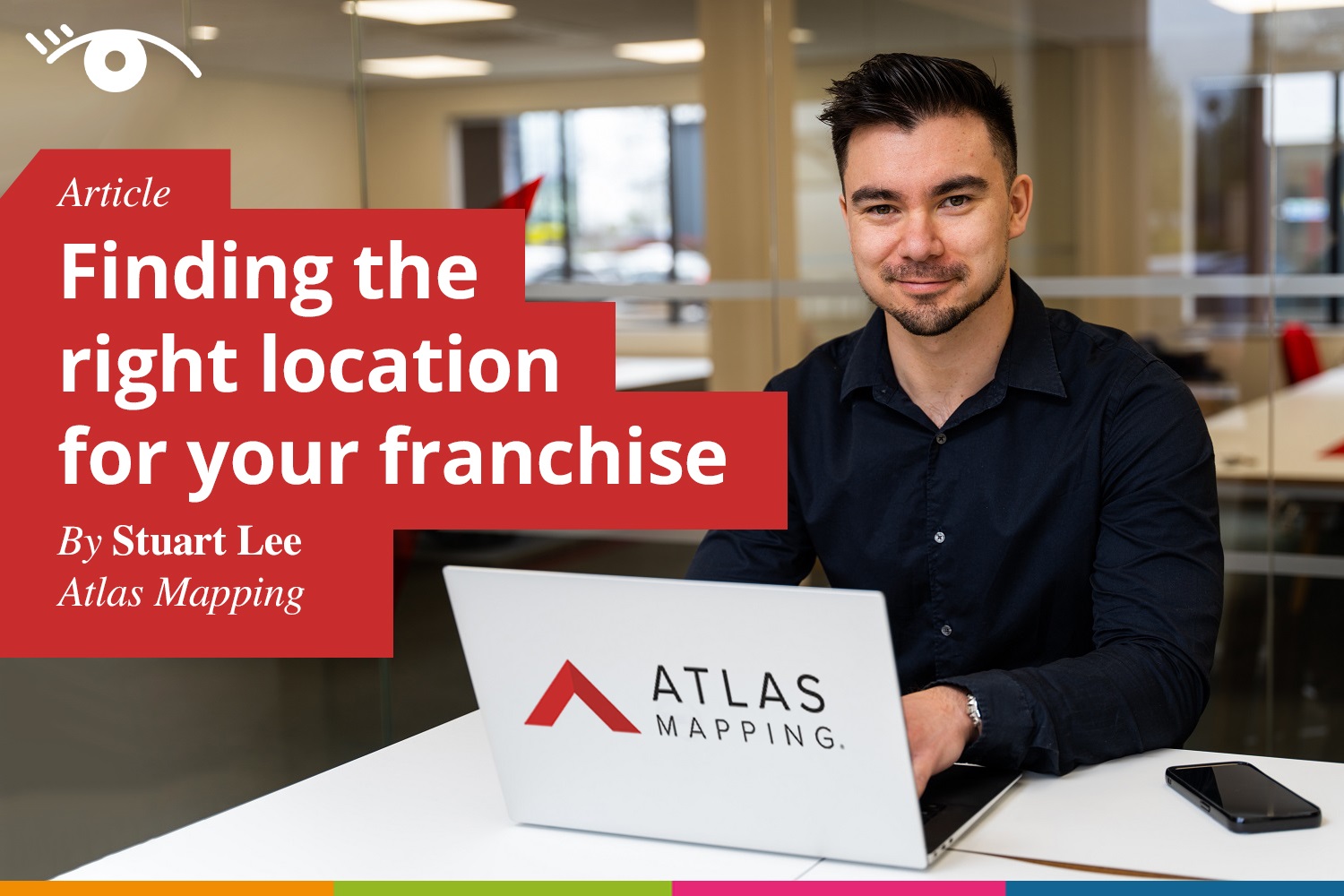 Atlas Mapping offers advice on making sure you are asking the right questions about the territory on offer and setting realistic expectations. This will not only help you during your journey to becoming a franchisee but also have an impact on how you can grow your business.
The opportunity
First and foremost, it is important to understand the size of the opportunity available within the territory and how this has been researched. To understand the opportunity, research should be carried out on the demographics of the territory to determine the size of the target market.
As an example, if you are looking into setting up a children's activity franchise then how many children actually live in the territory? Or if you will be establishing a store or restaurant how many potential customers live within a realistic catchment area?
The demographics being looked at should relate to the customers you expect to be servicing and how they are acquired. If your service is a household service, then the primary demographic should be the number of households and not the number people. This is because in more urban areas you might have a very high population but also a much higher average number of residents per household.
Having knowledge of the size of market you will be servicing is very important for building your business plans as well as gauging the franchise opportunity on offer. If you know the size of the market, then you can be more confident planning the potential growth of your business.
Serviceability
This is a very important and often overlooked element of a franchise territory. It is very easy to think that "more is better" when buying a territory, however the more geography or opportunity you have then the larger the demands on your business to reach those potential customers.
We regularly see the costly mistakes of oversized territories affecting both franchisees and franchisors. As a franchisee, covering a territory that is too large can impact the return on investment (ROI) from your business activities. By spreading out too far you don't concentrate and build up your business in one area, this is often referred to as "the shotgun approach". Being much more targeted in a smaller area can deliver not only greater returns but also in a more profitable manner.
It is even more costly for a franchisor and a brand to award territories that are too large. Doing so can mean lots of geography is tied up in territories that franchisees cannot realistically service. Because the geography is also bound in franchise agreements it becomes difficult and costly to renegotiate territory borders. As a result, many potential customers and markets go untouched and the growth of the overall business stalls and becomes stagnant.
It is more sensible to put in place a multi-territory development plan rather than purchase a singular very large territory. This gives you a more structured growth plan and the franchisor stands a much greater chance of maximising market reach. Ultimately these two things combined give the overall business scope for larger and quicker growth which is good for all parties.
Not all territories are equal
It is unrealistic to expect a franchisor to offer territories of equal opportunity as this is an impossible task. As an example, would a territory containing 50,000 households in South West London deliver the same opportunity as a territory with 50,000 households in rural Cornwall?
A franchisor who has invested in their network will have pre-planned the whole network with a professional third party mapping company. This allows all of the realistic territories to be identified and be built in an optimum manner to provide maximum market reach potential.
You must be careful if you compare your territory opportunity to other territories in the network as each territory has different market demographics and compositions. You may find that your territory contains less target market than one of your potential neighbours but it might be much more densely populated. This will make it much easier for you to reach customers and therefore improve your ROI from business activities.
In summary it is important to take a holistic view of your territory making sure all aspects are taken into account and what it will mean for your business venture. There is a wealth of information available to explore the detailed market composition of any franchise opportunity available to you. Carrying out due diligence research on your area will not only make sure you are comfortable with the opportunity you are purchasing but also give you a good foundation to build your business.
Your franchise training programme
A good franchisor will invest heavily in training their franchisees so that they provide them with all the skills they need to make their franchise a success; a bad franchisor is only after your money!
The ethical franchisor will make sure that their franchisees and their staff are fully prepared in all aspects of operating the business before letting them open.
The training is uniform across the network so that all franchisees operate the business in the same way. This consistency helps to ensure long term success for both the franchisee and the franchisor.
The franchisor is responsible for ensuring that they provide training that is competitive and current.
Different types of training you could receive
Training can take the format of "classroom training" which usually happens at Head Office in a dedicated training room, and "hands-on" training where you are trained in either an actual franchise unit or an operating unit that has been built in Head Office and which mirrors that of an actual franchise outlet; hands-on allows you to grasp how everything physically works.
Most franchisors will offer a combination of the two. The training will be undertaken by a skilled and qualified instructor who knows how the business operates inside and out and can take up to 8 weeks.
You will also have a training team with you during your first few weeks of trading to make sure that you remember everything the training taught you, and to offer their experience on running the franchise. This on-site training is invaluable.
If they company introduces change, new systems, products etc, the franchisor should make sure that the change does not disrupt the network and that all franchisees are comfortable with the change. To do this they will make sure that adequate training is given.
Your training should also have covered how to recruit and train staff. This is important if your franchise is a retail business where the nature of the work means that staff turnover can be high. You will need to be able to recruit and train staff effectively and efficiently.
How to determine if the training is sufficient
The Franchise Agreement should outline the franchisor's obligation to the franchisee i.e. what they are committed to provide. Does it look sufficient? Does it look value for money?
To find out more about what the franchisor provides, ask them:
What areas of the business do you cover?
How long does the training last?
Who takes the training? What is their experience? Do they have qualifications?
What type of training do I get? Classroom? Hands-on? Or both?
Do you provide a training manual for the franchisee to keep?
Do you train key staff members or just the franchisee?
Do you have a training team/person that is with the franchisee after the launch of the business?
Do you offer training if changes are implemented into the system?
Do you offer any advanced training programs?
Speak to existing franchisees and ask them:
What training did you receive?
Was it hands-on or classroom or both?
How long did it last?
Who took it?
Did the course most things about the business?
Anything they should include?
Did they train your staff or just you?
Did you receive any training manuals?
After you opened your business, what training did you receive in the first week?
Are you offered any additional training as the business progresses?
Have you had to be trained in anything new .e.g now systems, software, products etc?
Overall how do you rate the training provided? What would you change if anything?
A good franchisor will be dedicated to providing uniformed, continuous, detailed and measured training.
Recruiting the right people for your franchise
Lindsay Parkinson from Avensure discusses the recruitment process for franchisees when selecting the right people to work in your franchise business.
Well I have done it…It has been my life-long dream to take on the franchise, but where do I start? There are so many things to consider before I open the doors for the first time under my management. I need to know what the key issues are going to be moving forward.
It all looks fairly simple from a strategic level, but I need to integrate the people aspects with all other tasks I need to complete to ensure a successful launch. And, as we all know, people are unpredictable.
The key elements are quite simple…
Hire the right people
Issue contracts of employment
Issue an employee handbook
Manage performance
Hiring the right people seems easy right?
The detail makes it more complicated, but making it very simple and breaking it down to a number of key activities:
Defining the role
Managing the application and selection process
Making the appointment
Managing performance
Recruitment process
I want the best people in order to promote my brand, I will need to make sure they are professional, understand the products and are able to upsell the business to customers, to enhance their experience and further promote the services we will provide.
In order to ensure consistency in your recruitment and selection practices, the following steps provide a framework to follow in order to attract a talented and diverse pool of applicants. Let me break it down into steps so it's easier and you can see key points.
Identify vacancy and evaluate need
Recruitment provides new opportunities for businesses/departments to align staff skill sets to initiatives and goals, and for business, department and individual growth. Proper planning and evaluation of the role will lead to hiring the right person for the role and team.
Essential job activities
Essential job activities describe the duties and responsibilities of a position. A job function is considered essential when the performance of the function is the purpose for the position.
Typically, an essential function occupies a significant amount of time of the employee's time and requires specialized skills to perform. By accurately describing the essential functions of the job, job seekers will have a clear understanding of the role and your expectations for performing them.
When developing essential functions for the position the following should be noted:
Functions of the job which are critical for the position are arranged by importance and percentage of time spent
Complexity level and authority for the role should be described to help attract the appropriate level of qualified candidates
Essential tasks listed should be inter-related to the accomplishment of the essential function.
Job description
A job description is at the heart of a successful recruitment process. It forms the basis to develop interview questions, interview evaluations and reference check questions. A well-written position description:
Provides a first impression of the business to the candidate
Articulates responsibilities and qualifications to attract the best suited candidates
Provides an opportunity to clearly articulate the value proposition for the role
Serves as documentation to help prevent, or defend against, discrimination complaints by providing written evidence that employment decisions were based on rational business needs
Improves retention as turnover is highest with newly hired employees. Employees tend to be dissatisfied when they are performing duties they were not originally hired to perform.
Identifies tasks, work flow and accountability, enabling the department to plan how it will operate and grow
Assists in establishing performance objectives
Is used for career planning and training by providing clear distinctions between levels of responsibilities and competencies required
Attracting a talented diverse applicant pool
Once you have identified the position purpose, essential functions and qualifications, you will want to go back and review the description.
Is it written to attract an individual who is a top performer? Does it describe the inclusive culture of your organization? Marketing the job to a diverse audience is just as important as accurately describing the role.
Minimum requirements
The minimum requirements or "basic qualifications" are those qualifications or criteria which was established in advance and advertised to potential applicants:
They must be relevant and relate to the duties and responsibilities of the job (e.g., should not list driving requirement if not part of responsibilities or duties of the job).

"Soft skills" can be required qualifications (e.g., communication/collaboration) and will vary among applicants
Not be absolutely ascertained in resume
Be evaluated in interview

Can be position/department specific (e.g. valid driver's license)
Can be assessed by reviewing the resume
Must be objective, non-comparative and business related:
The minimum requirements should support the accomplishment of the essential function.
Listing too many skills as requirements significantly limits your applicant pool and selection. It is recommended no more than 3-5 "hard" job skills (e.g., Bachelor's degree, 5 years accounting experience, experience in accessing and retrieving data from financial systems using PC based tools and other "technical job skills") in addition to the "soft skills" be listed depending upon the level of the position.
Preferred qualifications
Preferred qualifications are skills and experience preferred in addition to basic qualifications and can be used to narrow down the pool of applicants.
These preferred skills, knowledge, abilities and competencies can describe a more proficient level at which the essential functions can be performed such as prior experience with corporate/institutional event planning (prior experience in a related area can be preferred) and knowledge of applicable policies and procedures (prior experience within the Business system can be preferred).
Advertising
Advertisements should be clear and indicate the:
requirements of the job
necessary and desirable criteria for job applicants (to limit the number of inappropriate applications received)
the organisation's activities
job location
reward package
job tenure (for example, contract length)
details of how to apply and the deadline.
Length advertised dependent on the type of role and
Other ways to attract applications include building links with local schools, colleges and universities, working with local jobcentres and holding open days. The list is not exhaustive, but tailor your advertising to the role.
When to appoint an accountant
TaxAssist Accountants looks at when to appoint an accountant and the benefits of doing so.
An established franchisor will have an accountant and will advise that when you invest in their business model as a franchisee, that you should also enlist the services of one from the outset. This will help you to keep track of your franchise's finances and cashflow, which is especially crucial during the early days of your business venture.
What are the benefits?
Appointing an accountant can provide your new venture with some essential advice and ongoing support that will steer you through that tough first year and beyond.
A good accountant will help you set up a bookkeeping system to keep track of your invoices and your receipts in real time.
More importantly, you may need your accountant to help with registering for PAYE and VAT and the procedures involved should you need this. It is common for the initial franchise fee to consist of different components and we can advise on how to get as much tax relief as possible, all whilst staying within the rules.
Your accountant can provide the service of being an additional business adviser. Ahead of any funding applications, an accountant will be able to give advice on a business plan and the tax considerations when registering a new business.
Should you operate as a sole trader, Partnership or Limited Company? An accountant can discuss the benefits of each structure and the tax implications, and go through what is right for your circumstances, needs and plans.
Managing your business as it grows
Whether you are a growing business or starting up, an accountant can advise you on the best way to arrange additional finance without putting your business at risk.
When your funding is in place, there needs to be a layer of control to ensure your business grows in the right way. Many of your concerns may be financial – key performance indicators (KPIs), adequate working capital, good stock control, invoicing and so on – an accountant's advice will be invaluable in such matters.
The tax bill should be covered by the business and an accountant will review and look to optimise your tax position and make sure you're operating as tax-efficiently as possible. More importantly an accountant can help you plan to put aside any possible tax so that a large tax bill doesn't arrive out of the blue, putting your business at risk.
Promoting the launch of your franchise
It's all good and well being prepared for the launch of your business, but who knows about it?!
Get the full support of your Franchisor
One of the benefits of being part of a franchise network is having a recognisable brand name as it brings with it a certain degree of trustworthiness from the public before you've even opened for business.
Take advantage of this and work alongside your franchisor to make sure you maximise awareness to your business in your local community.
Get your local community involved
Though the franchisor will help with the launch - the level of marketing help and support they provide for promoting the launch of your business locally and nationally will be outlined in the agreement - you shouldn't solely rely on them as they won't know your local community as well as you.
It's best to get out there and meet with other local businesses and residents, get to know them and vice versa. Join, and be active in, local networking and steering groups and be enthusiastic about the business and the benefits it will bring to the local community.
Get the media involved
If you are a premises-based franchise, speak to local newspapers and invite them along to the official launch. A good write up in a local newspaper and website will help drive traffic to your business.
If a home-based or mobile franchise it may be worthwhile taking an advert out in the local press if they can offer advertorial alongside it. Many local newspapers will offer this and it's a great opportunity to tell your story and let the public know about the services you offer. Let people get to know you; people buy into people (and it doesn't hurt to have a great brand name alongside you!)
Get social
Social media is great for promoting local businesses. Work within the guidelines set by your franchisor on the use of social media to set up Facebook and Twitter accounts. Be clever to create a buzz around the launch of the business; any special launch promotions you can offer?
The franchisor will do their bit as it is in their interest to promote because if you do well then they do too. But remember this is your business, your livelihood, and so you need to be energetic about it and get out there and create a buzz…get people talking about it!
Why you should hold a grand opening event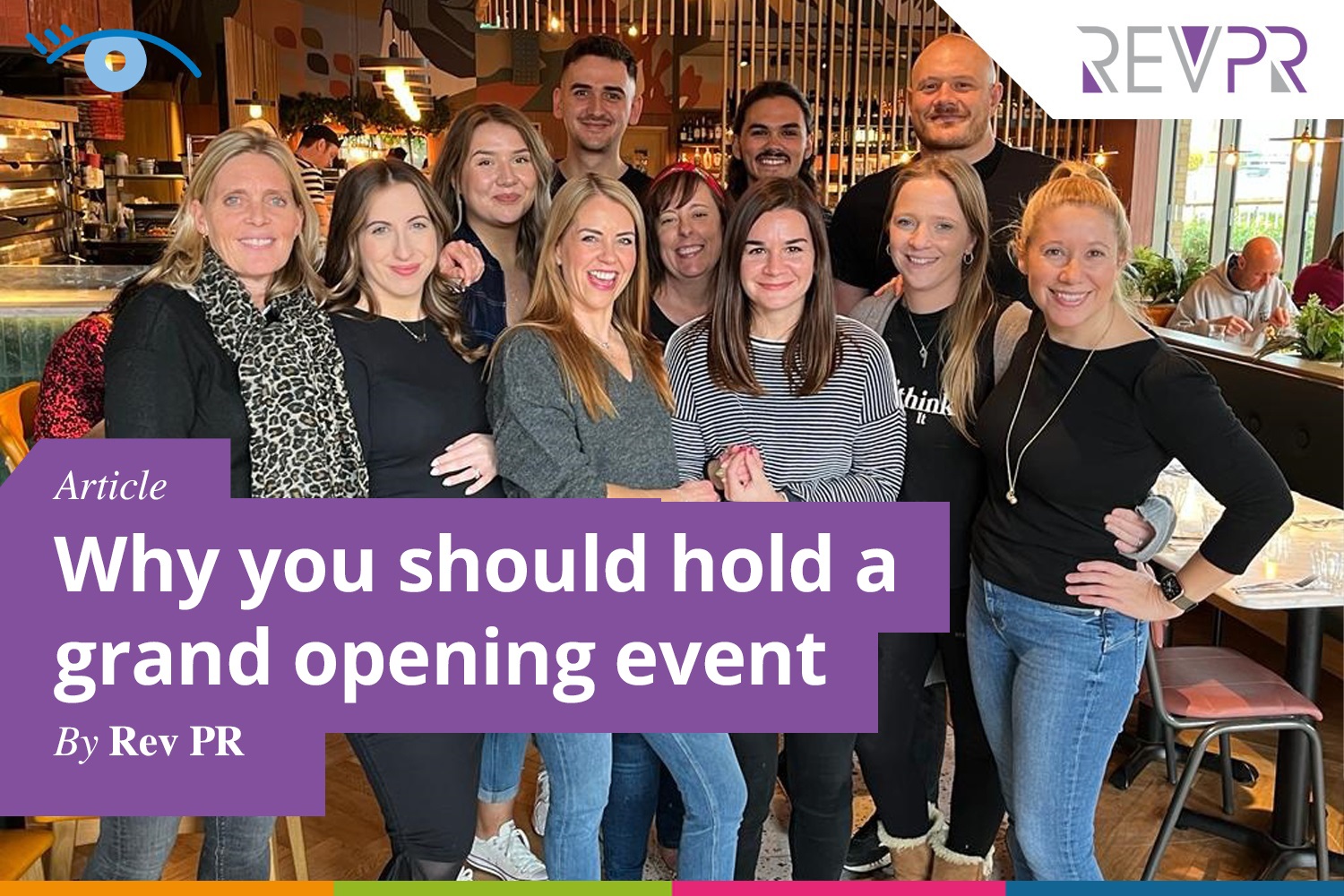 It feels especially relevant to be talking about this, given that we're taking the long-awaited steps towards a collective 'Grand Opening' as a nation. Shopping centres and high streets have gleefully swept away the tumbleweeds and welcomed customers back with open arms – albeit masked and distanced in many cases.
What that also means, is that new businesses can now officially get the balloons and red carpets out and celebrate their launches in style. And don't forget the cake… We love cake. No matter the offering, sector or location, new business owners should be undertaking what Team Rev refers to as 'Grand Openings'. Why? Well, aside from the cake, it's an exceptional PR opportunity! It doesn't matter if your business operates from a physical location or not. It doesn't even matter if you sell an invisible service. Yes, we heard you gasp at the back but fear not. Read on.
Your event needn't be complicated
But as with most things, you get out what you put in. When it comes to the PR campaign to support it, think strategically and don't just wait until after the event to drum up interest. Here are some top tips to make the event a success and get the most out of it, for the longest time possible.
Goody bags, special offers, demos, live acts - make sure it's going to be fun!
Have a soft launch to iron out any kinks - invite family and friends as guinea pigs
Set a firm date for the Grand Opening and stick to it!
Invite key local figures and the media
Invite the best local and regional social media influencers
Get photographs – lots and lots of photographs (remember your authority forms)
Collect quotes and video clips (and remember your authority forms)
Craft a strategy that includes both pre and post press releases.
What you can do it you if you aren't premises based or you're a B2B brand
All of the above! Okay, okay we understand that it's not quite as simple. But the principle remains the same. Sometimes, as a B2B or a service-based business, you have to be a little more creative. Look for a local venue to partner with and for added oomph, perhaps tie in a little charitable activity with your launch too. Depending on your target client, the media and key contacts you invite will be slightly different, but the end goal is the same, and is 100% achievable. Trust us, we do it.
The point of all this being, your new business is going to be a valuable asset to the local area and there's more to talk about than just what you're selling. Which by the way, shouldn't form part of your PR activity anyway. We support franchisors and franchisees with Grand Openings every week and see the impact they have. So, to us, this is a no brainer.
But in case you need the benefits spelling out:
Launch PR campaigns kick-start a new business
Business owner profile raising to become a local hero!
Local brand awareness generates more customers and increased sales
Boost attendance at grand openings, showcase events and menu launches
PR builds trust and credibility which, in today's marketplace, is vital.
And finally, when you do hold your own event or celebrate your launch just don't forget the cake will you. Did we mention we love cake? It's not a hint, but if you'd like our help then we do love cake.
To chat about how we help new businesses to launch with a bang and hit the headlines, drop us a line or give our Director, Lucy, a call on 07921 572554.