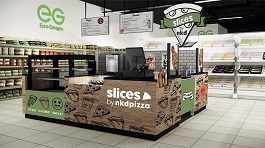 NKD Pizza launching new on-the-go pizza format
Trial launch in EG Group sites across the UK
Launch follows the success of first UK restaurant opening
Global pizza brand is stepping into new territory as it gears up for the trial launch of its first on-the-go pizza slice concept, "Slices by NKD Pizza".
NKD Pizza was founded in New Orleans in 2006 and is now headquartered in Edinburgh. This move was to support the growth of their franchise network across Europe and their international markets. Now adding to their delivery and carry out offering with a new grab and go concept which is being launched under its new sister brand "Slices by NKD Pizza" scheduled to open on 29th October, with the second one scheduled to open on 12th November.
Currently specialising in delivery and collection, NKD Pizza focuses on delivering an excellent customer experience. From the quality of the ingredients to the speed of the deliveries. This model means they can offer a superior product to their customers whilst remaining competitive on price. Based on the success of this model NKD Pizza International has a committed growth plan of 750 stores across the global stage and are continuing to grow their franchise network.
NKD Pizza fans can enjoy their favourites from Slices by NKD Pizza including the house signatures, 'Cheat Day', 'In a Hurry for Pepperoni', 'Chicken Tikkzza' and not forgetting the vegetarian top-seller the 'Garden Party', not just at home, but also as the ideal go-to meal when travelling.
And it doesn't end there. Pizza lovers can also get their hands on other NKD Pizza favourites including the delicious signature Chicken tenders and indulgent Bombay wedges – the perfect comfort food whilst on the go.
Staying true to their brand, this move into an on-the-go concept comes as the company continues to produce and deliver innovative pizza concepts to fit consumer demand. Whilst being a disruptor in the pizza industry with product and operational efficiencies NKD Pizza retains the core values of the successful franchise model.
Grant Clouston, Global CEO at NKD Pizza, said: "At NKD Pizza, we're always striving for more, so we're excited to be championing this new and innovative product through our sister brand, Slices by NKD Pizza. We believe we've created a product that delivers not just on taste and quality, but that also offers our customers a convenient and satisfying on-the-go option whilst travelling.
"We're delighted to be partnering with EG Group to bring this creation to life. Our slices are bursting with flavour, and we're excited for pizza fans to taste our unique blend of herbs and spices made from local seasonal produce." The expansion into a food-on-the-go concept comes after the continual success of NKD Pizza UK, with the pizza experts also scheduled to open more restaurants later this year.
Mohammed Tayab, EG Group's Food & Beverage Director for Europe, said: "We are very pleased to be partnering with a global brand like NKD Pizza and are very excited to trial their fresh pizza product across a number of our sites. Upon completion of a successful consumer trial, the intention is to open more locations serving NKD Pizza across our network. We firmly believe offering pizza by the slice will be very popular, particularly in our more transient locations."