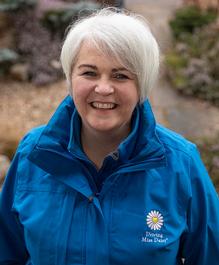 I'm loving being a Driving Miss Daisy franchisee. My 6-month journey so far has taught me lots about myself and the business. I'm extremely proud to have been the first franchisee in Scotland; introducing my local area to the benefits of Driving Miss Daisy as well as encouraging others in Scotland to start their own Driving Miss Daisy franchise. It has been a busy and rewarding first 6 months!
My business is doing great. I have a fabulous companion driver called Caroline now working with me who is loved by all our clients. With Caroline undertaking someof the driving and companionship duties, it has enabled me to spend valuable time promoting the business and meeting potential clients. This has put me in a great position to already be thinking of taking on a second vehicle.
As well as picking a great franchise opportunity that meets my skill set, a lot of my success to date is due to the amount of research and pre-planning I did initially. I spent valuable time before I was operational promoting my new business and arranging meetings with people who were able to refer clients to me such as charities, organisations that support the elderly, care home managers and wardens in assisted living properties. Like me, those I met were very positive about Driving Miss Daisy and appreciated the need for an assistance and companionship service; this was very encouraging to hear.
The preparation and planning beforehand meant that when I was able to get my vehicle on the road, I had clients waiting to use my services. From the first month I was making an operational profit and have been each month since. I don't think there are many franchise owners who can necessarily experience being in profit so quickly, but it proves there's a huge demand for supported transportation and companionship.

What we offer is unique. We are the only driving and companion franchise in the UK and the only nationwide service of its kind. I love that we are making a genuine and noticeable difference to our clients and their families. It's no secret that our population is ageing and unfortunately people in many cases are ageing with associated physical and mental health problems. Older people are becoming increasingly isolated and lonely and so getting out and about is therefore vital for their physical and mental health. But when those older people don't have families, or when families don't have or can't afford the time to take their parent or elderly relative to clubs, appointments or even just to the shops and the person needs more than a taxi, they are literally stuck in their home.

Driving Miss Daisy is working to change this. Because I'm trained to deal with first aid, Dementia, special handling and I'm a sighted guide too, I can help those clients get to hospital and doctors' appointments, hairdressers, clubs and social engagements as well as doing their supermarket shop.

We build relationships and as our motto says "we are family when family can't be there" and I love that aspect of my business.

The feedback I have had from my clients and their relatives has been incredible and helping people the way we do is so humbling and very rewarding . Every day is different, my clients are all different and that makes it fun and interesting.

I'm excited about what the future holds for Driving Miss Daisy and I look forward to welcoming more franchisees into our expanding family.