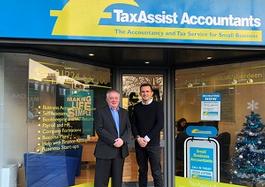 The shop on High Street, Banchory joins Steven's first shop on 92 Rosemount Place in Aberdeen.

After taking over the reins from his father in December 2017, Steven has moved premises in Aberdeen, taken on additional staff and opened a new shop in Banchory, which marks the next phase in Steven's ambitious growth plans.

Chartered Accountant Steven, who runs his practices with the assistance of seven staff, said: "Building my own business and working in the small business community has always been my ambition.

"I am a passionate supporter of small business as the lifeblood of the local community and there is a real need for a network of local, approachable business services, and this is why we've taken the step to open a new shop.

"As demand for our services continues to grow, the new shop in Banchory gives us the opportunity to grow with it.

"Having looked at TaxAssist with my father back in 2010, I was really impressed with the business model, so when the opportunity arose to step into his shoes, I jumped at it. He built an outstanding business, which is well respected within our small business community and I've thoroughly enjoyed meeting existing clients and spreading the news of our services to new clients."

TaxAssist Accountants now has over 290 shops and offices around the UK. If you would like to run your own TaxAssist Accountants practice, please request more details of franchise opportunities here!