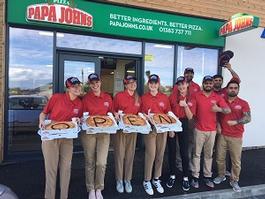 Leading pizza franchise, Papa John's, has opened in Dunfermline in Fife, Scotland. Former pizza delivery driver turned Franchisee, Siddhartha Chirumamilla (Sid), now runs multiple Papa John's in the South East of England and also several in Scotland, including Rutherglen, Glenrothes, Kirkcaldy and now Dunfermline.

Sid confirms: "I used to work for Papa John's when I was studying for a degree in automobile engineering in London. At the time I would never have guessed a few years down the line I would be managing multiple Papa John's across the UK!"

"Dunfermline is the latest town to be introduced to the delights of Papa John's Pizza! It's the largest locality in the Fife region and the store is a new build on Woodmill Road, which is in the centre of a new development area," confirms Sid. "With 35K households within reach of delivery, Dunfermline now represents an exciting opportunity to reach a wider customer base and grow my portfolio of Papa John's stores further.

"Papa John's pizza is known world-wide for its "BETTER INGREDIENTS. BETTER PIZZA." promise, which means we only use the finest ingredients and fresh dough – never frozen - to create pizzas which are absolutely irresistible! Our customer service also 'tops the lot' and so it was important our staff were ready to serve-up our top-class pizza from day one. Due to its proximity to my other stores, existing staff have initially been working alongside 15 new local recruits to ensure we deliver on that promise.

"The Papa John's incentive scheme for franchisees opening new stores has been instrumental in the expansion of the number of stores I run," explains Sid. "Deals on equipment, reduced royalty fees plus help with marketing has all helped to make sure new outlets 'taste success' quickly. My aim is to open further Papa John's soon so watch this space!"

As one of the largest pizza companies in the world, Papa John's has opportunities for franchisees throughout the UK. Help is provided with location selection and full turn-key opening of stores. As a franchise, the Company supplies all the assistance needed to get your successful Papa John's up and running.