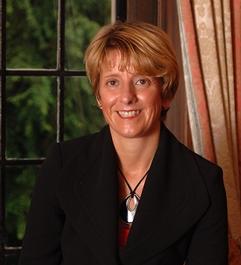 Since 2010 Renee Mackay has built up a client base of over 1,200 small and medium-sized businesses with a fee bank of £800,000 and 15 employees.
Business is booming for Edinburgh-based accountancy firm TaxAssist Accountants headed up by serial entrepreneur Renee Mackay. Rapid growth meant she had to move to larger premises in Corstorphine in 2013 – three times the size of her original office.
Renee recently opened another Edinburgh office in a joint venture with business partner Alan Johnston in Goldenacre in 2016, which follows the opening of her other joint venture office with business partner Janet Mclean in Dunfermline in 2015.
Alan said: "Renee is a real powerhouse networker. I was previously in franchising, owning three Domino's Pizza branches for 14 years with a combined turnover of £3m, but I was looking for a change of direction. As soon as I spoke to Renee about TaxAssist Accountants, I knew it was the opportunity I was looking for."
"You meet a huge variety of different clients and it is very satisfying being able to support them not only with accounts and tax, but also help grow their businesses. We focus very much on providing excellent customer service and our friendly approach. We are a jargon-free zone and explain tax and accounts in a way which makes sense to our clients. Any accountant can do the mechanics of doing your accounts, but it is the customer service which adds the real value."
He added: "Within 18 months we have built up our client base of 160 and I have just taken on another accountant to handle the workload. Being part of the franchise is fantastic as we can tap into resources such as IT and accounting systems which are often beyond the reach of small accountancy firms."
Renee is no stranger to the franchising world, having run a highly successful franchisee training company for 10 years.
"I could see the huge potential in the TaxAssist Accountants franchise, so it really was a no brainer," explained Renee. "They have introduced a completely new approach to accountancy services which is miles away from the traditional image of the accountant. We are friendly, approachable and professional."
TaxAssist Accountants has been a full member of the British Franchise Association (bfa) since 2003. Alan said: "Being members of the bfa has huge benefits. It tells clients that our business follows strict ethical franchising standards and that our business has achieved significant milestones at an operational level."
If you would like to follow in Renee, Janet and Alan's footsteps, contact us to find out more about franchising and the fantastic opportunity it offers to start your own business here!