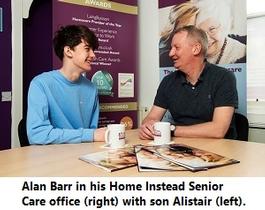 After two decades working in corporate finance, father-of-three Alan Barr walked away from a six figure salary to become his own boss as a franchisee with Home Instead Senior Care in South Lanarkshire.
Having held senior roles including CFO of £350m turnover Peel Ports, Alan was also the former FD then MD of Glasgow Airport. His corporate career involved UK and international travel and 'working all hours' as a way of life.
But when his wife Jacqui passed away, Alan aged just 44 at the time, needed to find a new career that would keep him closer to home so he could raise his daughter and two sons. He wanted to run a business that would support his family for the long-term but where he was able to work on his own terms too.
Given his financial background, Alan was aware of franchising as a concept – a way to start your own business under a brand's model but with less risk than being a conventional start up.
Having a proven tried and tested business model and a robust support structure to nurture business development and growth appealed to Alan. That's alongside the fact that he could set his territory office up just 5 minutes from the family home to be close to the kids.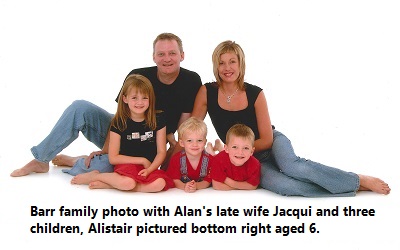 Alan, now aged 50, opened his Home Instead Senior Care franchise a year and a half ago. And his 17-year-old son Alistair has been involved in the business from day 1, as the office manager and responsible for the business' website and social media profiles.
"I wanted a business that was sustainable, that would grow and have longevity to see me through to the age of 65/70," said Alan. "But I also wanted something I was passionate about to be my 'second career' in life and that was the elderly care sector."
Alan had seen the challenges within the care landscape in Scotland, after looking for care to support his mum who had late stage Alzheimer's.
"From my own experience of looking for quality care for my mum, I could see that senior care was something that I could really care about as a business. Looking at Home Instead's credentials in care excellence as well as its calibre as a franchisor, it seemed the right match for the next stage of both my professional and home life."
"I could see the market opportunity of buying a franchise with a brand that's shaking up the care sector market with its quality model and the fact that we have an ageing population – age is all around us."
In Scotland specifically, two key factors have created a perfect landscape for homecare franchisees to flourish.
A combination of the legislative changes that have brought in self-directed support enabling people to have a choice over care options. That's together with people wanting to experience a better standard of care for themselves and their loved ones which means that private homecare providers that can offer quality and excellence can excel.
That's the case for Alan's South Lanarkshire territory, having opened in October 2016 he currently has 40 clients and 20 CAREGivers and is recruiting for more.
Alan said: "I walked away from a corporate career and started a management franchise in senior care, which is a far cry from financial roles and big capital projects in ports and airports."
A key fact to highlight is that, like Alan, people don't have to have a care background to buy a Home Instead franchise. It's a management franchise opportunity, which means the owner runs the business and recruits the care professionals and CAREGivers to provide it.
Added Alan: "It's a different world and different people, but it's my world, it's my people and it's my business. Plus having my son involved in the franchise from the very start has meant I've been able to start mentoring him in business to create his first career opportunity."
There are 21 franchises available in Scotland with Home Instead Senior Care. The franchisor will be exhibiting at Scottish Franchise Week 2018's exhibition on 25th April in the Grand Room, at the Grand Central Hotel in Glasgow.