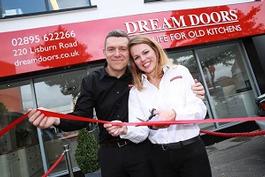 Dream Doors is the UK's biggest name in kitchen makeovers, with 80 franchisees trading from showrooms in West Edinburgh all the way down to Truro. The company is keen to add to its four existing showrooms in Scotland's central belt, so is exhibiting at the inaugural Franchise Opportunities Scotland, held at the Grand Central Hotel, Glasgow on Wednesday 25th April. Director of Franchise Recruitment for Dream Doors, Alex Waite, explains why.

"Our franchisees in Scotland are flying, with above average monthly sales compared to the rest of the UK. Homeowners in Scotland clearly have an appetite for Dream Doors' products and services, but at the moment we can only help customers in some parts of the central belt," he says. "There are several areas still available throughout Scotland, so we decided to commit to this new recruitment event in Glasgow. We hope to meet lots of great candidates while we're there on 25th April."

Dream Doors specialises in replacement kitchen doors and worktops. By simply replacing these components, the company provides a brand-new kitchen look for a fraction of the price, the time and the hassle of a complete kitchen refurbishment. This coveted service has proven prosperous for the company, and its franchisees, taking Dream Doors from a single outlet in 1999 to the multi-million-pound retail brand it is today.

Franchisees don't need any kitchen industry experience, and they certainly won't be required to handle any installations. As a sales and management franchise, with award-winning training and support, new Dream Doors franchisees can quickly build a successful business and enjoy a six-figure annual salary. What's more, since most customers live within a 10-mile radius of the showroom, franchisees get to work locally. Which, of course, means less time commuting or spent away from home. In fact, many Dream Doors franchisees choose to work with their loved ones and have built successful, family-run businesses.

Interested parties are encouraged to visit Franchise Opportunities Scotland, Grand Central, Glasgow on the 25th April. Free tickets are available on request through our contact form here!