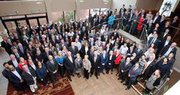 When you're ready to take your first step towards owning your own franchise business, there is one question that you probably have – what does it really feel like being a franchisee and to lead the business every day?
Bluebird Care understands that purchasing your franchise is a significant and often life-changing investment, so we are offering prospective franchisees an opportunity to spend a day in a participating Bluebird Care franchise business under the guidance of the franchisee*.
Successful applicants will get a taste of how to lead one of the UK's leading homecare businesses and be part of a network of over 200 offices delivering over 20,000 customer visits every day. The experience will give real insight into life as a Bluebird Care franchisee.
*The Franchisee for a Day will be under the direct supervision of a Bluebird Care franchisee. While every effort will be made to provide a convenient office location, we reserve the right to refer Franchisee for a Day applicants to any participating Bluebird Care office location.