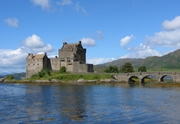 Scottish Franchising could be worth as much as £1bn to the Scottish economy by 2020 – that's the prediction of the British Franchise Association (bfa) as preparations get underway for Scottish Franchise Week 2016, which runs from 16-20 May.

Scottish Franchise Week (SFW) this year is focused on 'unleashing the entrepreneur within', reflecting the ability of franchising to empower people to become their own boss. The week will celebrate the many franchise success stories all across Scotland and raise the profile of the booming franchise sector through a series of events and educational seminars.

In 2015 franchising contributed £800m to the Scottish economy, up 14 percent in two years. The country is home to 2,200 franchisee-owned businesses that are collectively responsible for around 32,000 jobs.

SFW kicks off on Monday 16 May with a prospective franchisor seminar, hosted by solicitors Harper Macleod in Edinburgh, for companies who may be thinking of growing their business through franchising – and is free for Scottish businesses. On the Tuesday a specialist seminar on social media for franchising will be held at Harper Macleod's office in Glasgow, followed in the evening by a social gathering at ROX in Glasgow.

Wednesday morning sees the highlight of the week, the Scottish Business Breakfast. Expected to attract over 200 delegates from the franchise and business worlds to the Radisson Blu in Glasgow, the event welcomes keynote speaker Jim Murphy, ex-leader of the Scottish Labour Party and now a business advisor. He will be joined on stage by Rainbow International's Steve Bramley, and Dyno franchisee Noel Gallacher, who covers the whole of Scotland and was last year named Customer Service Franchisee of the Year.

A golf day follows on the Thursday, while Friday see a prospective franchisee seminar for anyone interested in finding out more about franchising and the many opportunities it offers. This will be held at solicitors Wright Johnston & Mackenzie in Glasgow, and is free to attend for Scottish residents. Pip Wilkins, chief executive of the bfa, said:

"The franchising boom in Scotland is being driven by a thriving mix of local businesses alongside big-name brands identifying the Scottish market as key to their strategic plans.

"They're giving Scottish residents, many of whom had no previous experience of running a business, the opportunity to fulfil their ambitions of being their own boss; and those people in turn are creating jobs and generating wealth for their local communities.

"There is also a superb franchise support network in Scotland with expert consultants, lawyers, accountants and bankers who have the expertise to help both franchisors and franchisees succeed in their businesses. With the level of confidence in Scotland and the upward trend, there is no reason why the sector cannot achieve or even exceed £1bn in value by 2020."

This year's sponsors are HSBC and consultancy Platinum Wave. Suzie McCafferty, managing director of Platinum Wave and 2016 chairperson of the bfa's Scottish Forum, commented: "There really couldn't be a better time to get involved in franchising in Scotland, the market is growing as a result of continued investment, with some really exciting opportunities available. Whatever your interest in franchising, the events during Scottish Franchise Week have something for everyone.

"From learning how to franchise your own business, to getting great advice on choosing the right franchise for you and becoming your own boss – if you are interested in franchising I can't think of a better place to be; it's a real showcase of the strength of the industry in Scotland right now!"

To find out more about the Scottish Franchise Week events and how to attend, click here.