Since buying a Business Post franchise 10 years ago Neil Stewart's business has gone from strength to strength, to the point where he now employs around 30 people to service customers in Ayrshire and Lanarkshire. Neil's business is now based at Evans Easyspace on the Bellshill Industrial Estate, a move he made as his business growth demanded larger premises. Neil chose to site his distribution centre at the Evans Business Centre because of its location and its offer of flexible and straightforward terms. Part of the Leeds-based Evans property group, Easyspace has a network of quality premises UK wide.
Franchise businesses are often service-based businesses that benefit from being located at a centre of commercial business with potential customers on site as well as a good travel network for easy contact with customers. All 24 of Evans Easyspace Business Centres, including the Bellshill site, are based on a prime location that offers location benefits to new franchise businesses.
Neil was a general manager with a food company in Bothwell near Bellshill before starting his franchise business. He was motivated to do something different when his former employer asked him to relocate. Instead of moving, Neil made a complete change and chose to buy a franchise instead. There are lots of franchise opportunities out there and it is a case of researching which businesses have features that suit the new franchisee.
Do they have a National network and identity?
Are they an established name and how many franchisees are there (speak to a sample of them)?
What level of support and training do they give?
What is the cost and what does the fee include?
Neil examined all these details and also looked at what his own strengths and skills were before deciding on Business Post, a national franchise company that distributes parcels around the UK. He is happy to comply with their procedures so that a consistent service is achieved throughout the UK. Neil Stewart says, " With most courier businesses, the area covered is local and I would have to be involved with all the collecting of fees and invoicing. With the franchise deal with Business Post, things are simplified as they are responsible for collecting all the money in and then they pay me a commission on it. This obviously cuts down my administration considerably."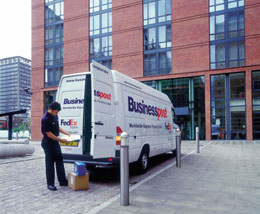 Business Post has 40 franchises around the UK and works on a postcode basis, each franchisee being responsible for one or more postcode area. Parcels are collected from customers in their own postcode area, sorted into destination postcodes and are sent on by truck for distribution UK wide. Neil started his business with the KA postcode needing two vans and two delivery runs to service the area. Now he has expanded and his business is also responsible for the large ML postcode area too. This means he needs 30 employees and 11 vans to handle around 1600 consignments a day.
Neil commented: "In many ways a franchise business is the same as any kind of business. One of the most important things to consider is where to locate – and we were obviously looking for a location that offered very good road links. We are very happy with the bigger unit in Bellshill with Evans Easyspace. They are modern and bright but most importantly they give us access to all the main road arteries around the central belt of Scotland."
The Evans Business Centre at Bellshill Industrial Estate offers flexible and inclusive leases that give businesses an 'easy in/easy out' option that means swift access to space and the flexibility to move on or trade up to a bigger space with only two months notice. Neil at Business Post opted for a standard commercial lease and Evans Easyspace offered the flexibility to meet his needs. Franchise businesses may want to start up quickly and with the simple terms offered with Evans Easyspace the details can be finalised in days.
A franchisor company is likely to have standard designs for the layout of the premises to fit their national image and Evans Easyspace can meet these exacting standards. The unit in Bellshill has been transformed from a shell to offices meeting Neil's own specifications and tailor-made adjustments to fit Business Post's operation. Any franchise business would be wise to look at the possibilities offered by locating at an Evans Easyspace Centre in the UK. For more information on locations visit www.evanseasyspace.com or Freephone 0800 039 3900