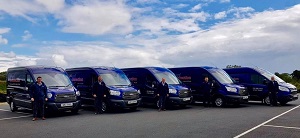 Leading greeting card publisher and franchisor, Card Connection, has announced that its 2 x Franchisee of the Year Gabriel McGeown (Gabe) has now expanded his franchise territory to cover the whole of Northern Ireland.

McGeown joined Card Connection in 2008, investing in Armagh/South Tyrone, plus part of the Country Down Territory, focussing on expanding his business and quickly taking the opportunity to purchase Antrim, Belfast and North Down that included County Antrim, Belfast and North Down.

"When the neighbouring franchisee decided to sell his area and retire, Gabe saw the opportunity to acquire Londonderry as the final piece in the Northern Ireland jigsaw," explains Michael Johnson, Managing Director of Card Connection.

"Gabe's ambition and track record of driving sales as one of our network's top performers, plus the outstanding commitment he's shown to Card Connection over the years made it a simple, logical decision when he expressed his interest in expanding into the last of the Northern Ireland franchisee territories," said Johnson.

"Since joining the Card Connection network Gabe had already struck up a good working relationship with the neighbouring (now retired) franchisee and had actually helped him to develop his business over recent years," explained Johnson, "so he already knew all about the potential of the Londonderry area."

With the newly combined Northern Ireland territory taking in more than 300 stores, McGeown has expanded his fleet of liveried vans to now include the 5 vehicles needed to cover all the merchandising requirements of such a large area. Now, as 'Mr Northern Ireland' in Card Connection terms, McGeown said he is relishing the challenge of his maximising greeting card sales in the consolidated area.

Card Connection is part of UK Greetings, which is a subsidiary of American Greetings Inc., one of the largest greeting card publishers in the world. Since the franchise network in the UK is complete, the available opportunities now consist of acquiring an already-established territory from an existing franchisee. These vary in price according to their level of development, but start at £12k + Stock + Card Connection fee with earnings potential in excess of £50k per annum.

Territories currently available include: Romford, Bournemouth, Exeter, Plymouth, Gloucester, Bath, Birmingham, Cardiff, Stoke on Trent, Liverpool, Lake District, Bishop Auckland, Fife/Scottish Borders & Stirling.

Learn more about franchise opportunites with Card Connections here!