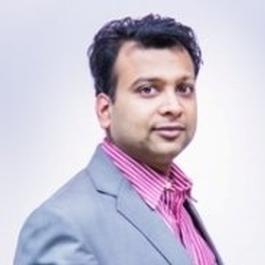 Name: Sumit Agarwal
Location: Clapham and Harrow
Franchise: Pitman Training Centre
Date launched the franchise: Clapham 2012 and Harrow 2014 (business was bought from previous owner in 2014 but has been operating since 2002)

Tell us a bit about yourself and what you were doing prior to buying your Pitman franchises?
I am a career accountant and a passionate entrepreneur. I have been awarded Young Entrepreneur Award at the House of Commons in 2012 for founding successful businesses. In 2005, I started an accountancy practice that now has grown into in business group, which has business activities spread across a number of fields including accounting, IT, consultancy, marketing, real estate etc. Accountancy and IT businesses have been and continue to remain primary focus for the group.

Why did you decide to go down the franchise route?
A franchise brings brand's established reputation and reliability along with it, which is true for any kind of business. More importantly, for a e-training business, resources are critical and very costly to accumulate and that's where we thought of a franchise. Pitman brings a wealth of resources and experience that a new start-up can only dream of.

Why did you choose the training industry? And ultimately a Pitman franchise?
Passion. I am just passionate about accountancy and entrepreneurism. The reason I bought Pitman training centre franchise was to complement group's recruitment business that connects job seeker with recruiters. The idea has been to train people with the skills that are actively in demand and find right jobs for them. Resulting in higher profitability for both businesses.

Why have you decided to sell your business?
I divide my time among several businesses. Pitman franchise was bought with expectation that I will be able to share fair amount of my time looking after it. However, group's core business interests have demanded most of my time and attention lately. Therefore, lack of time and other priority commitment has led to this reluctant decision to sell a profitable franchise.

What's the key selling points of your business?
Both Pitman franchises are well-established profit-making businesses, situated in a demographically favourable areas with a potential to grow rapidly. The brand itself is highly trusted and comes with widely acknowledged reputation for delivering quality services.

What support should the new franchisee expect to receive?
Apart from, full co-operation in handing over. We can help in the lease negotiations with the landlord of the premises. You can expect to have all the furniture fixtures computers and equipment and therefore savings significant amount of set up costs. You can expect to keep well trained staff which can help you learn about business quickly and help you continue running the business smoothly.

What are the other benefits of buying a resale?
Buying a resale ensure a confirmed customer base and there is cash flow from the beginning. It also minimizes setting up cost. The buyer also benefits from market presence and working staff.

What is a typical day for you as a franchisee?
I am not involved in day-to-day operations. However, I seek weekly reports from the centre manager to review latest activities and developments.

Has becoming a franchisee changed your life, if so how?
It was a fair amount of learning curve and journey for me. I realised that you are always supported by Franchisor and learned more about brand value and retention and therefore helped me build my core business significantly so in a way highly beneficial. Pitman is great business who can devote regular time and attention and can generate good income with work life balance.

What is the most invaluable piece of advice you could give someone looking to buy their first franchise?
I would recommend that anyone looking to purchase a franchise do their research fully. The best advice you can receive is from people already in the franchise network so I would speak to them to ask what their experience of the Franchisor has been throughout the duration of their franchise term. In addition, I would also suggest that they do their market research fully in the area they are interested in, know your competitors and which products will sell best in the territory based on the population so that your Sale and Marketing plan can be implemented effectively.

In your opinion, what makes a successful franchisee?
Someone that is organised, driven and knows their business fully. Those that ask for advice and guidance from the franchisor, drawing on their knowledge built up over many years, are the most successful.