Women Franchise Events 2019
In this section we have outlined events taking place in the UK that would be of interested to prospective and existing franchisees and franchisors. These events are run by third parties so please confirm exact information with them as may differ from what is included below.
Empowering Women in Business 2019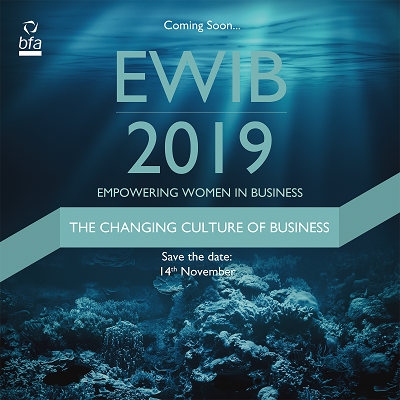 Following last years successful event, Empowering Women in Business returns for 2019. Taking place on Thursday 14th November 2019, the conference has a packed agenda featuring keynote presentations, a panel discussion and workshops, all led by successful and inspirational women from franchising and beyond.
Empowering Women in Business is an essential event for women in franchising and other industries. This year's event will be covering the wider business world across a range of sectors.
To find out more about what is happening on the day and to book a place, click here
bfa Prospective Franchisee Seminars
During this one day seminar, you will hear from the bfa on the important considerations and structure relating to franchising. You will be taken through some of the financial considerations of which you will need to be aware and you will hear from a bank about raising finance. A franchisee will also share with you their first-hand experiences about what it is like to be a franchisee and their experiences when they were starting the business. You will also hear about what franchisors look for and how they choose their franchisees. You will even be given an introduction to the franchise agreement, the document that sets out how the franchise will work and what you should expect. Anyone considering starting their own business will find this seminar vitally important.
Click here to find out more about what happens on the day, cost to attend and to book a place
bfa Prospective Franchisor Seminars
The seminars will help you to consider whether franchising is right for your business and understand the necessary skills and business culture required to be a successful franchise operation. As well as hearing from both a franchisee and a franchisor to gain their perspectives, you will gain further insight into the finance that needs to be raised and the importance of the franchise agreement; a document that will protect your business and allow you to operate effectively as a franchisor.
If you are unsure about whether franchising is right for your business or if you are looking to expand, develop or grow and have considered franchising as a method of doing so, this seminar will provide the clarification that you need.
Click here to find out more about what happens on the day, cost to attend and to book a place
EWIF (Encouraging Women into Franchising) Events

EWIF regional meetings
Throughout the year EWIF regional meetings are held across the UK (London, Bristol, Manchester, Norfolk and Surrey) allowing franchisors/ees and service suppliers to meet, network, discuss best practice and hear from a range of industry experts from experienced franchisors/ees to franchise legal specialists. Guests are invited to attend one meeting for free but are required to join EWIF to attend subsequent meetings.
Meetings are split into the following regions:
Regional South
Regional London
Regional South-West & Wales
Regional Midlands
Regional North West
Regional North East
Franchise Exhibitions
October 4th & 5th 2019, The National Franchise Exhibition, Birmingham
January 31st & 1st February 2020, The British and International Franchise Exhibition, London
To find out more about who's exhibiting and seminars taking place at each event, click here for The National Franchise Exhibition
and here for The British and International Franchise Exhibition