Why franchising and Riverford Organic Farmers appealed to this busy Mum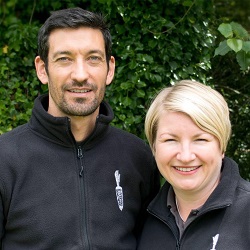 Name: Lynn Allen
Location: Cornwall
Franchise: Riverford Organic Farmers
Tell us a bit about yourself and what you were doing prior to buying your Riverford franchise business?
I'm a busy mum of two boys, aged seven and eight, running a Riverford franchise in Cornwall with my husband, Steve. My main interests are the great outdoors, food and cooking, running, and music festivals.
Prior to having a family I was a Senior Product Manager for a number of home interior businesses. Having been made redundant whilst on maternity leave with my first child, I then got involved with direct sales on a part-time, self-employed basis. This was the driver to make a move into running my own business with my husband.
What attracted you to franchising versus started starting up on your own or finding employment?
Having always been employed, the franchise option offered us a bit more security whilst still having the freedom of running our own business. Operating a proven business model and having franchisor support is a big bonus with a family to support.
Why did you choose a Riverford organic franchise? What research did you undertake?
Having already been a Riverford customer for eight years, I was familiar with the business and already interested in their products and ethos. We spent around six to eight weeks researching the business with the existing business owner, other franchisees and lots and lots of business planning. We did look at other franchises but felt this was the best choice for us.
Do you feel there is enough support or training in the industry, or externally, to help mums looking to get back into work and considering starting a business? What additional support do you think would help?
I'm not sure I felt there was any help specifically targeted at mums at the time I was looking but there are plenty of resources online that you can tap into to get help and advice. It's just a case of doing your research and taking the time to look around. Websites like Mumsnet might offer a good opportunity to promote this kind of support.
How did you raise the finance for funding your franchise? Did you use any financial support (grants etc) specific to business startup?
We sold our house to raise some capital, and then applied for a business loan via HSBC supported with an Enterprise Finance Guarantee.
What training and support did you receive initially from your Franchisor?
We had an excellent training plan from Riverford, spending a week at their head office farm in Devon, running through every aspect of the business, and an extended handover from the existing franchisee – this really helped us with a smooth transition to hit the ground running with an already existing, successful business.
What is a typical day for you as a franchisee?
As I run the business with my husband, we split our roles with Steve focussing on logistics, accounts and HR, and I focus on sales, marketing, customer service and admin.
I usually start the day running through the paperwork for our delivery drivers for the next day's deliveries, ensuring they have all the information they need. I then catch up on customer email/phone calls and sort out any issues for the current delivery day. We spend a great deal of time on customer service and spend a good chunk of each morning contacting new customers and ensuring existing customers are happy with their orders.
Afternoons are when I can typically get stuck into some of the other areas of my role, such as advertising, booking and organising shows and events, reviewing marketing plans and the occasional evening will be spent hosting a Master veg cookery class.
Balancing work and family life is important for all franchisees but more so for working parents, do you think franchising gives a good work and family life balance? Has becoming a franchisee changed you and your family's life?
I feel that we have a good work/life balance as a family now. It helps that we're both part of the business so can juggle our work load to be there for our children before and after school and during school holidays etc. It has also given me a fulfilling work role without sacrificing spending time with my family. We work from home so there's no time spent commuting.
Before Riverford, Steve would leave the house before 8am and often return home after 7pm therefore missing out on family life. We can now both be there to help with after school clubs and Steve even coaches our son's youth football club. We could never have been involved before we made this move.
Did you take advantage of any support available to women looking to get into business? E.g. member of a women in business network, attend any specific women business events?
I'm afraid not, but then I wasn't really aware of any, and I was looking into the business in partnership with my husband.
What is the most invaluable piece of advice you could give other mums looking to get back into work and considering starting their own business through franchising?
Do your research and find the right business for you. It has to fit in with your lifestyle. Be prepared to work hard and do some unsociable hours, but the rewards of that often mean more time with your family.
What are your plans for the future?
To continue operating our franchise for the foreseeable future as it works so well for our family and we are still very much enjoying it.
Would you do it again?
Definitely. It was a bit scary at the time as not only were we starting a new business but we also relocated down from the Midlands to Cornwall – what an adventure!