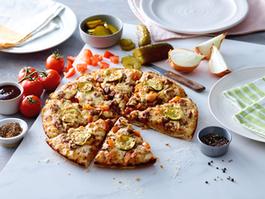 Leading pizza franchise, Papa John's, has announced new franchisee Nazim Vadiwala has taken over the Leith Walk store in Edinburgh. Nazim who worked for a rival pizza firm for 10 years now manages Leith Walk with the help of operations director: Syed Salman and a team of local staff.

Nazim explains: "Syed and myself worked together for many years and we often discussed the possibility of running our own business but frustratingly there was simply nowhere to go within the company we were employed by. From our regular competitor checks we knew Papa John's had an exceptional product and the Company's "BETTER INGREDIENTS. BETTER PIZZA." promise, which means only the finest ingredients and fresh dough – never frozen – are used to create the pizzas really goes down well with customers. We believed Papa John's great product combined with our industry experience plus our dedication and enthusiasm meant we had all the right ingredients to run our own successful pizza delivery store.

"We were delighted earlier this year, when we gained funding from RBS following the submission of a detailed business plan to buy a Papa John's franchise. The Papa John's team have been really helpful and Malcolm - the franchisee for the Cramlington and West Denton - enabled us to gain experience on the job within his stores as part of our thorough training which has been invaluable. He gave us loads of real-world advice which, along with Papa John's head office team's support, has set us up well to grow our business. Very soon we will be looking at expanding and opening more Papa John's!"

Phil Gaffer, franchise sales and business development manager confirms: "We are often approached by employees from across the QSR industry exploring the possibility of running their own outlets. I am really pleased that Nazim is joining us as he has demonstrated the skills and drive to not only operate a successful Papa John's store but that he recognizes the difference between operating a store and owning a business. Nazim has clearly shown that he has the foresight and passion to start building an asset of value and in doing so, create wealth for himself by investing in Papa John's.

"I am always enthused by people like Nazim who has chosen the positive route to start building a successful business with Papa John's and I look forward to supporting Nazim as he expands with more stores in the future. Where else other than Papa John's in the QSR industry can a talented individual like Nazim realize his aspirations of owning his own business?"

As one of the largest pizza companies in the world, Papa John's has opportunities for franchisees throughout the UK. Help is provided with location selection and full turn-key opening of stores. As a franchise, the Company supplies all the assistance needed to get your successful Papa John's up and running.