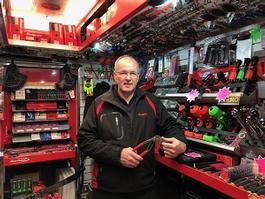 Name: Stewart Maze
Location: South Antrim, South Tyrone and County Armagh
Franchise: Snap-on Tools
Tell us a bit about yourself and what you were doing prior to buying a Snap-on franchise business?
Before I became a franchisee with Snap-on, I was happily plodding along, putting in the hours working as a Service Manager in a garage and taking home just enough money to put food on the table. As well as working in the garage full-time, I'd been working nights as a shopfitter, often only seeing the kids a couple of evenings a week, and surviving on very little sleep.
Why did you go down the franchise route? And why did you choose your Snap-on franchise?
All of the guys in the garage – myself included – used to love it when we got our regular Snap-on visit. The tools and storage were so sought over. It was the highlight of the week. One day, the local Snap-on dealer came in for his regular visit and told everyone that Snap-on were looking for a new franchisee. In all honesty, I'd never even thought about a career with Snap-on but it was a no-brainer, becoming my own boss was going to offer me far more opportunities than any garage job could.
I also liked the idea of having more freedom and, after nearly ten years of spending every single day in the same place, the opportunity to get out and about. With a young family to support, I also saw it as an opportunity to earn a comfortable wage.
Snap-on appealed to me because of the products and the name. Everyone has heard of Snap-on. I knew I stood a better chance at success with an established brand.
How did you raise the finance?
I funded my franchise using savings, loans from my family and a top-up loan from the bank. This was 25 years ago – times have changed since then!
Snap-on are really supportive with funding for new franchisees and offer in-house loans, through Snap-on finance.
What training and support did you receive initially and ongoing?
The initial training was really good. Prior to becoming a franchisee, I'd never worked in marketing, sales or accounts, so I was worried that my experience working in a garage wasn't going to cut it. Thankfully, Snap-on taught me everything I needed to know and I never once felt overwhelmed or unprepared.
Over the 25 years that I've been a franchisee, I've seen a lot of changes in the ongoing support. In the early days, there were only three people working in the accounts department, and all invoices were handwritten! Nowadays, there's entire teams of experts with specialisms in marketing, sales, accounts – absolutely anything you could think of! The support on offer is of a high standard and the DC team are very helpful.
What is a typical day for you as a franchisee?
My territory, in Northern Ireland, is semi-rural – so I spend most of my days driving around the countryside, going from call to call. As well as mechanics and technicians, I also serve a number of agricultural workers, truck shops and quarries too – no two days are ever the same!
What challenges have you faced?
I expanded my franchise a few years ago, which involved taking on extra staff to support the growth. One of the employees I took on went on to become a franchisee themselves, which makes me really proud, but I had to let another employee go, which was a real shame.
It was the first time in my career I'd had to let someone go and it wasn't an easy decision. Ultimately, he didn't have the right work ethic to be with Snap-on.
Has becoming a franchisee changed your life, if so how?
Thanks to Snap-on, I've gone from working two jobs and seeing my kids for a few hours a week, to working sociable hours and being around to watch my children grow up. I've even put three of my four children through university and, after witnessing their Dad's success first hand, I'm sure at least one of them will be following in my footsteps by becoming a Snap-on franchisee.