The UK's Leading Commercial Cleaning & Facilities Management Franchise Opportunity
Build a recurring income | Be your own boss | Grow an asset to sell
Commercial cleaning and facilities management is a vast sector with continuous demand where you manage the needs of your clients, combining your team and the latest tech to deliver the bespoke mix of services their premises require.
Unlimited potential: NO territory restrictions
We have a refreshingly different approach: guiding, supporting and encouraging you to build a larger business, without restricting you to only operating in a small local territory. You can even utilise other franchisees located around the country to deliver your furthest contracts. Win-Win.
Additional income streams from multiple FM services
Your team will deliver the range of repeating relatively simple services, enabling you to build a contracted recurring income. Forge deep client relationships, while continually adding more contracts to grow an asset to sell in the future, all while enjoying a stable monthly income.
The latest cleaning science, tech and robotics
Benefit from the wider group's experience and buying power to leverage the latest tech to save your cleaning operatives' time and energy, enabling your NIC business to have a competitive advantage and to maximise profitability with the SME markets you will serve.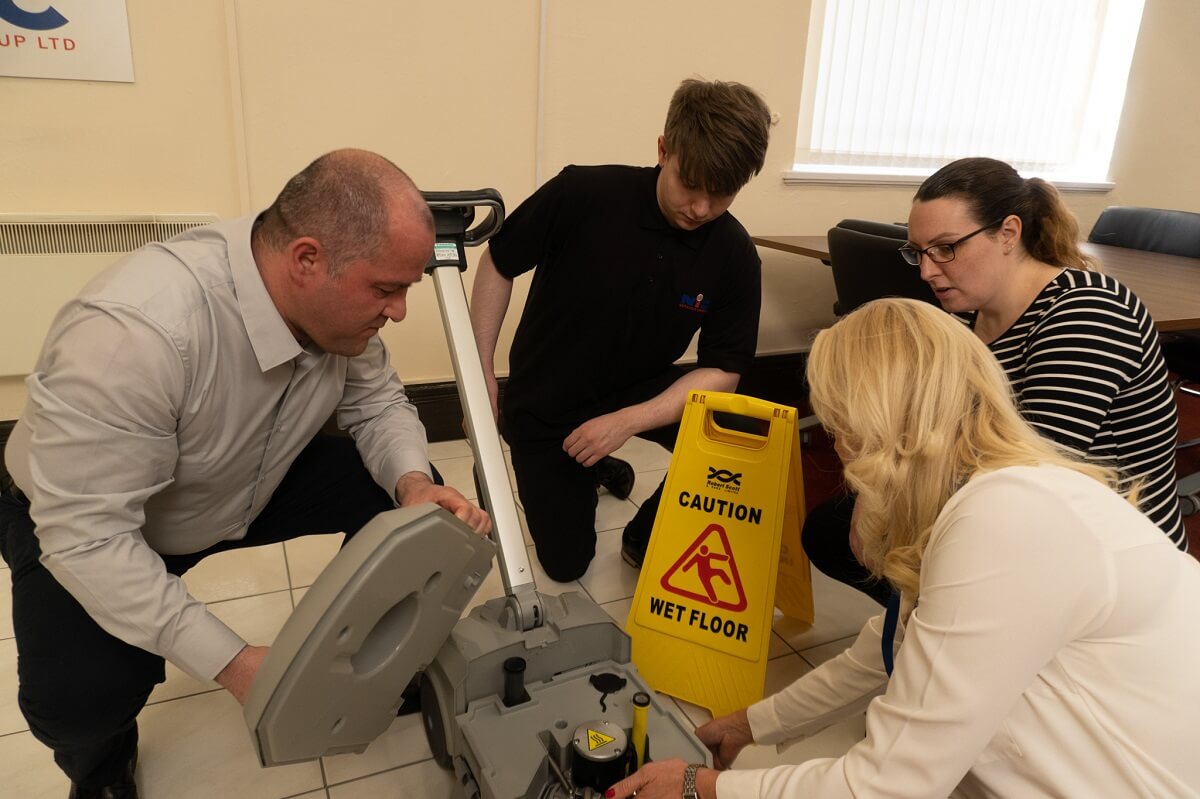 No experience needed: 1-2-1 business mentoring
"We believe we provide franchisees the highest level of personal guidance and support of any established franchise in the UK. Typically, each of our full-time Business Development Managers works 1-2-1 with five franchisees; providing ongoing coaching, guidance and support on every element of their business. The support changes as the franchisee confidence grows - it really works."
Jo Lock, BDM & Franchise General Manager (and former NIC franchisee)
Financial and business planning guidance
Field support with winning and setting up new clients
Stay up-to-date with evolving tech, processes, HR and H&S
A market-leading brand for your business
Established over 50 years ago, the NIC Services Group has a team of over 10,000 people, serving the UK's biggest brands. NIC Local benefits from the brand, accreditations, systems, tech and buying power, to target the higher-margin SME market.
We know how to make it easier for you, so you can engage the departments of the group's vast head office team for supporting your business with functions such as administration, invoicing and credit control giving you valuable time to work on, not in, your business.
Daily Contract Cleaning – a necessity, not a luxury
With 80% of our customers being contracted to regular, often daily, cleans our franchisees businesses remain largely unaffected by seasonal or economic influences. Whilst many other sectors are struggling in the current environment our services have become even more valued.
Franchisees come from a wide range of backgrounds, all hungry to be successful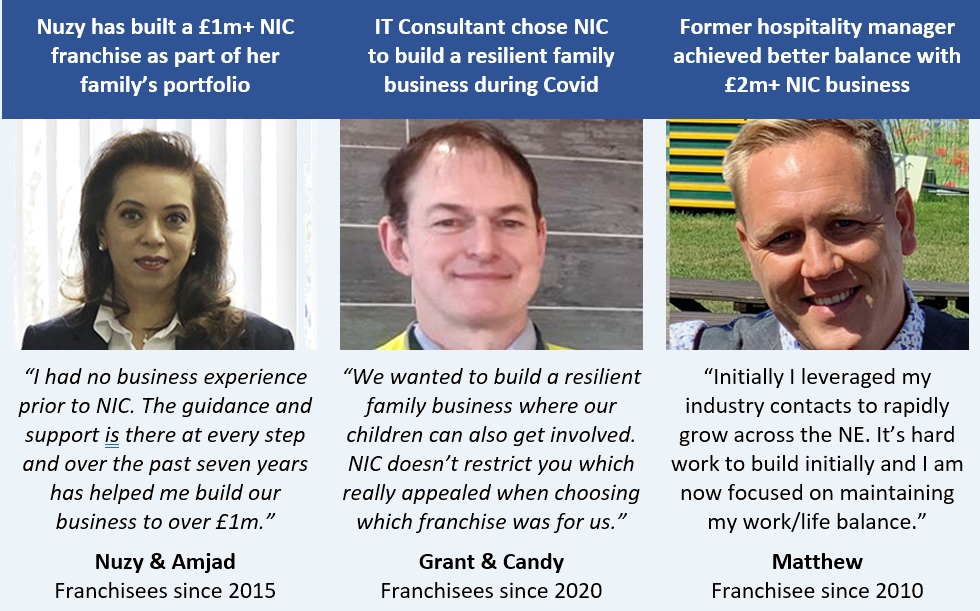 Leverage your prior career, contacts and sector experience to your benefit. With NIC alongside you, take on higher-margin locally based contracts: schools, colleges, offices, doctors and dental surgeries, retail outlets, university accommodation, car dealerships, pubs and restaurants…
It's a massive market with no limits to growth and 80% of our customers are contracted for daily cleans.
A journey with guidence every step of the way
Before your business launches, you will undertake a one-week training course at our support office in Leeds. This enables you to really get to know the people at NIC – it's like joining one big family.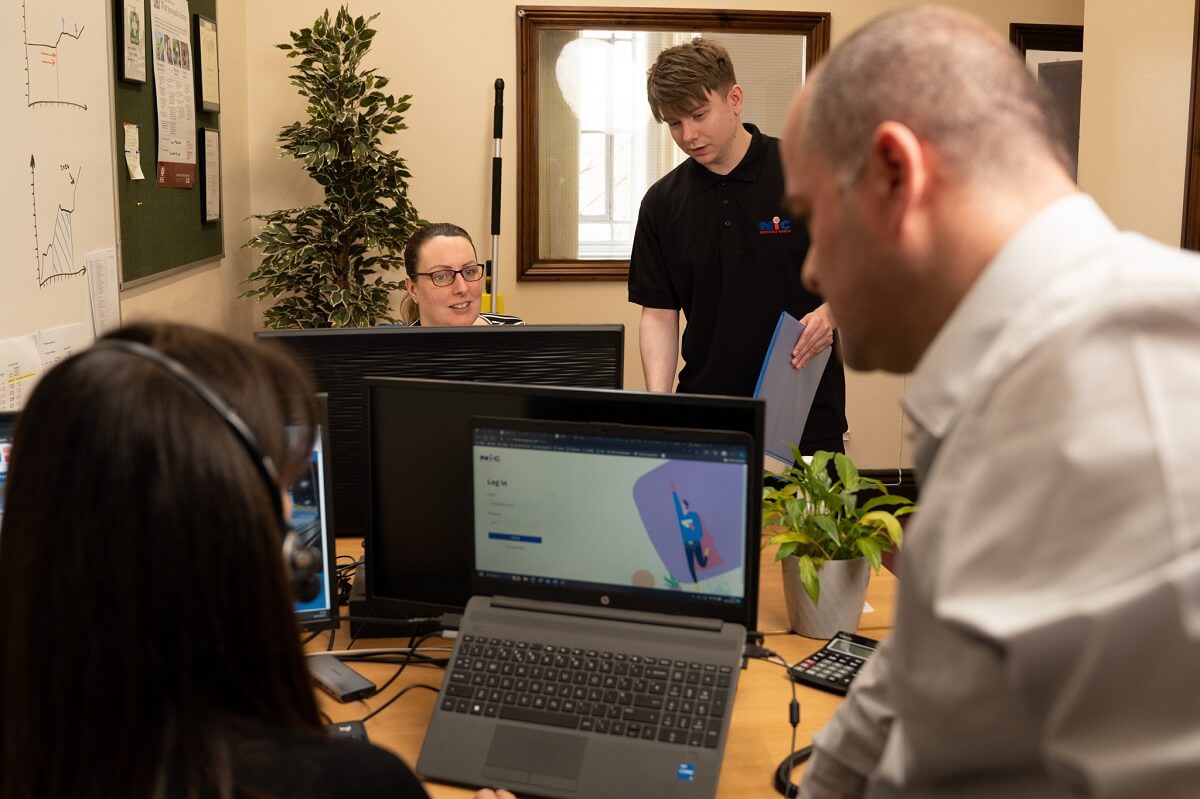 Your role changes are you grow
Initially you can work from your home office, focusing on growing your contracts, with the constant support of your BDM's 1-2-1 guidance for every element of your business. This will enable you to learn and grow in confidence as you work together. We don't know of another franchise with this level of personal mentoring in the UK.
Once your business is established your role elevates to leading your management team, who will oversee your operators. This will free you to focus on maintaining and building client relationships.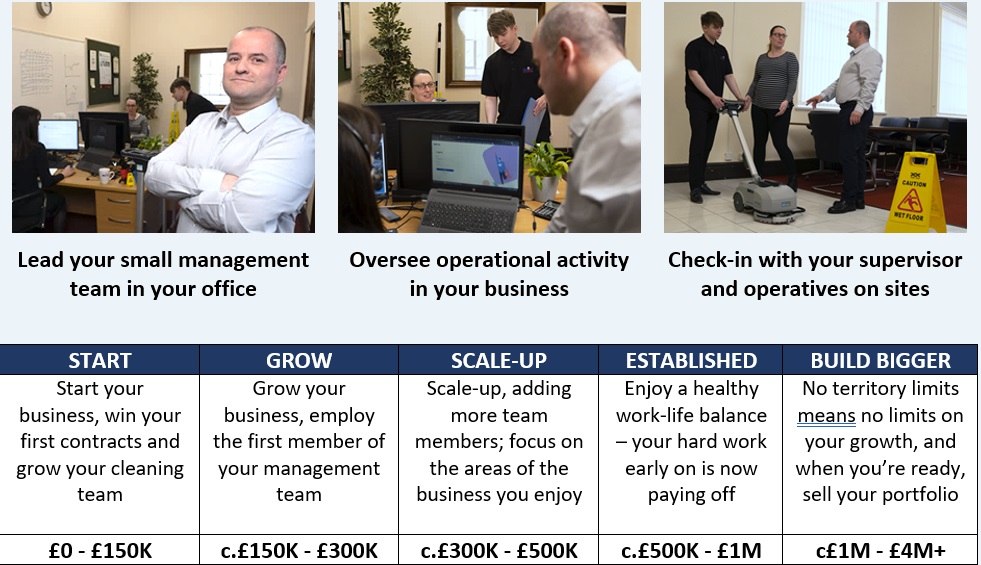 Join the NIC Family
As intensive training and ongoing support is provided, NIC aren't specifically looking for people with prior facilities management experience. John Spencer, NIC Services Group Chairman explains "We are looking for people with the ambition, energy, and drive to build a substantial business. People who share our strong sense of business ethics and values, have great communication and management skills along with the self-discipline to follow a proven, successful business model."
Key attributes NIC looks for in a franchisee include:
Energy and a great work ethic.
Strong communication skills and confidence.
A positive attitude.
Open to learning and being coached.
Management experience.
Willingness to follow a model.
A great attitude is much more important to NIC than prior experience in the commercial cleaning sector.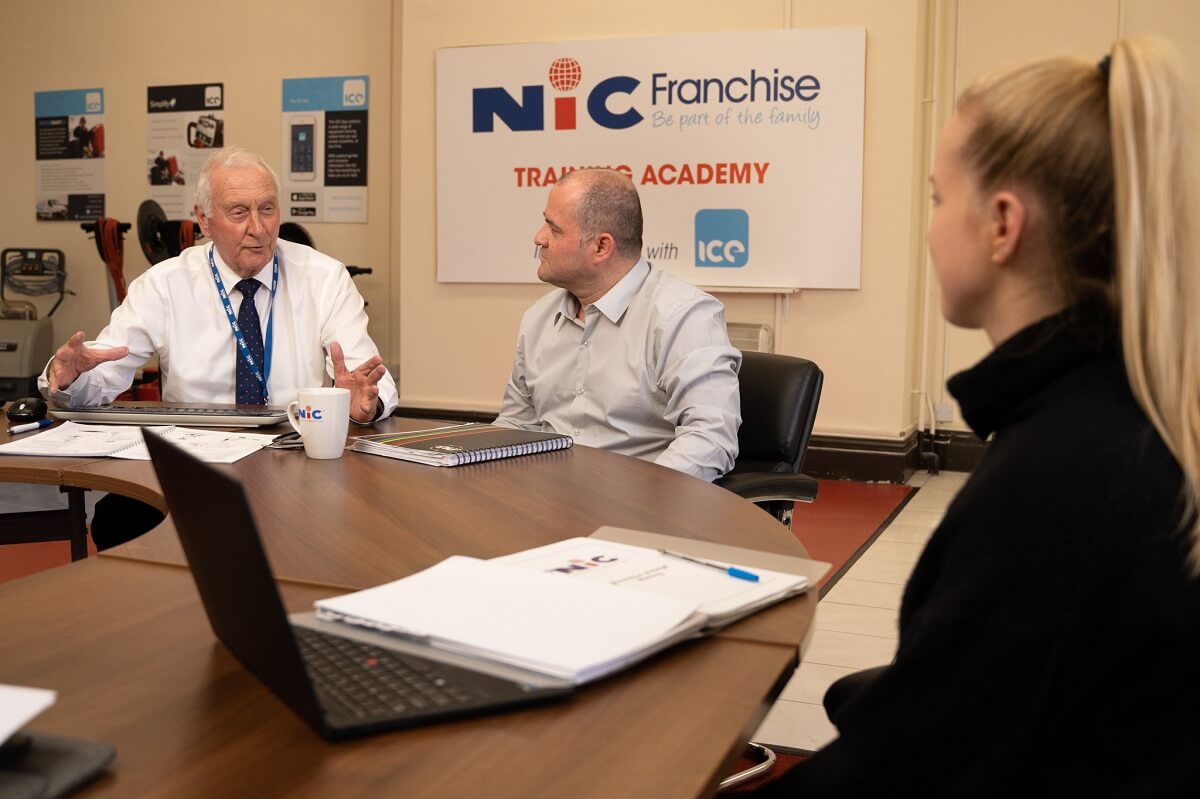 How we support you
NIC Services Group is one of the UK's largest Contract Cleaning and Facilities Management businesses. Despite our size, with NIC still being family-owned and operated, we are able to retain the culture of a small business where people really do matter.
And with no territory restrictions, you won't ever run out of target clients!
We have great relationships with the franchise departments of the major high street banks, who have a strong appetite to lend 70% of the start up costs. With a total investment of circa £45,000 including working capital, you will need to invest in the region of £14,000 from your own resources, with bank funding for the rest.
Build from a fresh start, or invest more to buy an existing portfolio. You won't just build a healthy recuring income with your own NIC business, you will be creating an asset to sell in the future.
Get in touch with David to find out more…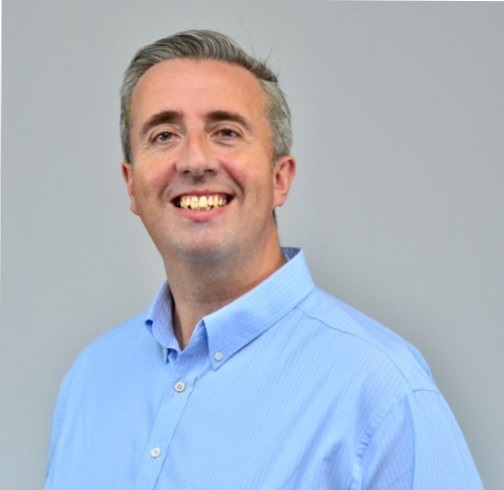 Interested in NIC Services ?
Contact David Paulson
Business Development Director
---
Click on the link below to receive further information on our franchise opportunity. You can also connect directly with us to ask any questions.
Request more info > or connect with David :





This is FREE and non-obligatory; we never share or sell your personal information.