20-October-2016
Newbury franchise celebrates 25 years in business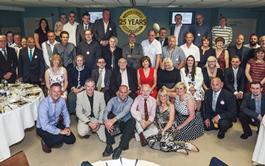 ServiceMaster Clean Newbury, a multi award-winning, commercial and residential cleaning franchise operating across Berkshire, North Hampshire and Wiltshire is celebrating 25 years in business, having launched in 1991 as a commercial contract cleaning franchise.

ServiceMaster Clean Newbury was established by local businessman, Nick Dee Shapland and today provides commercial contract cleaning, commercial and residential cleaning of soft and hard furnishings and domestic fire and flood restoration work.

Nick, who previously worked in the agricultural farm machinery industry, has led the company to become one of the largest ServiceMaster Clean franchises in the UK, with a turnover of over £4.7 million, employing over 450 staff from its base in Newbury.

Nick Dee Shapland, managing director said: "We're very proud to have achieved this milestone anniversary and privileged to have grown and developed our business on our culture of Principles – People – Performance. We are in a very strong position to grow the business even further, as our culture is embraced by our Human Resources department and our performance is measured through our Quality Assurance Management Programme. We continually invest in our people through training and provide them with the latest equipment and machinery in order for them to deliver an optimum performance.

ServiceMaster Clean Newbury has received numerous awards, most notably the British Franchise Association Customer Service Franchisee of the Year Award in 2013. The company is a franchise of ServiceMaster Limited, which has been franchising in the UK since 1959, and operates from the ServiceMaster Franchise Support Centre in Leicester.

Alan Lewin, managing director of ServiceMaster Limited added: "ServiceMaster Clean Newbury's longevity is testament to its quality of service and the investment in its people. Huge congratulations to Nick and the team on this great achievement."

ServiceMaster Clean Newbury recently celebrated its 25th Anniversary with an evening at Newbury Racecourse for staff and ServiceMaster network colleagues.