17-October-2016
Surrey cleaning company celebrates 45 years in business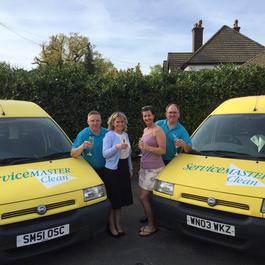 A family domestic and commercial carpet and furniture cleaning company is celebrating 45 years of service to its loyal customer base across Surrey.

ServiceMaster Clean, which operates in Dorking, Epsom, Reigate and Sutton and the surrounding areas was founded in 1971 by Micheal Ashenden and calculates it has cleaned more than 250,000 floor coverings in its 45 year history.

The company is now operated by Michael's son Andrew, his wife Sue and their business partners, Darren and Alison Perry, all from Caterham.ServiceMaster Clean Reigate is a franchise of ServiceMaster, one of the world's longest established franchises.

The company provides a family-run, local service whilst having the advantage of a global franchisor behind them, who provide ongoing technical support and continual product development to ensure all ServiceMaster Clean customers receive the highest quality cleans available."

Andrew Ashenden, director said: "We're delighted to be celebrating this landmark anniversary and attribute our longevity to our high quality service and loyal customers. We work hard to ensure each and every customer receives the very best clean money can buy and we thank them all for their support over the years."

Darren Perry, director added: "It's a privilege to be part of a company that has achieved 45 years continuous service. We're excited about the future as we aim to expand our business and ensure the floors, upholstery and carpets of Surrey are cleaner for longer."

ServiceMaster Clean in Reigate, Dorking, Epsom and Sutton is a franchise of ServiceMaster, which was established in the UK in 1959.