Franchise News Feed
InXpress Debbie is a true inspiration! - 01-July-2022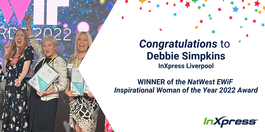 Many of us have someone in our lives from whom we find hope and encouragement, and for those who know Debbie Simpkins, you know she is a true inspiration. So, we had to nominate her for the NatWest EWiF awards this year. The Awards event was held on June 30th in London, and Debbie was there, along with husband Alan, and business partner Bill, his wife and others from InXpress Liverpool, to enjoy her day – even though she didn't think she'd win, "I checked out the competition, and thought the winner was amongst them. The other finalists were all so amazing!"
As if the last couple of years weren't challenging enough for running a business – thanks to the pandemic and Brexit – there are people who also embarked on an unexpected extra journey of their own. Debbie is one of those people. Just days after celebrating her 60th birthday, in July 2020, she was diagnosed with breast cancer. Within a month, she'd had a mastectomy to try and remove the cancer. Three months later, she started chemotherapy, over Christmas and into 2021.
However, in January things suddenly went wrong: The chemo led to a blood infection. So, where Debbie should have been able to give her body a two-week break before starting radiotherapy, unfortunately after recovering from the infection, she had to go straight into it. "Radiotherapy was particularly bad: every day for two weeks."
In May, after completing radiotherapy, Debbie was hopeful to receive the all-clear. "But, I ended-up going for scan, after scan; things were showing-up. Six months ago, I had the news I desperately didn't want: They'd found secondaries. I'm currently on a new course of treatment, which started the day after the awards event. I'm hoping it will continue to help me manage the cancer, and enjoy every moment I have."
Throughout all this, Debbie focused on running her franchise, providing herself with something to think about, other than the treatment she was going through. As a result, InXpress Liverpool thrived, growing substantially – thanks to the support of her family, her team. "They actually benefited from me being on steroids, because I couldn't sleep! I'd send emails at 3am telling them what I'd done, or customer enquiries I'd dealt with! Having something else to focus on was a positive distraction! There were bad days when I felt low: So, I gave myself permission to have an off-day, before giving myself a firm talking to, and pushing myself to do one small thing for me.
"InXpress are absolutely fantastic – not just my team, but the girls at Head Office; in fact the whole network are incredibly supportive."
Debbie is already thinking ahead, and knows what she wants to do, once the treatment allows her to. "When I can, I want to give back. Because of the covid-rules, everything I went through, I had to do alone, which was really hard. Some people have to face it alone, anyway. I don't want them to. I want to be there for them. But, in the meantime, I've taken a bit of a backseat from the business, and am spending precious time with the people I love – especially my gorgeous new granddaughter."
It's all this, and more, which led to the judges recognising something special in Debbie. So, when her name was announced by award sponsor, Suzie McCafferty of Platinum Wave, Debbie was given a standing ovation as she made her way to the stage. There were a few tears as people connected with her story – some of whom related personally to the journey Debbie has been on.
Debbie, you truly are our inspirational role model. Congratulations on your NatWest EWiF Inspirational Woman in Franchising 2022, award!
---
And the 2022 EWIF winners are... - 01-July-2022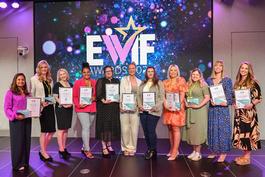 After two years of being online, there was a real buzz at the NatWest building in Bishopsgate, London, for the 12th annual NatWest EWiF Awards. A highlight for women in franchising, since 2010.
A celebration of women who push boundaries, set new standards, and overcome adversity, the EWiF Awards recognises industry pioneers, innovators and visionaries, from businesses of all ages and sizes, across every sector. And with over 120 entries submitted, competition was fierce! However, the waiting and nail-biting is now over...
…drum roll please for this year's franchising crème de la crème!
New Woman Franchisee of the Year, Sponsor: MONEYPENNY
Rebecca Lomax, Puddle Ducks
Like many in this category, Rebecca opened her franchise during lockdown. Undeterred by Covid's impact on her sector, she made use of all available resources. By the end of her first year, she'd bought a neighbouring territory, giving her 16 staff teaching 700+ customers.
New Woman Franchisor of the Year, Sponsor: DAISY FIRST AID
Camilla Culshaw, The Teepover Club
Most business owners reach a point when they need to consider the best route of expansion. For Camilla, franchising her brand was a top priority, hurried by increasing demand, thanks to the pandemic. And, as she welcomed her first franchisee, she also welcomed a new baby!
Woman Franchise Employee of the Year, Sponsor: BODDY MATTHEWS
Lucy Crabtree, babyballet Franchising Ltd
For anyone running a franchise, having an employee who knows the business so well she can operate as the owner, is invaluable. This is true for Lucy, who was instrumental in the development of the brand for which she works, and enabled franchisees to increase turnover.
Service Provider of the Year, Sponsor: NATWEST
Suzie McCafferty, Platinum Wave Franchising
Servicing the franchise industry involves working with a variety of clients and industries, supporting their growth. Suzie helped a number of brands to launch or expand into the UK, during 2021; tapping into her personal franchising knowledge and expertise.
EWiF Ambassador of the Year, Sponsor: WHAT FRANCHISE
Suzie McCafferty, Platinum Wave Franchising
Suzie is passionate about franchising, and its benefit to women starting their own business. So much so, she takes any and every opportunity to educate people about it, including politicians and students. A true ambassador for the franchise industry, at all levels.
Young Woman in Franchising of the Year, Sponsor: McDONALD'S RESTAURANTS
Abi Doublard, Anytime Fitness UK
2021 hit some industries harder than others. However, Abi played a major role in reopening her brand after lockdown. She inspired most customers back – plus 17,000 new ones – in the first month. Newly appointed to the franchise leadership team, she also oversaw a major franchise rebrand!
Woman Franchisee of the Year, Sponsor: DARWIN GRAY
Ally Phillips, Pink Spaghetti
Running a top franchise in the network is a brilliant achievement. Ally became the fastest growing franchise, increasing her customer-base and employing more staff. She now shares her success to inspire others in her network.
Woman Franchisor of the Year, Sponsor: NOVUNA BUSINESS FINANCE
Lucy Campbell, Right at Home UK
Lucy's passion and commitment to her brand and sector, saw her take the lead in many areas – from speaking to the media, to lobbying for better treatment of care workers. All this after her recent promotion to CEO.
Inspirational Woman of the Year, Sponsor: PLATINUM WAVE FRANCHISING
Debbie Simpkins, InXpress
Many of us know someone who inspires us, which is what this award recognises. Someone like Debbie who didn't just run her franchise whilst undergoing surgery and cancer treatment, she substantially grew it! All at a time when being in hospital was a lonely road, thanks to Covid restrictions.
And finally…
Lucy Crabtree from babyballet Ltd. was crowned the Overall Woman in Franchising, sponsored by the bfa.
A massive THANK YOU to everyone who entered, attended, hosted and sponsored this year, and congratulations to all the winners. If you weren't successful, or you didn't enter, keep an eye on your network for next year's award-winner. It could even be you! Find out more, visit ewif.org.
---
Long Eaton Opening Gives Nottingham the Full Papa John's Service! - 30-June-2022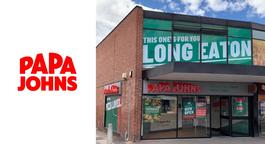 Multi-unit Papa John's franchisee Sukhy Bains explains: "Our very first Papa John's store was Nottingham Beeston which we opened back in 2010. We have gone on to open six more Papa John's over the years, but we were always keen to split the Nottingham area to provide an even better service our customers over a wider area. We live near Nottingham and so it is particularly exciting to be able to serve our local community their favourite pizza from the new Long Eaton store. We can now give Nottingham the full Papa John's service!

"The new store looks amazing with the refreshed branding and logo designed for a bold, fun and friendly look. We have also invested in renovation and a store refresh with the updated branding for all of our other Papa John's recently too, to welcome customers coming back for more!"

Sukhy who runs the Papa John's franchise with his wife Kam continues: "For us it's all about being better and being where our customers are. And that's why great pizza is so special as it brings people together and there is something for everyone to enjoy. Sharing Papa John's pizza with family and friends adds to the fun of any occasion and we are always delighted to deliver!"

For those interested in running a multi-unit franchise or opening-up in a 'non-traditional' location, Papa John's offers incentives in addition to world-class support, comprehensive training and national marketing. As a franchisor, Papa John's supplies all the assistance needed to get your successful Papa John's up and running.
---
Bristol entrepreneurs announced as Great British Entrepreneur Awards 2022 finalist - 30-June-2022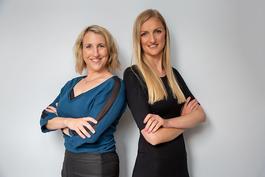 Bristol-based business duo, Jenna Wilson and Fay Smith, have been recognised as one of the best in the business after being named as a finalist in the Great British Entrepreneur Awards.
Little Dreams Consulting is the UK's first and only baby sleep consultancy franchise accredited by the British Franchise Association. The brand addresses one of the most crippling yet unsupported issues faced by modern families - parental sleep deprivation. Widely understood to have devastating effects on physical, mental, and emotional wellbeing as well as impacting careers and relationships. Backed up by years of experience, Little Dreams Consulting's solutions are evidence-based and ethical whilst still being practical and outcome-focussed. As a result, Little Dreams Consulting is already a multi-award-winning business with hundreds of positive reviews and a Net Promoter Score of over 95 percent.
The Great British Entrepreneur Awards, in partnership with Starling Bank, acknowledges and champions the hard work and uplifting stories of business owners across the UK, with an emphasis on their journey and resilience over financial achievements. Jenna and Fay are two of the shortlisted business leaders from across the nation to have been selected out of over 5,300 entrants - the most the awards has ever had.
Twelve awards will be presented for the region, for categories including Disruptor of the Year, Entrepreneur for Good Award, and the Great British Entrepreneur of the Year. Notable winners from previous years include Social Chain founder Steven Bartlett, who went on to become the youngest ever investor on BBC's Dragon's Den.
"We're absolutely thrilled to have been shortlisted amongst so many prestigious business owners. The awareness that something like this can bring to the business is absolutely tremendous. And if it means we become known by – and can therefore help – more people, even better!" said Jenna.
"Jenna and I have backgrounds in traumatic professional children's services, and, therefore, we've always been focussed on long-term solutions rather than firefighting," said Fay. "Our business has been purpose built by a business-savvy, analytical, extremely proficient team with skills covering all aspects of business, mental health, law, and the science of sleep. But we also care deeply about the families we support. We've each been there in one form or another and understand the importance and the impact of our work. It's no exaggeration to say that we change people's lives."
The winners will be announced at a Grand Final, held at the Grosvenor Hotel in London on 21st November.
Founder of the Great British Entrepreneur Awards, Francesca James, said the quality of this year's entrants exemplified the strength of entrepreneurship across the UK: "The quality of applications is consistently excellent year on year, but we have been especially blown away by the innovation, drive and determination demonstrated this year. This year's finalists should be so proud of what they've already achieved both in business and in being shortlisted for an award - we're looking forward to seeing everyone at the Finals and unveiling the winners!"
Anne Boden MBE, Founder of Starling Bank, headline partner of the Awards, said: "Congratulations to all those businesses who have made the shortlist. It's great to see the passion, resilience and amazing ingenuity from entrepreneurs across so many categories."
---
Icelandic franchise opportunity with 1,100 years of heritage launches in UK - 30-June-2022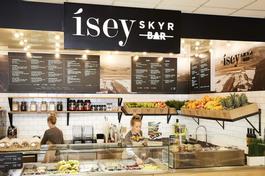 Ísey Skyr Bar, the innovative protein-rich snack bar concept, has announced the launch of its UK franchise opportunity. The authentic Icelandic experience offers franchisees a wholesome superfood consumer concept combined with an efficient business model needing minimal staff.
A growing global brand, ísey Skyr Bar is the only concept on the market that pays homage to 1,100 years of Icelandic heritage. The convenience bar gives people the opportunity to sample the Icelandic healthy way of life by serving on-the-go healthy, tasty and fast snacks that have no added sugar and are high in protein. The Michelin-chef designed all-day menu uses Skyr to create a unique taste experience, and provides smoothies, juices, bowls and coffee.
ísey Skyr Bar was developed with the goal to bring originality to the quick-service restaurant (QSR) industry. The business is designed to provide franchisees with an operation that fits their needs and a scalable concept with flexibility in size and menu items, including a stand-alone bar, shop-in-shop pop-up shop, portable and drive-through options.
"With more people aspiring to a healthier and active lifestyle, now is the perfect time to share the essence of the Ísey Skyr Bar and offer a nutritious, fast and delicious alternative," said Sigríður Steinunn Jónsdóttir, Managing Director of ísey Skyr Bar. "Our new concept appeals to the urban trend-setters and millennials who have been on the hunt for a protein-rich, fat-free and great-tasting answer to the countless unhealthy fast-food options currently dominating the market. By expanding ísey Skyr Bar into the UK market now, franchisees will have a unique chance to get in on the ground level of a premium, stylish and in-demand product with strong profit potential. Ísey Skyr Bar is an authentic brand – it's super convenient, super healthy and super tasty. We tick all three boxes!"
Ísey Skyr Bar is owned by the three largest food production companies in Iceland and is a truly Scandinavian brand. With plans to develop locations all around Europe and beyond, the brand is now expanding into the UK and is seeking new franchisees to join its global network. As of today, Ísey Skyr Bar is present in Finland, the Netherlands and Iceland.
Franchisees will be provided with a fully developed plug 'n' play concept, comprehensive training, business start-up and ongoing marketing support. They will also be offered essential resources and support to foster their growth and success with each stage of the franchising process – from initial planning and store design to store opening and throughout the duration of the business.
The initial investment ranges from £70,000 to £150000, depending on the type of bar concept, with a projected turnover of over £480,000 within the first year.
---
ChipsAway "Roars Ahead" at Annual Conference and 1920's Awards Dinner - 29-June-2022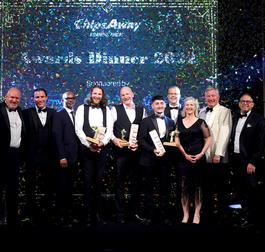 Over 200 delegates gathered at the 5* Celtic Manor Resort, for ChipsAway's Annual Conference and Roaring 20s 'Gatsby' themed Awards Dinner over the weekend. The event celebrated the minor car body repair brand's 'roaring ahead' approach in the car body repair industry.
The conference highlighted the 'future is here' in terms of electric vehicles, ADAS and changes in the automotive industry. Technical Director, Simon Kings, spoke about ChipsAway's dedication to training the franchise network on Electric Vehicles, Advanced Dent Removal and ADAS technology. Rebecca de Chair, Group Marketing Manager, concluded the presentations with a Marketing update, highlighting ChipsAway's marketing achievements during and post-pandemic, as well as key areas of focus going forwards to maintain their position as brand leader.
The conference was followed by a vendor show, where key industry experts and suppliers exhibited products throughout the afternoon. Sponsors, including KECO – the UK's leading PDR and GPR tool sellers, The TIDAL Group - the UK's independent automotive and industrial refinish distribution group and West Midland Vehicles Ltd (West Mid) - specialist contract hire and leasing consultants demonstrated new innovative products and technology for specialists to see first-hand.
The celebrations continued into the evening with a Great Gatsby 'Roaring 20s' themed awards dinner, at which top performers from the ChipsAway network were recognised and rewarded for their phenomenal achievements.
The highly coveted award for 'Mobile Franchisee of the Year' went to Joe Croxford who only joined the network in 2020 and has worked exceptionally hard to grow his business in the St Helens area.
Annabel Hall, Head of Franchise Support at ChipsAway comments: "Joe is an extremely valued member of the ChipsAway network and a very worthy winner of this award. He embodies the key values of the ChipsAway brand by following the business plan, working extremely hard and he always has a positive outlook. Joe delivers exceptional quality repairs, outstanding customer service and yet still finds the time to support his fellow franchisees."
Other high achievers included 'Rising Star' Brandon Akerman, who has achieved fantastic results since joining the network in 2020, including opening a Car Care Centre and expanding into the Torquay area. 'Car Care Centre of the Year' went to St Albans-based franchisees, Brian and Amanda Palmer, who also won the 'Customer Excellence Award' for their outstanding dedication to customer service, which was extremely well-deserved given their record-breaking 5-star customer reviews.
Last, but by no means least, the 'Hero' award, as chosen by the ChipsAway network, went to Jeremy Lines for his outstanding contribution and support to his fellow members of the network.
To complete the evening, a raffle was held which raised £2,100 for the Ukraine Humanitarian Appeal - Disasters Emergency Committee, before guests danced the night away.
---
Burger & Sauce franchisee set to reach new heights with agreement to open four more stores - 28-June-2022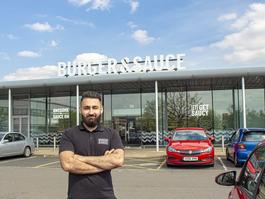 Burger & Sauce franchisee, Subhan Munir is set to reach new heights as he agrees to open four more restaurants within the next two years.
Subhan Munir explains: "I trained as an airline pilot. Although I am fully qualified to fly passenger jets, the pandemic meant there was no work. Instead, I discovered the Burger & Sauce franchise and suddenly my career really took off!
"The Burger & Sauce's motto is Fresh, Fresh, Fresh! Many other burger brands are either complicated or aren't as fresh as they claim. Burger & Sauce prides its offering on being as fresh as you can get. Food is only prepared when it is ordered and we have the simplest menu: three original burgers plus three homemade sauces along with a small variety of fries makes customer choice easy. This also reduces ordering times and makes the process really efficient.
"I bought my first franchised store in Birmingham in 2020. Pretty soon, we were flying! Within a year I had turned over £1.5 million, and I have just agreed to open four more stores."
Anthony Round, Franchise Director, Burger & Sauce confirms: "Subhan is already proving the 'sky's the limit' with Burger & Sauce! Our goal as a franchise, is to establish 300+ stores across the UK and to become the house-hold name for fresh burgers. Therefore, we are now recruiting for new franchisees, aiming for double digit store openings in locations across the nation by the end of 2022.
"For the past two years our experienced team have successfully piloted and run four franchised stores in some of the most challenging trading conditions we've ever experienced in the QSR market. We are now inviting applications from new enthusiastic franchisees looking to build a proven, profitable and efficient business, while delivering a great product to a growing customer base. Full training and support will be provided including access to our instore state-of-the-art EPOS system to boost both sales and brand awareness, the UberEATS app, plus bespoke tech to organise kitchen orders and automate delivery traceability of all our ingredients."
Exclusive Burger & Sauce territories are available throughout the UK. A ten-year franchise licence is £15,000 plus store and fit-out costs, planning and legal fees plus management service fee and marketing contribution. Multi-site development licences are also available for approved franchisees.
---
Husband and wife led team named finalists for Manchester Small Business of the Year - 28-June-2022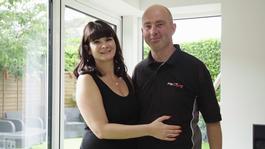 A husband and wife led team specialising in mobile vehicle bodywork repairs have been shortlisted for Small Business of the Year in Greater Manchester.

Dan and Natalie Normanton and their team at SMART vehicle repair specialists, Revive! Trafford, are up for honours at the prestigious Greater Manchester Business Awards in the hotly contested category of Small Business of the Year, for businesses with 5-10 employees.

The awards ceremony, which takes place at the Hotel Brooklyn in Manchester on Friday 2 September, will celebrate the achievements of businesses in the Greater Manchester area who have demonstrated excellence in the past year.

Impressively, Revive! Trafford enjoyed a record financial year in 2021, achieving a 44% surge in turnover from 2020 figures, and even a 31% increase from pre-pandemic revenue in 2019.

Revwner, Dan Normanton, commented: "We are delighted to have been shortlisted for such a coveted award alongside other forward-thinking businesses in the Manchester area. Our nomination is testament to the hard work our team have put in over the past year to deliver the very best for our customers."

Dan and Natalie launched Revive! Trafford in 2007, with Dan being the only technician during the early stages of the business. Since then, the couple have grown the business from strength to strength, so much so that they now employ six technicians.

But Natalie has no intention of stopping here, with ambitious plans to grow the business even further: "By the end of 2023, we hope to add four new technicians to our team, which will grow our fleet to eleven vans. As we expand, perhaps we'll soon be shortlisted not for small business of the year, but for even larger honours!", she remarked.
---
Radfield Home Care expands its network in Croydon & Sutton - 28-June-2022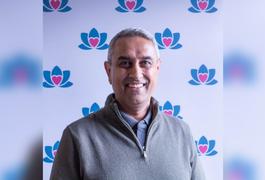 Radfield Home Care has recently welcomed another new franchise partner into its ever-growing network, launching in Radfield's Croydon & Sutton territory.
Prior to launching Radfield Home Care Croydon, Devendra spent many years working in the hospitality sector. During this time he gained a strong understanding of how to deliver exceptional customer service.
Devendra's rich background in hospitality has allowed him the opportunity to work with different people from all different walks of life.
"Working in hospitality requires patience and politeness when talking with clients, a 'client is always right' mentality, and a desire to solve problems and issues in a caring and respectful manner. This not only exceeds client expectations but also subtly positions the brand as their preferred choice."
Through his previous roles, Devendra developed a strong ability to plan ahead, prioritise and multitask. With experience, logically and efficiently tackling problems allows for a calmer approach to stressful situations. His calm approach will be ideal for helping clients receive care as well as managing a team of Care Professionals in the field.
Devendra's personal experience with organising care for family members has given him the drive to provide a home care service within his local community, where he has worked and lived for over 35 years.
"Having been on a journey with family members who have experienced Alzheimer's & dementia, I truly understand the issues they face. At times, the lack of appropriate support from various organisations was very frustrating and this has led me to want to provide better support to those that need it most."
Radfield's franchisor and founder, Dr Hannah MacKechnie comments:
"We are delighted to welcome Devendra into the Radfield network. His experience in the hospitality and customer service puts him in a fantastic position to overcome some of the challenges facing the care industry and establishing an exceptional home care business in the Croydon area.""
Devendra and his team will be delivering high quality care services to older people within the Croydon & Sutton areas. With an ageing population, and the majority of home care clients being over the age of 65, Radfield Home Care's business model specialises in servicing the growing demand of care needs for older people within the private marketplace.
---
20,000 reasons to choose Revive - 28-June-2022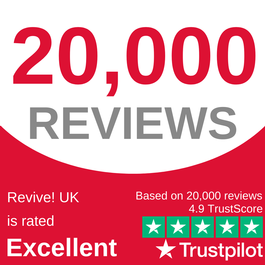 Rugby based SMART repair specialists Revive! have surpassed 20,000 reviews on Trustpilot.
This milestone coincides with Revive! celebrating its best ever sales in March 2022 and comes shortly after the company announced plans to recruit 200 SMART repair technicians over the next five years, while also increasing network sales to £40M and growing their repair network to more than 100 franchises.
Revive! joined Trustpilot in September 2018, less than four years later they have over 20,000 reviews with a 4.9 rating and 98% of customers rating their experience as Excellent or Great.
Revive! managing director (sales and marketing) Mark Llewellyn, commented:
"It's clear that Revive! are growing; this latest achievement is further proof of our commitment to building the UK's biggest and best SMART repair organisation.
"Delivering outstanding levels of customer service has always been essential to our success, so it's no surprise that Revive! have maintained such a high Trustpilot rating on our way to 20,000 reviews.
"Thank you to all our skilled technicians, diligent staff and happy customers who helped us reach this incredible milestone. On to 30,000!"
UK operations director Andy Hupfield, added:
"Reaching this Trustpilot milestone is another step towards our goal of growing our network to 100 franchises and 400 technicians by 2028. We encourage any talented and ambitious SMART repairers to contact us via careers@revive-uk.com."
---
X-Press Legal Services franchise join LegalTech Association - 24-June-2022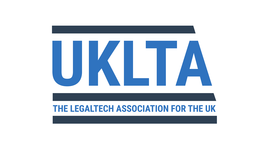 Leading property search franchise, X-Press Legal Services has recently become a member of the LegalTech Association for the UK (UKLTA) as the brand seeks to collaborate to help shape the future of the delivery of legal services through technology.
The UKLTA is bringing together legal professionals, technology providers and consumers of legal services to promote and innovate digital services in the legal sector.
With 24 franchise offices in England & Wales, X-Press Legal Services is the largest independent property search franchise network providing a wraparound service including residential & commercial searches, pre & post completion services, cyber security, and compliance products.
The franchise has invested heavily in technology and security in order to support its franchise network through its own in-house IT development team that continually tracks and evaluates the latest innovations, all of which is providing much needed security and speed of services for the conveyancing sector.
On becoming a member of UKLTA, Christian Lister, Operations Director at X-Press said: "We are looking forward to collaborating with the UKLTA in their aim to improve access to technology across the legal sector. It's a perfect fit for X-Press and will lend itself to our journey. I know our team is excited about the wider topics and hearing from like-minded professionals within the legal sector."
UKLTA, the Legal Technology Association for the UK is delighted that the franchise network, X-Press Legal Services has joined the Association.
---
SMART vehicle franchise network celebrates record year of financial growth - 24-June-2022
Revive! reports 41% growth in turnover in 2020/2021
£15.3m turnover up from £10.8m represents a record year of financial growth for the network
The firm's agile business model and increased marketing efforts have brought more sales enquiries to its 50 franchisees
The network is on track to meet five-year growth plan to recruit 200 technicians and achieve £40m annual turnover
SMART vehicle repair specialists, Revive! Auto Innovations has announced a record year of financial growth in 2021/2022, putting the company on course to reach its five-year growth plan announced last month.
The Rugby-based company which provides high-quality mobile SMART repairs through its 50-strong franchisees, oversaw an impressive network turnover of £15.3 million in the last financial year, representing a 41% increase from the 2020/2021 figure of £10.8 million and even a 21% increase from pre-pandemic turnover of £12.7 million.
Remarkably, Revive! also generated record turnover in all three of its revenue streams, with the firm's retail, dealership and national accounts enjoying substantial growth of 41%, 43% and 38%, respectively.
This comes after the network's recently announced plan to recruit 200 technicians and grow annual sales to £40m.
Revive! managing director of sales and marketing, Mark Llewellyn, commented: "We are thrilled to announce our impressive financial accounts for 2021/2022. Our excellent financial performance is testament to the fantastic work of our employees and franchisees alike, who all work incredibly hard to deliver the very best for our customers.
"Significantly, we also outperformed our turnover in 2019/2020, meaning not only have we navigated the economic shock of the COVID-19 pandemic and all the challenges that came with it, but actually successfully adapted to the new marketplace to come back stronger and better than ever before.
"And if 2022's accounts thus far are anything to go by, it is clear our employees are up to the challenge of surpassing last year's figures. No doubt, we will be watching our progress closely to ensure we set yet another record year and grow with our franchisees."
---
Expansion is on the Table for Papa John's Multi-Unit Franchisees with New Castleford Opening - 24-June-2022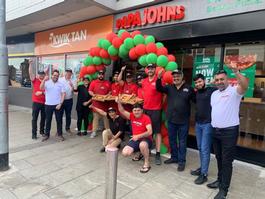 Expansion is on the table for Papa John's multi-unit franchisees Mandy Kaur and husband Chan Singh, with their latest store opening in Castleford, Wakefield, Yorkshire. The business minded duo has recruited 15 local people to run the store which is now their fifth Papa John's.
Mandy Kaur explains: "We joined Papa John's in 2008 and have taken the time to expand our franchised business gradually. Now our children have left home and have their own careers, we felt the time was right to take a bigger slice of the action! We love the Papa John's brand and thought let's go for it!
"We opened in Pontefract last year, now Castleford and have a further store planned the North West this summer. Our recipe for success is hard work and commitment but it's also our people. We have a manager for each store and try our best to offer a tempting career path for all our team members. Our Castleford store manager, Aden Salim began as a delivery driver two years ago and will now be responsible for the new outlet. It's the same story with our Brighouse store in Yorkshire. Our manager there started out as a delivery driver and now he's in charge of the store.
"It sounds 'cheesy' but we also try and create a fun atmosphere, so it's an enjoyable place to work. I mean it's pizza, so it's got to be fun!
"The Papa John's head office team have been super supportive over the years and are willing to listen. At the end of the day, we are one big Papa John's family. Working for Papa John's has certainly changed our lives and it's been a particularly positive experience which makes us hungry for more!"
Before joining Papa John's as franchisees, Mandy ran children's day nurseries and Chan managed a small department at a local cotton mill.
The new Castleford Papa John's is centrally located on Carlton Street. Mandy Kaur and Chan Singh have been able to take advantage of Papa John's incentive scheme to open the new store which means reduced franchisees fees, deals on equipment and help with marketing to ensure they get off to a great start and are quick to bring in the dough!
---
Marugame Udon appoints Judd Williams as new Head of Franchise for UK & Europe - 23-June-2022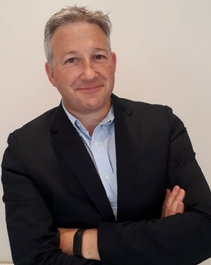 International udon noodles and tempura restaurant brand, Marugame Udon, has appointed Judd Williams to the newly created role, Head of Franchise for UK & Europe.
Williams, who has more than 20 years of global hospitality franchisor and franchisee experience, joins from Boparan Restaurant Group where, as International Development Director for the last four and a half years, delivered expansion through franchise across its multiple brands including Giraffe, Carluccio's and Slim Chickens. Williams has also previously held international franchise leadership roles in brands including Starbucks, Costa Coffee and Costa Express.
Marugame Udon made its UK and European debut in the capital last year with its flagship site off Liverpool Street, followed by successful openings in The O2, Canary Wharf and St Christopher's Place. In mid-June, the fast-growing brand opened its fifth restaurant in London at retail and leisure destination Brent Cross.
In his new role Judd will be responsible for leading growth of the Marugame Udon's operations through franchise in the UK and Europe, recruiting and working in partnership with experienced multi-unit brand operators as Marugame Udon has exciting plans to roll out further sites across London, the rest of the UK, and Europe.
Williams said: "This is a really exciting role, with an iconic brand. I'm looking forward to working to help deliver our growth ambition to bring the Marugame Udon experience to more new customers through experienced franchise partners."
Keith Bird, CEO of Marugame Udon Europe said: "We're thrilled to welcome Judd into our growing team. We have exciting expansion plans and with his knowledge and experience he will be an integral part of us achieving this."
---
Pitman Training selected by Amazon as an Education Partner for Career Choice Program - 23-June-2022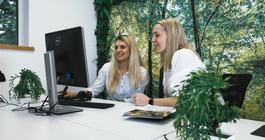 Pitman Training will provide Amazon hourly employees access to 13 flexible training courses.
This month, Pitman Training announced they have been selected as an education partner for Amazon's Career Choice program, providing Amazon employees access to 13 flexible training courses, which they can start at any time, to ensure they fit training in around their lifestyle.
"We're immensely proud of our new partnership with the Amazon Career Choice Program," said Paul Lewis, the MD of Pitman Training. "At Pitman Training, we've successfully helped students across the UK complete over one million courses. By using our market-leading combination of audio guides, workbooks and live software, we aim to provide Amazon's employees the opportunity to improve their career prospects, gain a promotion, or pursue a new career entirely."
One student who has already benefited from this partnership is Ramio Uus. After growing up in Estonia, Raimo decided to move to the UK where he began working for Amazon as a Warehouse Associate. Although Raimo wanted a career in IT, he recognised that he lacked the skills to pursue his passion. So, he underwent Pitman Training's Advanced IT Support Technician Diploma to help him secure his dream job.
"When I first spoke to the team at Pitman Training, I knew I was in good hands. They helped me decide which course best suited my goals and were really supportive throughout the entire process," explained Raimo.
"The Advanced IT Support Technician Diploma was comprehensive and easy to understand. I loved the practical elements but the best part about studying with Pitman was being able to fit my learning in around my work commitments.
"Before taking this course, I had no experience in IT, but after completing my diploma, I had enough confidence to apply for an IT Support Technician job with Amazon – which I got! My training with Pitman prepared me to answer the questions I was asked in the interview and helped me to get my CV right. I'm delighted to have achieved my diploma with Pitman - I couldn't be happier."
Pitman Training is the UK and Ireland's longest-established training provider, offering students vocational training for 180 years. Since the first Pitman Training centre was established in 1870, Pitman has offered state-of-the-art courses and diplomas to help people achieve their dreams. Now, Pitman is helping Amazon employees pursue training and qualifications in high-demand fields such as office administration, data analysis, accounting, IT, HR administration, web development, software development and more.
Amazon's Career Choice program is an education benefit that empowers employees to learn new skills for career success at Amazon or elsewhere. The program offers industry certifications designed to lead to in-demand jobs.
Amazon's Career Choice program has a rigorous selection process for third-party partner educators, choosing partners that are focused on helping employees through their education programs, assisting them with job placements, and overall offering education that leads to career success.
"We're looking forward to Pitman Training coming on board as an education partner for Career Choice, adding to the hundreds of best-in-class offerings available to our employees," said Tammy Thieman, Global Lead of Amazon's Career Choice program. "We're committed to empowering our employees by providing them access to the education and training they need to grow their careers, whether that's with us or elsewhere. Today, over 50,000 Amazon employees around the world have already participated in Career Choice and we've seen first-hand how it can transform their lives."
---