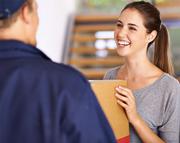 The UK has seen a huge rise in consumers buying goods online. The knock-on effect of this has sent the courier and express delivery market soring. In 2018 the courier and express delivery industry reached £12.6 billion in the UK and an astonishing 3.65 billion packages were transported.
There are more online retailers than ever before with no sign of a reduction in demand for delivery services. The courier industry is forecasted to grow annually rising by a staggering 54% between 2019 and 2023. For those looking to invest in a growing industry this is an area worth considering.
What has happened is, the courier industry has been quick to adapt to our ever-changing digital landscape, meeting the needs of mobile and desktop consumers as well as e-commerce and online retailers, all of whom require courier delivery services. Embracing digitalisation, by offering user-friendly online shipping solutions for consumers and businesses to book shipments in just a few clicks. Instant online payments, parcel tracking, delivery notifications, and the convenience of door to door collection and delivery to almost any destination in the world. It's no wonder imports and exports of goods from countries such as China and India have also increased with more UK retailers buying goods abroad than ever before.
Using courier services has become easy, convenient and in high demand, it's clear to see why the industry is booming. With forecasted growth predicted to rise, the courier industry is definitely one which shouldn't be ignored as a franchise business opportunity.
Many might assume courier franchises involve buying vans and employing delivery drivers. Not always, World Options offer a streamlined courier franchise with low overheads, no vans needed, no office unit required, franchisees can work from home and run their business online.
How it works - World Options partner with the world's leading carriers such as UPS, TNT, DHL, FedEx, DPD & DX to provide customers courier shipments through the World Options online shipping portal. The franchisee's aim is to find new business customers who require courier services, they build relationships with the business and provide an account management service for the business.
For those looking for a new franchise opportunity, this growing and lucrative market is worth tapping into. And the good news is, World Options are seeking ambitious, business-minded individuals to join their franchise. Full industry training is provided, one to one coaching, ongoing franchise development and the help of a UK customer support team behind you.
Learn more about franchise opportunites with World Options here!