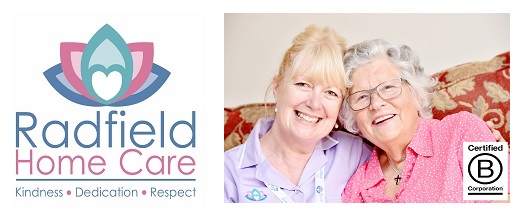 Join our family-run franchise with top-quality care at its centre!
There are many routes into business ownership but there are multiple benefits from investing in an ethical, bfa accredited franchise like Radfield Home Care.
By joining a franchise network you are given a tried-and-tested business model, guidance and expertise from franchisors with extensive experience within the industry, and hands-on support every step of the way.
Whether you are curious or want an in-depth look at Radfield, we invite you to download our FREE & non-obligatory prospectus here.
A family who franchise!
Radfield Home Care was established by brother and sister team (pictured below right), Dr Hannah MacKechnie, a qualified GP, and Alex Green, who has a career background in finance.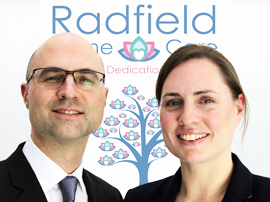 Having been raised in a very highly regarded residential home for elderly people, they both gained a unique insight into what true high quality care looks and feels like. This invaluable knowledge led them to establish Radfield Home Care in Shrewsbury which soon became a leading home care provider in the West Midlands and North East.
Hannah and Alex are committed to growing their business in a way that not only delivers healthy profits but also looks after its people and the environment.
Radfield Home Care is the very first Certified B Corp® in the UK Health Care sector
B Corp is to business what Fair Trade is to coffee and this accolade demonstrates their commitment to working in partnership with their franchisees to develop sustainable businesses that are part of their local community.
Identifying a need and market potential…
The elderly home care marketplace is booming and the rate of growth shows no signs of stopping as people are living longer and looking to remain in their own homes for as long as possible.
Thanks to their experience the care sector, Radfield's franchisors identified that, due to the growth in elderly demographic, there was a real opportunity to focus specifically on this market and to deliver a high quality, highly profitable service rather than a broader offering with higher quantity but lower profitability.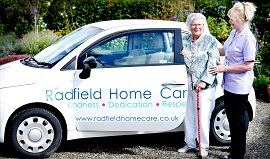 At Radfield Home Care, we recognised that we didn't want to try to deliver all types of care but excel and dominate this particular market. We believe that it is a far more compelling proposition, for a son or a daughter purchasing care for their elderly relative, to choose the care provider who is an expert in their field.
Our franchise package…
When you invest in a Radfield franchise, you are awarded an exclusive territory in which there are at least 35,000 elderly people and also a total population exceeding 115,000 people to ensure that there is a sufficient pool of working age people to recruit from.
These are larger territories than many other care franchises and as we are an early franchise network there is much opportunity for ambitious franchisees to expand into adjacent territories and build a larger, more profitable business for themselves.
Our franchise package includes:
Extensive training covering all aspects of setting up and running your care business
Ongoing unlimited support tailored to your specific needs
Site visits and regular meetings as you need us.
An online web portal that hosts franchisee support documents and operational information
Your own suite of web pages that are fully Search Engine Optimised by our in house digital marketing expert.
Regular sector and legislation updates
Large exclusive territory mapped for potential clients AND potential carers
Marketing support to help you to grow your business locally
And much more…
Get the full list within our FREE franchise prospectus here.
How we train and support you…
We are incredibly proud of our extremely thorough training and support programme. It starts even before your full training programme beginsfrom creating your business plan to your application for finance or even your CQC certification support.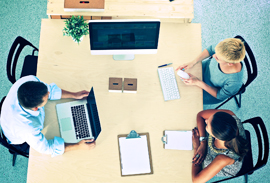 Our full training programme covers all aspects of running your own business, marketing for clients and carers, legislation, use of our bespoke software systems and much more. All franchisees work very closely with Dr Hannah MacKechnie, Alex Green, and the rest of the support team, in all areas of business development. We really are there every step of the way to make sure that you get off to the best possible start and this training is tailored specifically for you.
Could you be our next franchise partner?
At Radfield Home Care we are looking for the right people to partner with us. We have built a strong family business on solid foundations based on our core values and it is important to us to extend this into our franchise network to ensure that all Radfield Home Care employees and clients will benefit from the culture and ethos we have created.
Our franchisees do not need to have had prior care experience to establish a Radfield Home Care franchise as we can support you to recruit these skills into your business, however you do need to be an enthusiastic, optimistic 'people person'.