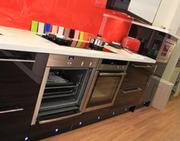 Dream Doors specialises in replacement kitchen doors, this provides many benefits for the customer such as less time, money and hassle. This simple idea has been revolutionary within the kitchen market.
As leaders in the industry, Dream Doors is best placed to give you an unique inside view of this thriving industry...
A growing demographic
The typical demographic for kitchen replacements would be the over 50's, this is due to them being settled into a permanent home and having the disposable income to put towards a new kitchen.
This demographic is an incredibly lucrative group as it is constantly growing with potential customers being discovered daily.
Ease of use
Replacement kitchen doors takes out a lot of the hassle that's involved with kitchen replacements. Large kitchen jobs typically take weeks to complete whilst a simple door replacement could take 1-2 days.
The philosophy of less money, less hassle and less time has proven to resonate well with customers whom are pleased to be able to go about their everyday business unencumbered whilst work takes place.
A niche product ticking all the right boxes
The replacement kitchen door business is a niche market which performs incredibly well in the UK. Customers are often surprised by the option itself and thus become interested with the business.
This, as well as other factors, such as made to measure and environmentally friendly products, the industry is absolutely ripe for the picking.
About the Author
Dream Doors is a multi-award winning kitchen facelift franchise business. To find out more about their franchise offering, please click here.
To have a look at other property maintenance and DIY franchises, click here. Alternatively, why not check out Specialist Retail franchise opportunities available here.
---