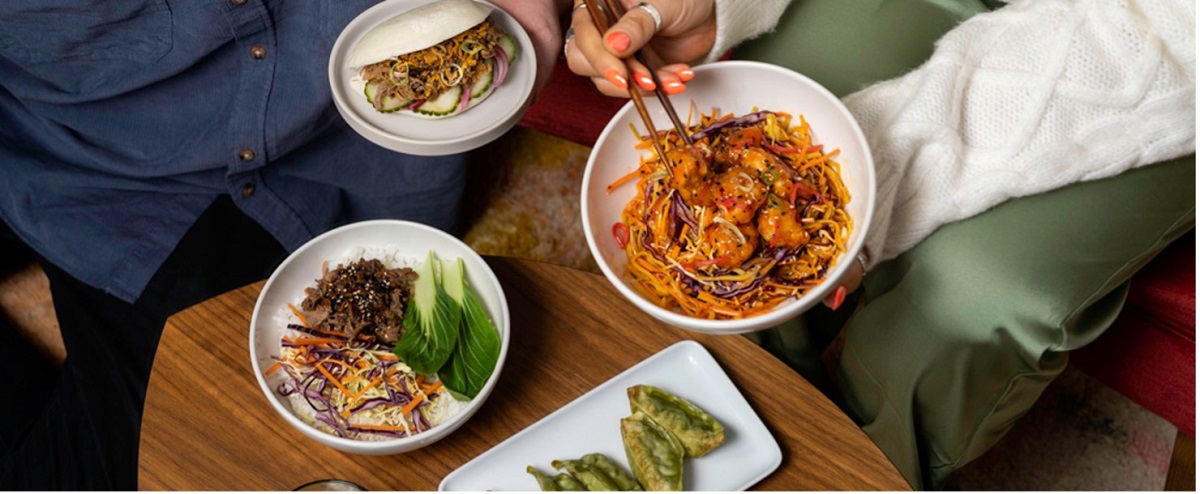 The YO! brand
YO! sushi restaurants was founded in 1997, inspired by Japanese street food and the trend for "kaiten" sushi, or conveyor belt sushi, where freshly prepared sushi dishes were passed around on a belt, allowing diners to select their own dishes.
YO! is the UK's number 1 sushi brand with 52 famous high street restaurants. The first YO! sushi restaurant was established in London, making an impact on the novel way of serving food, as well as popularising Japanese cuisine.
The brand has now expanded across the globe with over 70 restaurants across 10 countries. It has a distinctive and recognisable brand identity, that combines Japanese youth culture, bright, colourful designs, and fresh tasting dishes inspired by Japanese cuisine.
YO! sushi kiosk franchise
Looking for new ways to reach their customers inspired YO! to create the YO! sushi retail kiosk. YO! kiosks serve restaurant quality Sushi and Japanese street food inside Tesco stores across the UK.
For anyone keen to start a high impact and ambitious business in the food and drink industry, owning one, or more, YO! sushi kiosk franchises is an exciting new opportunity.
Join the 300 strong Kiosks Team to deliver restaurant quality sushi and sensational street food to a supermarket near you.
These are existing kiosks trading in Tesco with immediate availability. We have 90 locations in the South of England available immediately; we welcome enquiries from those looking at single and multi-unit kiosks. Other areas are being made available on a phased roll out basis - happy to discuss.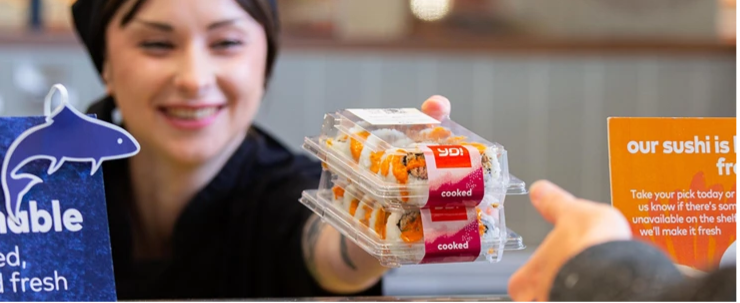 The YO! sushi kiosk customers
Typically a supermarket sees an average of 4,000 customers per day so, in any given area, that is 10s of thousands of potential customers every week and at the start of 2023, Tesco's UK market share was 27.3%, which means over 25% of all people who regularly visit a supermarket (which is everyone!) will walk past a YO! sushi kiosk every time they go shopping. A great number stop and buy the YO! products, a number which is growing all the time.
The YO! opportunity
This is a pre-packaged, ready-to-serve business opportunity which offers you:
Guaranteed business from day one
Excellent growth potential
No outfitting costs, no equipment fees, no expensive leases
Low start-up fees with fantastic earning potential
A tried and tested concept with proven revenue
A huge pool of already loyal & happy customers
Exceptional training & support from the best in the industry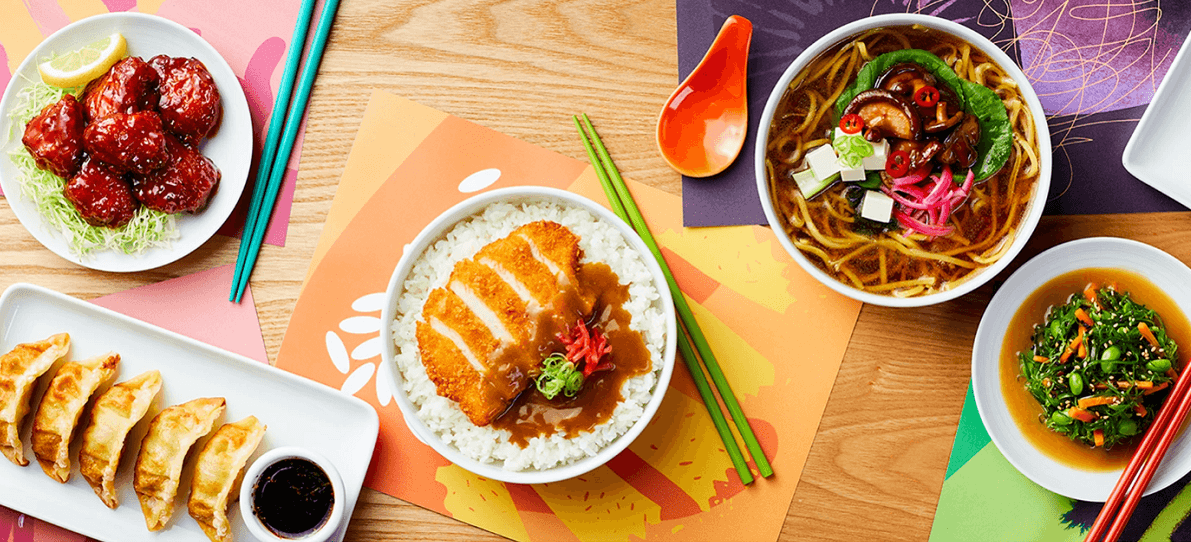 An established brand & business...
Most new businesses, even ones backed by a proven franchise model like YO!, can take months, or even years, to build their reputation and start seeing a return on their investment. Not so with a YO! sushi kiosk franchise! You'll be able to take on the existing customer base right from day one and enjoy an immediate revenue stream, as well as plenty of potential for growth.
With a YO! kiosk franchise, you won't need to start up, but you'll have plenty of opportunities to build up!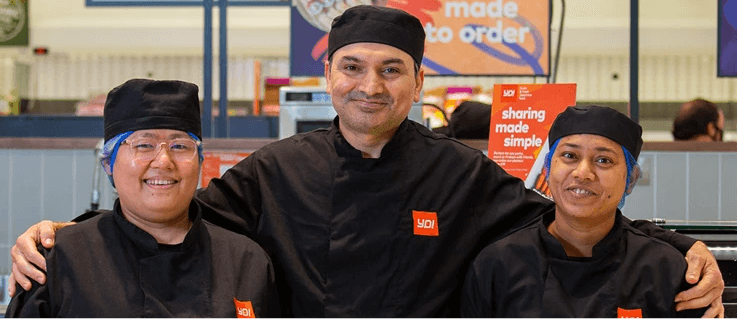 Who are YO! looking for?
YO! are looking for franchisees who will either act as owner/operators themselves, or would like to own and operate multiple locations; they need people with the energy and passion that comes from a direct personal investment in the brand to really shine through to our customers.
YO! embrace people from all walks of life and the current YO! franchisees come from a huge range of backgrounds. You certainly don't have to have any experience in retail, or the food & beverage industry, obviously a background in the food and drink industry will be a bonus but suitable franchisees without this background can still receive the relevant training to help them develop the necessary skills. Potential franchise owners should also have a strong interest in Japanese cuisine.
Previous management and leadership experience, and the ability to demonstrate strong business acumen, and the skills required to lead and motivate a busy team are also seen as desirable attributes.
The YO! training
You'll receive a comprehensive training programme from YO! designed to equip you with the skills and knowledge to make your new business a success.
The training takes place over the course of 2 weeks well in advance of you taking on your new kiosk. You'll have one-week academy training from the very best in our organisation, followed by one-week practical training in one of our Centres of Excellence.

Your investment
The cost of investing in a YO! sushi kiosk in Tesco, is obviously variable depending on the current sales of that kiosk. YO! will discuss the exact cost with you when you contact them about the location you have in mind, but you can expect to pay from:
£20,000 plus VAT for a site turning over approximately £2,000 per week… Up to £55,000 plus VAT for a site turning over approximately £12,000 per week.
AND… as an established, ongoing concern, your kiosk will not require any further costs. No investment is necessary to lease and outfit your premises, or to buy equipment. Everything is already there, just waiting for you.
Snowfox Group and Panku kiosks
YO! sushi kiosks are part of the Snowfox Group. They also have other established company owned franchise opportunities available with Panku kiosks (another Snowfox Group brand) in Asda stores. Panku have been offering an authentic taste of Japanese, Thai and Korean food since 2019. We can also discuss Panku kiosk opportunities.
Your Next Steps...
If you like what you have seen so far and are considering joining the YO! sushi kiosk franchise network no doubt you'll want to be sure you fully understand what is involved and how it can benefit you, so just get in touch with us, at any time, to learn more. The team looks forward to talking to you about what YO! do, and how they can help you to build your own successful and rewarding business.
Enquire now and we can provide information on all immediately available YO! sushi kiosk locations.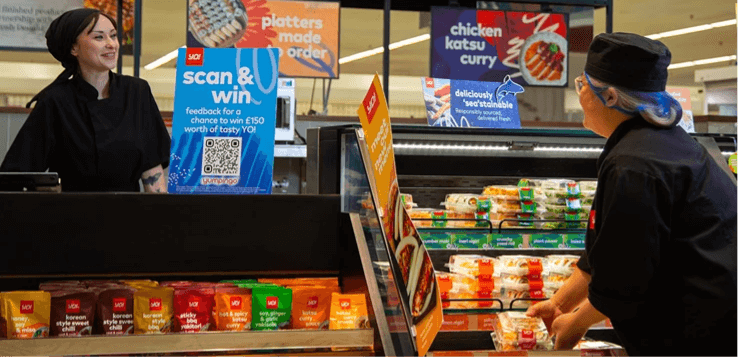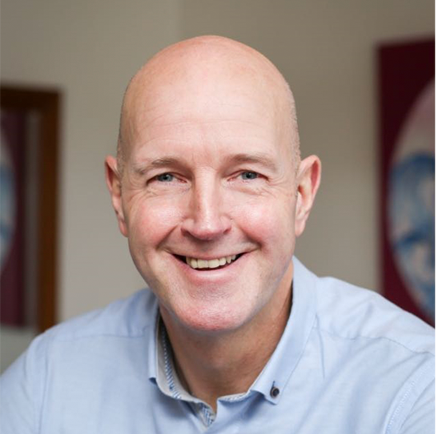 Interested in YO! ?
Contact John Overdijking
For an insight into YO! kiosk opportunities...
---
Click on the link below to receive further information on our franchise opportunity. You can also connect directly with us to ask any questions.
This is FREE and non-obligatory; we never share or sell your personal information.