Last Updated: 21-May-2019
Exclusive Interview: John Graham and Mark Abbott, MD's of Oven Wizards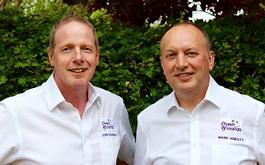 Franchisors name: John Graham and Mark Abbott
Name of franchise: Oven Wizards Franchising Limited
Tell us about how/when the business was started and the motivation behind establishing the company.
Established in 2004, bought by John and Mark in 2010.
We wanted to help like minded people enter the world of self- employment and chose to do this via the Franchise Model.
We wanted to achieve steady growth as we want to remain "hands-on" in the business providing guidance and support to Wizards around the Uk as they launch and grow their own businesses in their chosen Territories, under the Oven Wizards brand name.
When and why did you decide to go down the franchise route?
Right from the outset we wanted to go down the Franchise route. Mark had been a Franchisee himself, so knew what was important to him/Franchisees in terms of help and support.
What have been the company's biggest achievements/successes to date so far?
We have built a nationwide oven cleaning business, from the business we bought back in 2010 that had a small number of Wizards, all in the South East of England.
"We pride ourselves in delivering high levels of Customer Service both internally and externally. As a result of this we have a very good rate of Wizards renewing their agreements with us."
What challenges have you had to overcome?
Understanding the Franchise model and industry.
Understanding that the relationship between Franchisor/Franchisee is a business partnership, not an employer/employee relationship that we had been used to working in "corporate world" for most of our working lives
What marketing/promotional tools do you use to grow your franchise?
We have been more successful using 3rd party online sites and our own website, than magazines and shows. The latter have however given us brand awareness.
We find that the more we become established the more our Wizards recommend us to people they know.
What differentiates Oven Wizards from the competition?
You will always deal with the Directors/Business owners of Oven Wizards. Right from the first interaction through training and launch of your new Oven Wizards business and ongoing support on your self- employment journey.
Flexibility.
The whole package is great value for money.
In your opinion, what makes a successful Oven Wizards franchisee?
No previous experience is required. We look for people with the right attitude, who are good with people and can be resilient.
What changes have you seen in your industry over recent year? And how have you adapted to them?
Operationally you have different makes and models of ovens coming on to the market all the time. Self-clean ovens are becoming more prevalent, but we clean quite a lot of these for some reason.
"Different/new players are entering the market all the time, but we stay true to our values and continue to grow our business year on year"
What does the future hold for Oven Wizards?
We still have Territories available for the right sort of people to join Oven Wizards. We will continue to focus of the professional valeting/cleaning side of ovens and not be distracted by trying to move away from our core business.
What expansion plans have you got nationally and internationally?
We will continue to focus on the UK market and look to grow Oven Wizards representation where there are opportunities. We have no major plans to expand internationally…. But who knows, we would grasp any opportunities that come our way.
What advice would you give to someone considering franchising their business?
Get the basics right, keep it simple and treat everyone fairly.
If you had to do it all again, what would you do differently?
Nothing, we are very happy with our lot…. Perhaps we should have done it earlier in our working lives as it's the best thing we have ever done.
Interested in starting your own Oven Wizard franchise? Download their franchise prospectus here!
view Oven Wizards profile