Last Updated: 06-April-2018
Exclusive Interview: Darren Taylor, Owner of WILKINS CHIMNEY SWEEPS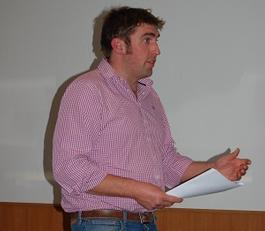 Franchisors name: Darren Taylor
Name of franchise: Wilkins Chimney Sweep
Tell us a bit about your background and why you joined Wilkins Chimney Sweeps?
Coming from an engineering background I trained in technical sales in the electronic security industry. From a hard sales environment I had prepared myself with some of the important tools of running my own business, such as sales and account management and managing staff and contractors.
I came across Stumpbusters by chance and it caught my imagination – something that a lot of the Wilkins Chimney Sweep franchisees say. In 2006 I bought my first franchise and by March 2011 I had four territories running.
"I understand the risks and rewards of franchising and the challenges of expanding a business."
At this point I had an opportunity to buy Stump Busters UK Ltd and took it. I was able to increase the network to near saturation (we only have four greenfield sites remaining) as well as bring innovation in respect of machinery and markets.
In January 2018 I bought Wilkins Chimney Sweep from the owners, Peter and Louise Harris and my goal is to introduce new franchisees to this great business.
When was Wilkins established? And what were the factors for deciding to go down the franchise route?
The business was established as a local chimney sweeping business in 1895 by Tom Wilkins and was handed down through generations until in 1989 Peter bought the business from Tom's grand son-in-law, Frank Shurey.
Peter and his wife, Louise, decided to grow the business and identified franchising as a great way to do this whilst protecting the heritage. In 2011 they started to build the great foundations of the franchise and in 2018 I bought Wilkins.
What have been Wilkin's biggest achievements/successes to date so far?
We've won awards that would normally be reserved for much larger business: Franchise Marketing Awards for a campaign for franchisee local marketing, EWIF New Woman Franchisor of the Year (for 'doing it right'), bfa Franchisee of the Year (Microbusiness category) was won by our Franchisee and we've had two finalists in these prestigious awards; we were finalists in the Best Franchise Awards, Van category in 2017.
We're the only franchise chimney sweeping business and have been pleased that all franchisees have grown their business year on year and all are in profit.
What challenges have you had to overcome?
The Wilkins Franchise model is quite different to StumpBusters and it's taken a while to learn the new model but otherwise no challenges!
For the franchise itself the challenges are perception –
"We know we're a bit quirky and somewhat niche but there is a valid business opportunity for the right people who want to work hard and smart."
What marketing/promotional tools do you use to grow your franchise?
We try to be visible everywhere at exhibitions, magazines and websites!
What differentiates Wilkins Chimney Sweep from the competition?
In terms of competitors in franchising, we don't really have any beyond the other mobile franchise opportunities.
For franchisees looking to join us out back office system is second to none – along with the marketing and branding that the franchisees use.
What qualities do you look for in a franchisee? What makes a successful Wilkins Chimney Sweep franchisee?
Franchisees need to be 'people person' with an ability to sell, financial aptitude and willingness to follow the model!
What changes have you seen in your industry over recent years? And how have you adapted to them?
The use of technology has increased and we've been able to drive some of this ourselves – with great back office systems that keep admin to a minimum.
What does the future hold for Wilkins Chimney Sweep?
We've laid the foundations and now we're ready to grow – we're looking to expand our network nationally and significantly.
"We've developed the training so that we are able to train more people and provide them with mentors from the network."
What expansion plans have you got nationally and internationally?
We have already taken StumpBusters into the Netherlands and would be looking to take Wilkins Chimney Sweep into Europe too.
What advice would you give to someone considering franchising their business?
Make sure you have the financial means to expand, as well as the time. Doing it right can be expensive.
If you had to do it all again, what would you do differently?
Nothing yet!
To learn more of franchise opportunites with WILKINS CHIMNEY SWEEPS, request a prospectus here!
view WILKINS CHIMNEY SWEEP profile