Last Updated: 12-September-2017
Exclusive Interview: Mu'azzam Ali, Founder of Little Dessert Shop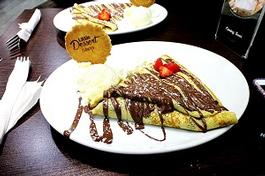 Franchisors name: Mu'azzam Ali
Name of franchise: Little Dessert Shop
Tell us about how/when the business was started and the motivation behind establishing the company.
The company was formed in 2014 and opened its first store in 2015 Wolverhampton.
There was no alternative to go out with the family in the evening other than a restaurant or a pub, we wanted to create a family friendly environment for everybody to enjoy. And who doesn't love desserts?
Our stores are designed to offer a classy, upmarket alternative to coffee shops, cafes and bars that are completely alcohol free. Inspired by concepts of many stores across Europe and America we combined the best of the best and created the Little Dessert Shop brand.
When and why did you decide to go down the franchise route?
Due to popular demand for the brand and product offering, we wanted to expand across the nation however found that franchising was the only route to capture this growing market in the U.K. Since 2015 we have been working extremely hard to create a business model that is robust and profitable. We are continuing to develop the model in line with new trends and opportunities.
What have been the company's biggest achievements/successes to date so far?
Where do I start, we won the Dessert Outlet of the Year in 2015, the first time this award was offered in the U.K. We have then gone onto winning many other awards…there is too many to list. We have featured on national and local news due to the phenomenal queues we have experienced outside our stores. Little Dessert Shop is now also part of the BFA family and have opened multiple franchised stores in England.
"Chris Moyles from Radio One talked about our products on his show – we have even ventured onto the frozen aisle of ASDA supermarket with our famous Cookie Dough product."
What challenges have you had to overcome?
Perfecting the model for the franchise market was a difficult task; it involved many late nights and endless man-hours. Our marketing strategy and brand offering including store design took months of research and investment. But everyday is a new challenge – it's a fantastic feeling to be part of a growing company.
What marketing/promotional tools do you use to grow your franchise?
That's a secret. I will give a small insight into our marketing strategy. We tend to use various social media platforms, traditional means such as newspapers, leaflets, and media press releases. We have also partnered with Google approved affiliate and we grow our company through great customer service that exceed our customer's expectations.
What differentiates Little Dessert Shop from the competition?
Our store offerings, products and décor is totally different from our competition. Our financials are proven within the system and we have multiple success stories to share. No other dessert company has won a many awards or has even been on the shelves of ASDA supermarket. We are unique and are evolving everyday. A Franchise offering like no other… that's what I say.
In your opinion, what makes a successful Little Dessert Shop franchisee?
Lets face it – money does not grow on trees. Our franchisees are carefully selected through a vigorous recruitment & selection process. It takes passion, commitment, blood, sweat & tears to be successful in any business.
We offer the right training for the right people at the right locations. Our training and support process is paramount to the success of the franchisees, the store operations manual, our training team; our in house marketing team are all on hand to assist the franchisee. If the franchisee follows our advice we can guarantee success.
What changes have you seen in your industry over recent year? And how have you adapted to them?
A lot of copycat businesses have tried to imitate our brand over the years & this is still occurring. However we see them open for trade and close within months. This is because their model is flawed in many aspects.
"The Little Dessert Shop brand is well known and our marketing is brilliant. We have adapted and tweaked things within the menu at various locations to cater for demographical locations. The industry is growing and the time is now to capture this market."
What does the future hold for Little Dessert Shop?
The plan is to try & achieve 50 stores by the end of 2018, we have a considerable amount of interest from abroad with many potential franchisees visiting the U.K to see the stores in the flesh.
Timing has to be right when venturing abroad, we are finding our feet with logistics and local demographics. But the future is definitely bright and profitable for the foreseeable future.
What expansion plans have you got nationally and internationally?
We are sieving through over 200 enquiries a month, that's a gruesome process as many are tyre kickers but we are trying to hit our target of 50 stores in the U.K by the end of 2019.
I believe by 2019 we will be ready to venture into Europe & the Middle East. But we are advertising our Master franchise for Ireland. See Whichfranchise website for more details.
What advice would you give to someone considering franchising their business?
Do things properly from day one, it is not an easy task franchising a business. The BFA are brilliant & hold your hand through the process. It is important to get the right legal advice and Hamilton Pratt are the best at that. Take your time, get everything that is vital to your business model written down and documented.
"People are investing their life into your business and expect rewards and considerable growth. It has to be right."
Franchising is not right for every business but for those that are, it must be executed with professional assistance.
If you had to do it all again, what would you do differently?
I would not change a thing, we have been blessed with this rollercoaster of a journey to date, it's a brilliant challenge and as a company we are enjoying every moment. Little Dessert Shop has some ambitious plans - you will have to wait & see what they are!
Learn more about opportunities with Little Dessert Shop by requesting a Prosepectus!
view Little Dessert Shop profile