Last Updated: 01-July-2016
30 years of successful franchising: Interview with Chemex franchisor Michael Graham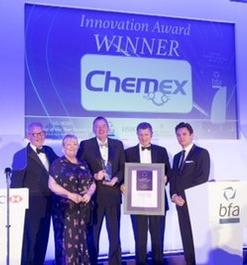 Franchisors name: Michael Graham
Name of franchise: Chemex
Tell us a bit about yourself including when and why you joined Chemex and your past employment within or outside of franchising
30 years ago I joined Safeclean when Desmond Cook (BFA Chairman) sold the business to Guardsman. Using sea sponges to clean carpets as our USP! Unique as that was, our warranty business with DFS/SCS etc gave us lead generation helping a network grow well.
Promotion to the US followed and I ran the North American Division helping create Furniture Pro. On return to the UK I then enjoyed ownership in Pitman Training Group before eventually joining Chemex some 6 years ago.
When was Chemex established? And what were the factors for deciding to go down the franchise route?
Its 30 years young and the parent company was a chemical manufacturer. The strategy was a simple desire to expand beyond being a regional supplier. Franchising offered a way of achieving that aim.
What have been the company's biggest achievements/successes to date so far?
"We supply some fantastic operations like Ocado and some great people, Heston Blumenthal being one. However, what I have always loved about franchising is the fact that it gives individuals the chance to control their own futures."
Threats of redundancy, tiresome bosses, poor work practices can take the spark out of people. Over the years I'd like to think that we have reignited that flame in many people helping them enjoy life again.
What challenges have you had to overcome?
If you run your own business, challenges are opportunities to improve. Looking at the huge market opportunity out there we have had to do a root and branch review of the business to ensure that we are well positioned for the next decade of growth. Introducing technology in various formats, revamping order systems, realigning the supply chain and much more. Ironically this led to Chemex winning the Innovation award from the BFA.
What marketing/promotional tools do you use to grow your franchise?
KISS – We all know what it means but it's how you religiously practice it that is important. Our franchisees can access all sorts of marketing detail BUT we are confident that if you stand in front of enough prospects you can grow a sizable business so why not walk through the door and say, "Hi my name is Mike, I supply cleaning and hygiene products and I'm building my business in this area can I show you what I do". Very low cost, direct marketing information generated, appointments generated and sales generated. For the more reserved we also deploy telemarketing for appointment generation but we are firm believers that marketing and sales are merely points on a circle of sales activity.
What differentiates Chemex from the competition?
We supply coloured water, janitorial products, basic cleaning items that every company in the UK today uses. This means the market is huge and as a result you have various forms of competition all of which claim this advantage or that unique aspect.
"At Chemex what we know to be true is that service is King. We don't mean delivering on time or pulling out the stops if a customer needs bleach we are talking about understanding the business we supply."
From how a brigade cleans down to the way a dishwasher temperature check works, the importance of COSSHE, which product will save money, new legislation, regulatory needs in fact everything that can be of value to the customer. Our central operation functions to research, create and provide franchisees with this detail in easy to use/apply formats…that's why our franchisees can supply businesses for 20+ years!
What qualities do you look for in a franchisee? What makes a successful franchisee?
Good communicator, open personality simple as that. Yes they have to be resilient and have energy but the first two qualities are what we look for
What changes have you seen in your industry over recent years? And how have you adapted to them?
Increased legislation: The fact is hardly a day passes without news items highlighting food hygiene issues, care home quality, NHS shortfalls or recalls on products. This is the end phase of a seed change in the UK where legislation and regulation policed through regulatory bodies are enforced. These laws and requirements are ever changing guidelines that can confuse and catch out operators and we love them. Our speciality is understanding and interpreting these to ensure that our customers are protected and safe.
What does the future hold for Chemex?
Another 30 years…if I explain that we supply necessities which every company in the UK can buy, legislation and regulation drives increased use of what we supply, the customer uses it and pours it down the drain meaning that the product is reordered, frequently. If we provide the service, we promise that means we have customers who buy from us for many years then who would want to change such a simple business?
What expansion plans have you got nationally and internationally?
As I write we have signed the Master Franchise rights for Australia. However, our UK aspirations are simple, 60 maybe 70 UK based operations.
To find out more about the Chemex franchise opportunity click here
view Chemex profile