Last Updated: 10-May-2016
Exclusive interview; "Successfully franchising after being afraid of the unknown"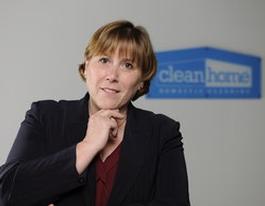 Franchisors name: Karen Kelly
Name of franchise: Cleanhome
Tell us a bit about yourself including when and why you joined the company and your past employment within or outside of franchising
Before starting Cleanhome I worked closely with Richard Branson as Head of UK and Ireland Sales for Virgin Atlantic where my team was responsible for bringing in approximately £600m each year from the corporate and leisure markets.
After leaving Virgin Atlantic I worked as Country Director in the UK for the Disneyland Paris operation here. I directly managed a team of 22 people and was responsible for managing a multimillion budget and all sales, marketing, operations and administration for the country.
When was Cleanhome? And what were the factors for deciding to go down the franchise route?
When I turned 50 I felt the time was right to start a business. I obviously didn't want to wait many years to see the return on my investment but I also very much wanted to have a better work/life balance - and preferably no commuting! I hit on domestic cleaning as it is a growing market and I could use my sales and recruitment skills to sell to the service to the clients and to recruit cleaners.
The first year, I set up the Thames Valley branch of Cleanhome and had an annualised turnover of £46,000 from a standing start, with a profit of £24,000. Within 23 months, the turnover was more than £72,000 – 80% of which was profit. A friend of mine had franchised his business and I could see it was the perfect way to move Cleanhome forward.
What have been the company's biggest achievements/successes to date so far?
I'm proud of how far we have come in a relatively short space of time, from me building the first Cleanhome business to now having 18 successful offices and a lovely friendly network and from the incredibly basic system which I started with, to building a bespoke operational system, GENESYS™, to assist the franchisees in running their Cleanhome businesses - which is a phenomenal system as the franchisees will testify. I am also proud that from my own experiences of running the Thames Valley branch, I have built a training and development programme for our franchisees which has just won us the Training and Development award from the East of England Business Champions.
What challenges have you had to overcome?
The biggest challenges have been the usual trials and errors of building your business yourself and figuring out the best ways to work all the parts of the business. That includes understanding all the legal aspects including employment law; the accounting side; insurance etc., all the things I had never had to do myself until I started my own business.
That was actually the reason I decided to franchise the business though, to help other people learn all those things - but without the pain of having to figure it out themselves!
What marketing/promotional tools do you use to grow your franchise?
We are very focused on marketing so we are active on social media, we regularly write and post blogs and also invest in PR activity which is a great way to raise our profile in the media.
What differentiates Cleanhome from the competition?
Apart from our focus on customer service we believe that harnessing and developing the latest technology is critical to running a thriving business. At Cleanhome we made technology an absolute priority and, as I mentioned earlier, we built our own system, GENESYS™, which supports every part of the process of our business. Our operational system has been designed and built to the specific requirements of Cleanhome and can be constantly updated with new features. As we designed and own the technology we are able to respond quickly to any development needs or requests from our franchisees.
What qualities do you look for in a franchisee? What makes a successful franchisee?
As Cleanhome is a very client facing business, it's important for us to have franchisees who are friendly, approachable and organised. The clients are always our priority and we need franchisees who appreciate the ethos of the organisation.
Successful franchisees do share a number of traits. Starting any business is hard work, and running a franchise is no different, so the best franchisees are people who are positive and passionate about their work and about building the business.
We appreciate that for many people, running a franchise is the first time they've run their own business and we provide a comprehensive training programme to support them and understand the business basics, which means that they are fully supported, but need to be engaged with the process and prepared to learn.
What changes have you seen in your industry over recent years? And how have you adapted to them?
Over the last few years, we've seen a significant increase in the number of people looking for help with their house cleaning and we think this is largely because of two main reasons; firstly, since the recession people are now working longer hours in their day jobs and therefore their leisure time is even more precious so they don't want to spend it doing chores; and secondly, the Cleanhome business model offers cleaning services at very reasonable rates and which makes it a more accessible service. This growth in the domestic cleaning sector was another of the main reasons behind the decision to franchise Cleanhome - so we could meet that demand on a national basis.
What does the future hold for Cleanhome?
We want the Cleanhome brand to be synonymous with quality and we will continue to differentiate our business on that basis. Our priority is to continue to build a strong, successful network across the UK and we will continue to develop the GENESYS™ system and harness new technologies. I am passionate about Cleanhome and won't rest until every one of our franchisees is running an outstandingly successful business and until every potential customer in the UK has local access to a Cleanhome business.
What expansion plans have you got nationally and internationally?
We don't have plans for international expansion but we are expanding quickly in the UK at the moment and this will continue to be our main focus.
What advice would you give to someone considering franchising their business?
It is imperative that a franchisor continues to invest and add value to the network as it matures. Those franchisors that add little or no value throughout the lifetime of a franchisee business, other than the initial training and start up investment will eventually wither and die either as a result of external pressures or internal division.
Therefore my advice to any would-be franchisor would be to build a very solid business framework initially and to invest heavily into the continued training and development of both the franchisee base and the infrastructure.
If you had to do it all again, what would you do differently?
I'd start my own business much earlier. The thought of starting a business can put people off, mainly due to the fear of the unknown. Once you actually make the decision and go for it, you realise that it would be very difficult to go back to working for someone else. Being your own boss and being in control of both your work and home life is extremely appealing to most people, and buying a franchise is recognised as being one of the safest ways of achieving the dream.
Click here to receive a FREE and non-obligatory franchise prospectus for the Cleanhome franchise opportunity
view Cleanhome profile