Interview with Anthony Russo, Founder, Russo's New York Pizzeria & Italian Kitchen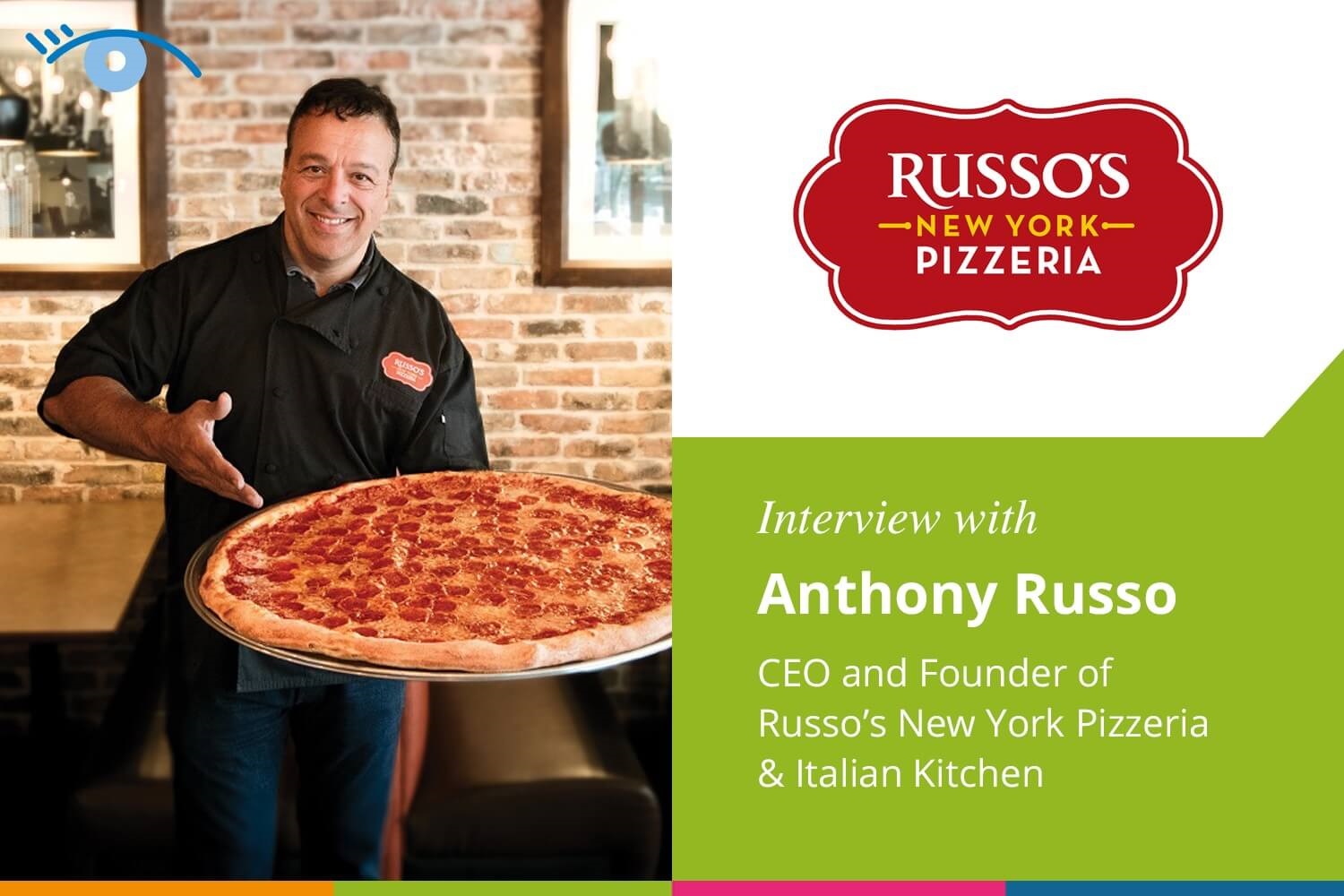 Franchisor's name: Anthony Russo, CEO and Founder
Name of franchise: Russo's New York Pizzeria & Italian Kitchen
Tell us a bit about yourself
The son of first-generation Italian immigrants, I grew up in a New Jersey home where the kitchen was the center of our family life. There was always cooking and baking at home, and many of the ingredients came from the family garden, just as my Grandpa and Nona Russo did back in Avellino, Italy.
Using the family recipe for hand-tossed dough, sauce made from fresh-crushed California vine-ripened tomatoes, and imported Italian cheese blends, I became the sole owner and chef of my first restaurant Russo's Pizza in the early 80's. A few years later, I created Anthony's Pizzeria, located in Clear Lake, Texas, and with a move to Houston, it allowed me to grow my small family-style restaurant concept.
For almost a decade, I refined my menu using classic Italian family recipes and homed in on the perfect New York-style pizza. Meanwhile, I developed my kitchen concept to maintain a casual dining experience while having less overhead. In 1992, Russo's New York Pizzeria opened in downtown Houston, Texas and proved to be a model for franchising success.
Why is the franchise a great investment for potential franchisees?
Only Russo's has captured all four key revenue segments in the fast-casual market. Four important income streams flow together, to capture more market share: takeout, delivery, sit-down dining, and catering.
Each of our locations can remain flexible with the ever-changing requirements the food industry may go through. For example, during the Covid-19 pandemic, dine-in service only restaurants reported record lows, while those with delivery options in the QSR industry held the top spots.
What differentiates your franchise from the competition?
We put our money where our mouth is, in fresh flavor and a fresh approach to the pizzeria & Italian kitchen business. Our recipes, our ingredients, our artisan, thin-crust pizza, all meet the demands of modern consumers who demand taste and quality, and are willing to pay a little more for it–slightly upscale, gourmet-conscious diners who place a premium on natural, quality ingredients and preparation, who want to feel like somebody's cooking for them personally. In following true Italian kitchen experiences, our motto is "If it isn't Fresh Don't Serve It."
What qualities do you look for in a franchisee? What makes a successful franchisee?
Somebody with a great background in operations and business. While we train every franchisee on the ins and outs of Russo's, a successful franchisee is one that has great entrepreneurial spirit and takes ownership of their store.
During the qualifying phase, our team will evaluate your financials, character, and experience. Here's a quick glance at what we'll be looking for:
Candidate suggested to have at least $200,000 in liquid capital
Candidate suggested to have at least $550,000 in net worth
Good credit standing
A sound background in business development
The ability to work independently within the Russo's brand
A good standing within the community
Financing information available upon request
How did your franchise adapt during the COVID-19 pandemic? How did you support your franchisees during this time?
Delivery service aided everyone in the QSR industry during the pandemic. Each of our locations already had delivery implemented, with our own drivers, since the conception of Russo's. This established revenue stream, along with takeout, helped our system stay afloat. Additionally, we allowed for curbside pickup opportunities to all of our franchisees.
As far as marketing goes, our team created two very successful campaigns built for a pandemic: bulk food order & BOGO deals. With families stuck at home, serving 4-6 people a night became a challenge for many. Russo's created a family Italian meal deal suited for 4-6. This deal included trays of pasta, salad, and garlic bread. Easily able to reheat and store. Additionally, with everybody's pocketbooks being stretched, we implemented a buy one large pizza get a medium pizza free deal with promo code FREECHZ. These were two campaigns that kept our customers loyal, as well as supported them through hard times.
What have been the company's biggest achievements/successes to date so far?
Staying true to our roots, we've maintained using authentic fresh ingredients in every recipe. Having fresh pasta on the menu invokes that ongoing history as well as increases our ticket averages. Unique Italian entrees built from Russo family recipes are available for delivery from every one of our locations.
What expansion plans have you got nationally and internationally?
We're extremely happy to be entering the California market soon, through a 5-unit deal around the Fresno area. California is a notoriously challenging market to enter for franchising, so we're thrilled to join the ranks on the west coast.
Internationally, we've had expansions of our Saudi Arabia and Dubai locations. Pending in Saudi is a 10-unit deal. Keeping in mind halal and fresh ingredients are what those marketplaces require most, these locations have tailored, diet-friendly options on the menu.
Closer to our roots in Texas and the Houston area, we have 8 stores coming soon!
We are also seeking experienced partners in the UK; we're looking for candidates to purchase 5+ unit deals in a regional area.