Interview with EweMove MD, Nick Neill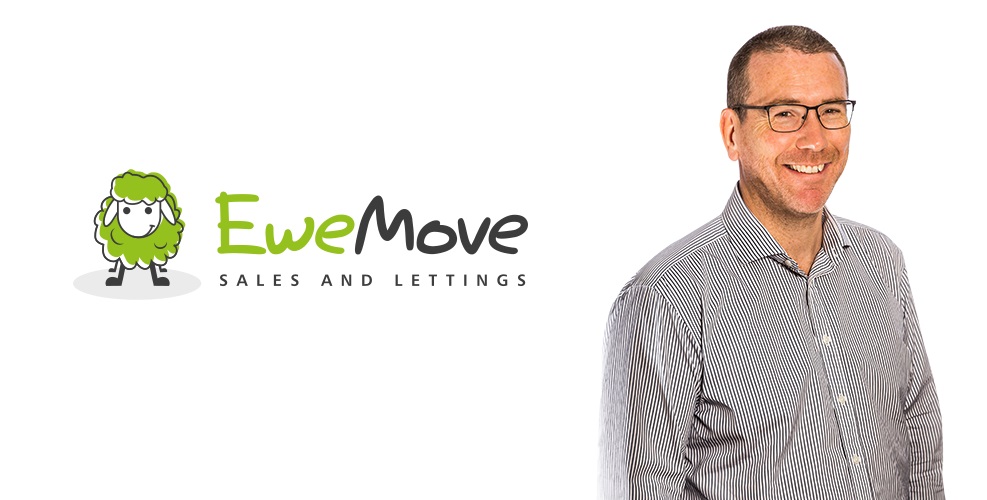 Franchisor's name: Nick Neill, Head Shepherd (or traditionally known as Managing Director)
Name of franchise: EweMove Sales & Lettings LTD
Tell us a bit about yourself Nick
I had a career in the corporate world, mainly in retail financial services and payment processing businesses. During that time, I built up a wealth of experience across customer service, marketing, sales, operations, strategy development and people management.
These skills are drawn on every day within the EweMove franchise network, as, essentially, I have two businesses to focus on.
The first is our core business of building a franchised network. Then, growing it to ensure we have UK-wide brand recognition and deliver our core aspiration of bringing a customer-focused agency model to buyers, sellers, landlord and tenants right across the country.
The second business is about helping our existing franchisees find success in their local markets.
We do this through ongoing training, field management support, technology development and a very sharp focus on consumer marketing, which franchisees can deploy locally to find and win new business.
We're not aware of any other estate agency franchise that invests so heavily in marketing and campaign development to aid local business growth. We've dubbed it our Lean Green Marketing Machine. All the franchisee is left to do, is deploy it.
People often ask me why I'm so passionate about the EweMove franchise opportunity. Well, it's because I know it works.
My wife and I bought a EweMove franchise in York in 2014 and sold it in Decemeber 2019.
I became Head Shepherd in June 2017 and it's a role I love as I know the pressure points of franchisees and the best ways we can support them from our head office.
So, where do I get the energy to meet these significant challenges every day?
Well, I cycle. A lot. Perhaps not as much as many, but more than most. So far, in 2021, I have ridden over 4,500km and am scheduled to ride 1,600km in 12 days in August. Riding the classic LeJOG – (Lands End to John O'Groats) has been a lifelong ambition.
Two years ago, leading up to my 50th birthday – I decided to get fit and hired a Personal Trainer. This resulted in losing three stones in weight and building my fitness to a level that I didn't even have as a teenager.
I cannot extol the virtues highly enough of managing a permanent healthy diet with a good dollop of daily exercise to truly transform your life. The energy levels and enjoyment that comes from the ability to attack problems and obstacles with a clear and decisive mind are incredible.
And you can double up too. When cycling indoors over the winter months (or commuting in the car), listening to mind-stretching audiobooks means you achieve two goals in one. A healthy body and expanded mind full of ideas and tips to bring excellence and ways to succeed for the people who, ultimately, depend on me.
When was the business established? And what were the factors for deciding to go down the franchise route?
EweMove was founded by a company called The National Property Group. A business focussed on delivering property management services to portfolio landlords, who typically had properties across the country – and were otherwise left to deal with several unrelated local property agencies. NPG directly employed their own Property Managers could deliver a consistent service to landlords. The concept was great – but bigger aspirations were to follow…
In 2013, the founders of NPG were fed up with experiencing the pain of trying to buy and sell residential properties through various agencies. Having found the service delivery was, at best, inadequate and consistently inconsistent, they knew something had to be done. And better still - what could be done.
Hence the idea behind EweMove; to bring high-quality customer-focused service to the property sales and lettings market, was born.
In determining how best to deliver a broad, UK wide service, the founders explored several options, but felt franchising was the way to go. The processes and systems developed to ensure high-quality customer outcomes were consistently replicated, could be packaged, trained, and delivered best through independent business-owning franchisees. This would lock in the absolute desire and critical focus to ensure customer experience remained at the forefront of the proposition.
In addition, the focus on scale could be more quickly achieved through franchised business partners who can be relied upon to maintain brand standards and customer service outcomes. They would be capable of growing their businesses locally without the need for a vast, employed hierarchy of local and regional managers to look after large teams of employees.
After all, an estate agency is very much a people-focused business, and the care and attention required to manage those important relationships closely don't stop at 5 pm each day!
Why is your franchise a great investment for potential franchisees?
EweMove offers a very high net margin business model. That's a very simple and clear reason. So, franchisees need to add one other component, and it's a sure-fire winner. And that component is wanting to be an exceptional estate agent running a customer focussed agency business.
It's a hard industry to work in if you're not passionate about helping people. But if you are, I can tell you, it is the most rewarding place to be. And after my career climbing the greasy corporate ladder, I have never been more satisfied in work than working with the EweMove brand – first as a franchisee myself and latterly as network MD.
We don't charge a lot for an exclusive territory – just £4,995 in fact – so there's no significant barrier to entry if the right person wants to join us and shares our values. To check this, we have a stringent recruitment process which is a two-way street as we want the applicant to check us out too.
And we only make money when a franchisee makes money. I like this symbiotic relationship as it ensures we're all focused on the same goals. Our franchisee fees come from completed property transactions, which is when the franchisee earns income too. On a typical £3,000+ sales fee, we take just £250 and the franchisee keeps the rest to fund their business operations and earn an income.
After all costs, our franchisees' typical net margin is 55%. This is high for any sector, but when measured against reported High Street Agency margins of anywhere between 0-20%, it is truly exceptional.
What differentiates your franchise from the competition?
We're the best! But I am sure every franchisor would say that. So let's look at the evidence…. We're the #1 Most Trusted Agent on the review platform Trustpilot and have been since July 2015. Of course, that takes some doing when we've been growing our network rapidly at the same time.
And we're the Best National Sales Agency plus the Best National Lettings Agency as adjudged by the Best Estate Agency Guide; a mystery shopping evaluation of all 20,000+ agencies across the UK and supported by The Property Academy and Rightmove.
We also achieve an NPS rating of over 60 points which is truly world-class, especially when the UK population rates estate agents as one of the two least trusted professionals in the UK – comparable with politicians!
So, I know this will for many readers, speak volumes about how we're different and what sets us apart from our competitors.
But there's more. A good number of our franchisees come from our customer base. Especially those who have tried to sell or let a property without success with a local agent, who then try EweMove and are blown away by the difference in experience and successful outcomes. When they find out most of our agents are from a non-agency experience background, they think, quite rightly, that they could do this too - and they do.
I think any business would be delighted to hear that customers can 'tell their story' and evangelise about the brand because then you know that you've got it right.
What qualities do you look for in a franchisee? What makes a successful franchisee?
Our core values of Honesty, Integrity, Respect and Responsiveness are what we look for in all our applicants. We have one more too, which is Innovation – but that is more for us to focus on!
So, if people show up with the skills and attributes that make them a good fit for our network and brand, then that's a big hurdle out of the way. We can and do train people on agency and the skills they need to run a business, but as the old saying goes, you can train skills and build knowledge, but you can't train attitude.
Experience of being self-employed helps manage the emotional journey and the ups and downs of running your own business, but many join us without that.
Some have agency experience, but most don't.
But success comes from a straightforward thing. Being self-motivated.
If you can manage your performance and expectations of yourself, the rest will happen, and you will find success. If you 'let yourself off' and give yourself an easy ride, don't get up in the morning, clock off early, don't make callbacks to customers, and so on, you will not be successful.
And the same applies whether you are employed or self-employed. It's down to you to bring it all together and make stuff happen.
How did your franchise adapt during the COVID-19 pandemic? How did you support your franchisees during this time?
As an already 'cloud based' business, we were ready and able to operate before, during and after lockdown with slight changes to how we operate.
But we did add some new tricks as customers became accustomed to and expected more remote service. We were, I believe, the first agency to do a full end-to-end property transaction entirely remotely. From appraisal, photography, video tour, accompanied viewings, offer negotiation and completion, all without ever meeting the parties involved face to face. Everything was done over Zoom or our remote viewing platform provided by one of our core suppliers.
So, our franchisees' readiness, willingness, and capability to adopt new ways of working was a testament to the fact that we succeeded through and after lockdown.
And commercially, at a network level, we agreed supplier discounts and passed these cost savings through to franchisees, so their cash flow was protected as much as possible.
We read, digested, and developed policies and working practices from ever-changing government advice, so franchisees didn't have to spend their time each doing it locally. This meant they could stay in touch with customers by phone and Zoom during those critical early lockdown months.
All-in-all it meant our franchisees were ready to go on 13th May 2020 at the end of the first lockdown, and we took a huge step up in market share, as our competitors had to slowly restart their businesses and staff teams.
We didn't.
So, we grew from c4% market share in areas where we operate to over 7%, which was astounding.
What other challenges have you had to overcome and adapt to over the years in your franchise and the industry in general?
Customer education. There are so many independent and corporate agencies in every high street. All are doing essentially the same thing. Some observers might be forgiven for thinking that we've got it wrong, as we're doing things differently from the generally accepted norm. Therefore, some customers still choose a traditional high street agent. And it's only when things go wrong, as the sales promises made by those agencies don't come good, that they look for an alternative. And that's us.
We then explain what we do, how we do it, and we deliver the outcomes our customers' so desperately want. Then they love us forever and refer and recommend us as often as they can to their friends, colleagues, and neighbours - so we win more business.
It is surprising to note that less than 50% of the properties listed for sale end up selling with that agency. With the rest being sold by the second, third or fourth+ agent who takes it on. With EweMove, we sell over 70% of the stock we take on. Of course, it's never going to be 100% as customers do change their minds, lose their job, get divorced, or a whole host of life events mean they need to stay put.
Many franchisees have stories of being the 5th agent over 3, 4 or even 5 years where a vendor has tried desperately to sell unsuccessfully with a traditional agent, only to have agreed a sale within a week or two of instructing EweMove. It's our dedication to customer engagement combined with our 24/7 service model that means we can meet the needs of sellers and buyers and agree deals when other traditional agents are 'minding the shop' – or worse – closed.
And as we're not minding the shop, we have the time to host 100% of the viewings we arrange, asking the vendor to vacate the property when we do so, rather than rely on the vendor to do it themselves. A core part of an agent's job, in my view, is selling the home – when the buyer wants to buy – which is at the viewing. This is something many traditional high street agents ignore and something sellers at large don't appreciate about the high street model - until it's too late.
What have been the company's biggest achievements/successes to date so far?
These are indeed numerous. I could talk about the plethora of awards we win each year.
I could set out how we've grown the business without any external investor cash, unlike many other new agency brands over the years. We're profitable, too, both at a network level and a franchisee level.
Our top performing franchisee has banked over £1.4m in the last 12 months to June 2021, which gives an idea of the scale that be achieved, and this is growing.
Individual operators can come out of employment earning £30k or £40k a year perhaps, and suddenly find they're now enjoying a 6-figure income from their efforts.
These outcomes are both rewarding and heart-warming for everyone in our Head Office – or as we call it, The Sheep Pen! And our PLC owner is happy, lending their support as we continue to grow, following their acquisition of EweMove from the founders in September 2016.
What does the future hold for EweMove?
We have a plan to Double then Double – by 2025.
This means growing our franchised territories from 115 at the start of 2021 to 230 by the end of 2022, then doubling again to 400+ by the end of 2024 – so we start 2025 with a vast footprint.
By that time, EweMove should be a very well-recognised estate agency brand that will make future sales, and no doubt a good volume of re-sales, much easier.
For our franchisees, it will mean more opportunity to win new instructions locally against traditional incumbent competitors, as our 'customer education' challenge will be much less of an issue.
And to achieve that without taking our eye off the customer service ball and to retain our #1 spot on Trustpilot will be key. What a journey we have ahead of us!
What expansion plans have you got nationally and internationally?
Expansion plans are as outlined above. We have none internationally as we see our market as the UK – mainly Wales, Scotland, and England - as even Northern Ireland has some local nuances that mean our service proposition, technology and way of working may not suit that region.
So we have to be honest with ourselves that we must focus on what we know and not promise to break the mould in markets we know much less about.