Interview with Elliott Shuttleworth, CEO & Founder of Boom Battle Bar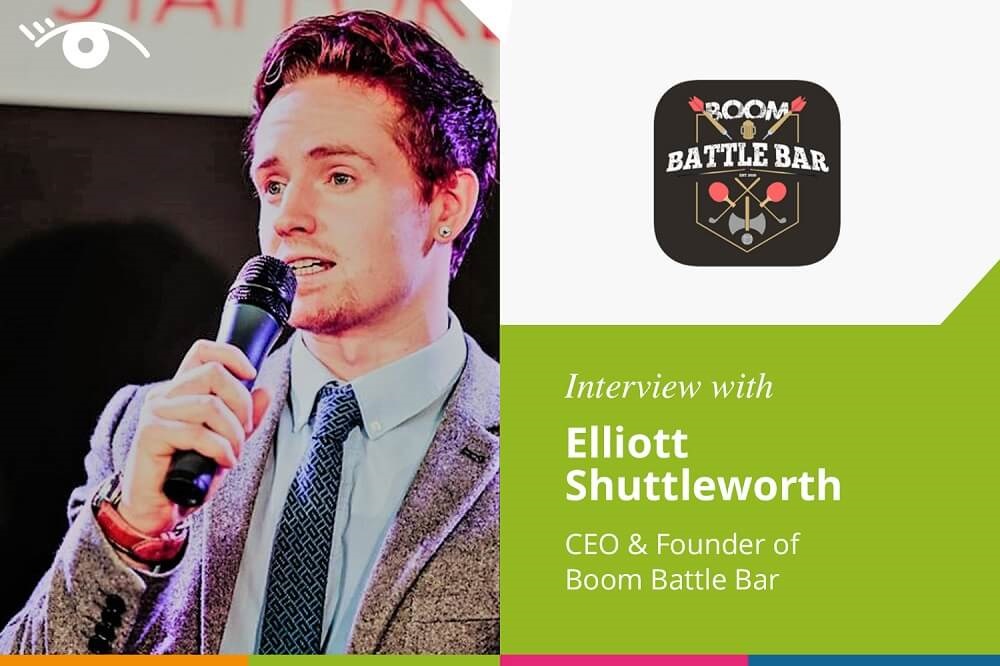 Elliott Shuttleworth is a serial entrepreneur with extensive experience in the leisure and hospitality industry, including owning and operating two of the most profitable stores within the UK's largest Adventure Park operator, Flip Out. In 2020, Elliott launched has latest venture, Boom Battle Bar; the fastest growing adventure bar in the UK.
How did the idea for Boom Battle Bar come about?
Flip Out has brought us many different opportunities and insight into closely related sectors. The competitive socialising concept was continually coming up and we noticed that, whilst there were several standalone offerings, none of them incorporated a wide variety of games in a strong branded setting or with a cultural flair similar to Flip Out but to a more mature customer base.
Boom Battle Bar is in a league of its own and there is no other competitor like what we do, with an exceptional range of activities, quality own branded beer and the technology throughout the store is unrivalled.
What have been Boom: Battle Bar's biggest achievement to date?
Our biggest achievement was also our biggest challenge – building the first store in Lockdown. We faced delays and the build took longer than planned due to the Government restrictions, but despite this we still managed to open to a very strong reception. They were also trading profitably in the first month and welcomed over 10,000 visitors.
We currently have 10 stores signed and in various stages across the UK, with a further 10 exceptional property deals ready to be snapped up.
What qualities do you look for in a franchisee?
We look for someone who is determined to succeed, enthusiastic about the product, someone who is fully committed to learning every facet of the business and immersing themselves and team into our culture, if they have those attributes, they will succeed.
What changes have you witnessed in in the leisure and hospitality industry over recent years?
We have seen an increase in experience led activities, a more Instagrammable concept and a shift in drinking culture towards competitive socialising in younger clientele who generally aren't attractive to traditional pubs and bars. It was these changes that led us to establish Boom: Battle Bar.
What does the future hold for Boom Battle Bar?
The future is extremely exciting, demand for our offering is very strong and we know we have a product that is appealing to all ages and provides a great fun, safe experience. Landlords across the country welcome the concept with open arms and it is a refreshing change to the general names that we have seen in leisure schemes over the last few years.
What expansion plans have you got nationally and internationally?
Boom Battle Bar will open 25 stores across the UK in the next 18 months, and we anticipate all of them being franchised. We will be the largest chain of activity bars in the UK, and we also have plans for international growth too. We are gaining critical mass quickly and first mover advantage is key to our expansion into prime retail space in the most desirable locations in leading cities and towns.
What advice would you give to someone considering franchising their business?
Work out how scalable it is, can your business be adapted to be rolled out by lots of independent business owners all with their own ambitions and being able to put controls in place to keep consistency in your brand. Plan and plan again and look for every eventuality. And find a business partner – business is so much easier and so much more fun that way.
If you had to do it all again, what would you do differently?
Genuinely, my prior experience as a franchisee has taught me so much, that I wouldn't change a thing. The Boom: Battle Bar roll out has been incredibly smooth so far and you can't make an omelette without cracking a few eggs. When you run your own business, you can only develop by experiencing things first hands; there's no cheat code. These mistakes/experiences have been pivotal to the success of Boom.