13-January-2021
Interview with Bristol franchisee for Total Guide to, Liam Armstrong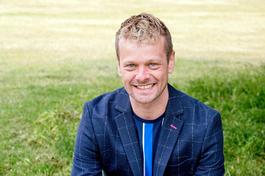 Name: Liam Armstrong
Location: Bristol
Franchise: Total Guide to Bristol
Date launched the franchise: February 2019
Can you tell us a bit about yourself and what you were doing prior to buying your Total Guide to franchise?
I am a motivated individual for business growth for large corporate companies heading up their businesses for franchisees in the food industry. With years of experience from managing the businesses which included the marketing of the groups, I had gained a wealth of knowledge on the franchise I was looking for.
Can you also tell us about the Total Guide to franchise?
I have bought a franchise for an online digital marketing company with a difference. Total Guide to is not an 'advertise on our website and pay our bills' business; the setup is that we care for each and every client and work hard on ROI and quarterly client meetings to bring a family feel to the business whilst helping each client with their individual needs
Why did you go down the franchise route?
I have worked a lot of my career with heading up businesses for franchisees, so I wanted to do it for myself.
How did you raise the finance?
The finance was from a start-up loan.
What training and support did you receive initially and ongoing?
The team gave up 3 weeks of their time to train us and get out on the field without being thrown into it the deep end. It didn't stop there, and it continues to this day with weekly catch ups and any help needed at the end of the phone.
How would you describe your day-to-day role as a franchisee?
The day to day is different which is good. Covid-19 has also changed our style of work massively, however the only way I now succeed with all is correct structure of myself on time and delivery
What challenges have you faced?
The biggest challenge I faced was having the wrong team structure at the beginning, this was my fault and a big lesson has been learnt from this for the future
Has becoming a franchisee changed your life, if so how?
It has been a challenge and so is any business, however just over a year and I can see clearer where we will be in the future. Not only am I working to get by now, we are also planning the growth into other areas with the same franchise
What is the most invaluable piece of advice you could give someone looking to buy their first franchise?
If you're going to buy a franchise and think its easy from day one, you're incorrect, but when times get difficult then you focus on your 'WHY' and move forward with a clearer head.
In your opinion, what makes a successful franchisee?
Someone with passion for success and that have a business mind for the future of the brand they are going into
What are your plans for the future?
Our plans for the future are to go across the wider UK with launching more Total Guide to sites across the country
If you had to do it all again, what would you do differently?
I would assess if I started alone or with a team, but when looking at a team I would ensure I didn't try and turn it into a family business and I would take on the right candidates for the roles instead.