Last Updated: 20-March-2020
The most fun I have had at work in 20 years!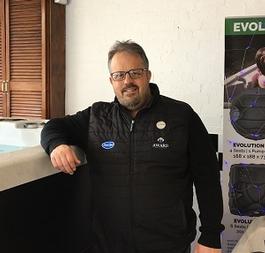 Name: Simon Baggaley Location: Birmingham Franchise: Award Leisure Date launched the franchise: 2017
Can you tell us a bit about yourself and what you were doing prior to buying your Award Leisure franchise business? Before becoming an Award Leisure franchisee, I worked in the solar energy sector for over 20 years. Solar energy is something I am still very passionate about. I still offer consultancy on solar energy as well as implementing my knowledge on this into my business and the products I sell.
Can you also tell us a bit about Award Leisure? The franchise is a family run operation that deliver luxury garden leisure products, ranging from Hot Tubs, Swim Spas, Garden Building and much more. Award Leisure support their franchisees with 35 years' experience in the leisure sector as well as a after sales customer care programme providing the business residual value.
Why did you go down the franchise route? What made you choose the outdoor leisure industry? And why did you choose Award Leisure? Before becoming an Award Leisure franchisee, I had a real passion for hot tubs and everything outdoor leisure. I was very excited and surprised when I found out about the opportunity of a Hot Tub franchise so immediately I was attracted. Award Leisure helped find my location and set up my showroom, provided a template business plan and all the marketing and training I needed to run the day to day operations. Working with a supplier like Coast Spas is ideal due to their constant consideration into the efficient running costs of their products and manufacturing quality.
How did you raise the finance? I took a small loan out to cover the business planning and franchise fee. The rest was from a personal investment.
What training and support did you receive initially and ongoing? From the initial start-up, Award Leisure offered extensive support and training in all key factors of the business; sales, service, system. This includes one to one training with the National Sales Manager, a complete guide on how to use the CRM and Epos till system. We also shadowed experiences and qualified engineers to be shown how to complete an install and a thorough service of a hot tub.
How would you describe your day-to-day role as a franchisee? The beauty working in this business is that no day is the same. I really enjoy the whole process from the customers first initial visit to my showroom to the final installation of the product in a customer's garden. By selling a range of luxury products means I can work with many different types of people that want a different experience.
What challenges have you faced? The main challenge I have faced is marketing effectively. Award Leisure are very supportive and provide all marketing material I need but the trial and error into what works in my specific location is something that was a challenge at first.
Has becoming a franchisee changed your life, if so how? Becoming a franchisee has benefited my professional and personal life massively. It's the most fun I have had at work in 20 years.
What is the most invaluable piece of advice you could give someone looking to buy their first franchise? The best advice I could offer anyone wishing to buy into a franchise would be to ensure your business location is central to your territory. This makes it easier for your customers to travel your store and makes it a lot easier for future expansion.
In your opinion, what makes a successful franchisee? A successful franchisee is someone who has integrity and able to build long lasting relationship with their suppliers and consumers.
What are your plans for the future? Once my first 5-year franchise agreement comes to end, I wish to extend my franchise agreement and open a second store from the profits I've made.
Interested in starting your own Award Leisure Franchise? Award Leisure are currently looking for franchisees, learn more here!
Visit Award Leisure Franchise page