Last Updated: 13-January-2021
Former accountant finds perfect fit with Rugbytots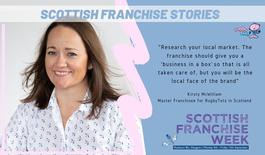 Name: Kirsty McWilliam
Location: Edinburgh
Franchise: Rugbytots Scotland Master Franchisee
Date launched the franchise: 2008
Can you tell us a bit about yourself and what you were doing prior to buying your Rugbytots franchise business?
I started my career as a chartered accountant, with KPMG then PwC specialising in Business Recovery. It was a role that was as exciting as it was challenging, and it was a great team and place to work. It was a hard decision to leave, especially at the start of a recession! We had decided we wanted a different pace of life, and one that suited my two very young children. I had toyed around with the idea of running my own business for a while but had not found the perfect fit.
Early in 2008 I had decided to set up a consultancy business and was looking at options when I found a very clear gap in the market, by accident, for a rugby specific play programme. One phone call later to Max Webb who is the founder of Rugbytots, I was arranging a meeting that would not only change our lives but be the perfect fit I was looking for. We then became the very first Rugbytots franchise.
Can you also tell us about the franchise you have bought?
Rugbytots is a global play programme established in 2007. It was the very first rugby specific play programme. Created by rugby playing parents. We run weekly classes for children aged 2 to 7 years now, now across the globe!
Why did you go down the franchise route? What made you choose the children's sport industry? And why did you choose a Rugbytots franchise?
We were not looking for a franchise, in fact at the start, with it being so new we did have reservations around how a franchise would work and what the benefits would be. We were initially wanting a class for our sons to attend but could not find one!
My husband and I both had other commitments at the time and if we were going to set up a play programme, we felt we did not have all the knowledge and skills at our disposal. A quick route to market was key for cashflow reasons in the earlier stages as we self-funded. Having the support of an existing structure meant we could deal with the local marketing side, and training while Max supported the programme and bookings system. We had classes up within 6 weeks! David Hughan joined at this time and brought a whole level of operational know how which kept us growing, at quite a fast rate. It was a very exciting time.
How did you raise the finance?
We had been thinking about starting a business for some time and had been saving to do so. The initial costs of the franchise were less than some of the other set up costs we had looked at. It was a risk, as it was not as well established as it is now but we felt it was a well-managed risk.
What training and support did you receive initially and ongoing?
When we first joined, the know how Max already had was invaluable. We had a full play programme, already designed and tested. Max himself provided all our face to face training here in Edinburgh and we started to create growth plans. David Hughan joined as Operations Director and within weeks we had a well-structured 'business in a box' – every business form you could think of had been created and streamlined for us to use. I felt I could get on with the actual promotion of the classes, and the business side was all taken care of.
How would you describe your day-to-day role as a franchisee?
Carl is very much the hands-on person in Edinburgh, still delivering the majority of the coaching and coach training. He is supported fantastically by Sandra our office manager, Gill our book keeper and Sarah & Lynsey in marketing. My role now is to provide mentoring to the other Scotland franchisees, and the finance and growth plans. It has been a good progression being able to bring in support as needed, and then develop into my new role.
What challenges have you faced?
Compared to the challenges I felt in an employed role, I can't think of many! You have the initial uncertainty of cashflow, and the worry around keeping momentum up. With effort and determination, these are minimised. Challenges from a business point of view is finding the right coaches – it can be a hard balance to get the right level of enthusiasm and skills but we are very lucky that the majority of our coaches have been part of our coaching set up for years now!
Has becoming a franchisee changed your life, if so how?
Absolutely – it gave us a much safer route to being self-employed, and that has radically changed our family life balance. We have worked late into the evenings and some very early mornings and also our franchise classes are increased over the weekends but we have so much flexibility. We also have the control over our own income, and that is a huge motivator.
What is the most invaluable piece of advice you could give someone looking to buy their first franchise?
The following three things are a good place to start:
Check what is provided - Find out what is provided for by your Franchisor. You should have full business and operational support, alongside product specific training. Your Franchisor should set up the opportunity to speak to the other franchisees near you, ask about their experiences and for their feedback on support. Also ensure you get on with the franchisor. You are hoping this will be a long and happy relationship.
Self-motivation - You will need to be a self-motivator – buying a franchise should mean you have national support but you will be the only person on the ground locally until you build your own team. Also, be prepared to work hard as all your other franchisees will depends on your reputation being as good as theirs.
Local market - Research your local market. The franchise should give you a 'business in a box' so that is all taken care of, but you will be the local face of the brand – work out what else is on offer and how you can capitalise on your product.
In your opinion, what makes a successful franchisee?
Someone who is prepared to work hard and be open to advice. At the start, we were more than willing to work all day and night to get the results we wanted, and it massively paid off. Effort is everything in any line of work.
What are your plans for the future?
Scotland has currently 8 franchisees over the past 3 years. For us having the right people is more important than growing fast but we are hopeful by 2022 we will be in as many towns and cities in Scotland as possible. We love our programme, and our feedback is amazing so keeping up high standards is a key driver for the future.
Another motivation for us when we started Rugbytots was to get more children involved and enjoying a sport we love. It is so satisfying when our children move onto Rugby Clubs. We have been running 11 years now and some of our past Rugbytotters are now in the SRU development squads, and their parents have been sending up pictures! We also now have our first assistant coach who was also in our very first Rugbytot class. We love seeing the progress and we very much hope to see this continue, and to the day we see our first Rugbytot with a Scotland cap J
If you had to do it all again, what would you do differently?
That's a tough one. Each part feels like it has been a positive and natural progression. I can honestly say that I would not change a thing, and when we do see a way of doing things better we change this right away - Max has always been open to this so our programme and operations are constantly evolving so it feel fresh and we feel we are moving forward.
Find out more about buying a Rugbytots franchise in Scotland