Key questions to ask a franchisee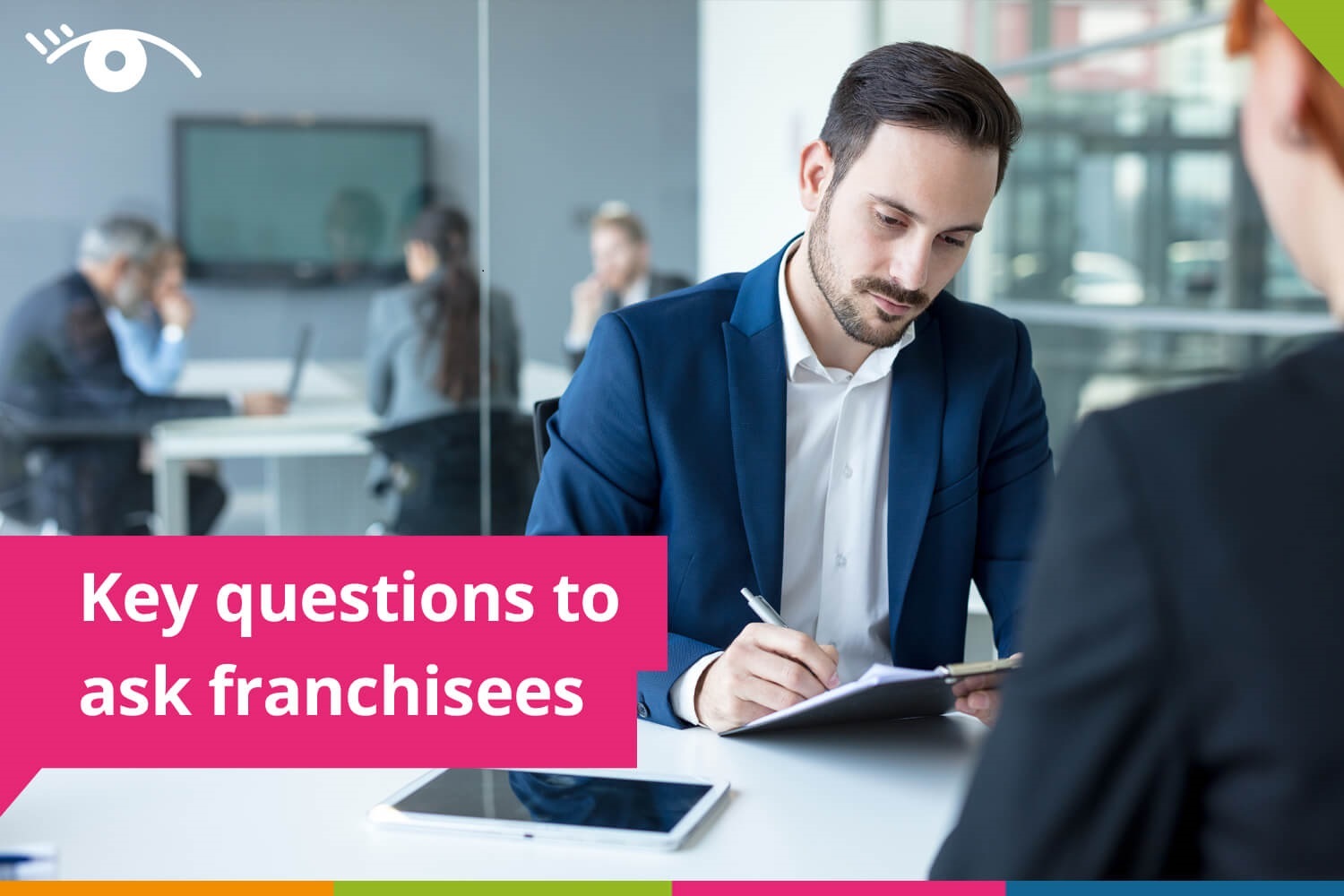 Before signing a franchise agreement, it is important to conduct extensive due diligence to make sure that the opportunity you are considering is the right one for you. Whilst your due diligence will encompass several important steps, undoubtedly one of the most beneficial is speaking to existing franchisees of any franchise you are seriously interested in. This will allow you to gain insight into the role of a franchisee for a specific franchise opportunity and ask valuable questions to understand what it is really like being a franchisee.
Below are some of the top questions to ask a franchisee when conducting your due diligence into franchise opportunities. We have included questions from existing franchisees of some of the UK's most popular franchise brands.
Why did you choose this franchise over the competition?
While you will have your own reasons for your interest in the franchise you are researching, it can nevertheless be enlightening to find out why other people chose the franchise. Asking this question may inform you of benefits you were unaware of relating to franchising with the company in question; alternatively, if you are still considering alternatives, it might spark the realisation that another franchise could offer you more.
"When doing my research on Subway before paying the initial franchise fee, I met a number of existing operators to gauge their thoughts on the brand. My questions included:

What is the level of support I can expect once I buy my first store?

Where do you see the brand in the next 5 to 10 years?

How easy is it to sell the store to an existing franchise or find someone from the outside? (You should be thinking of your exit strategy).

I asked them to comment on the people they work with ie those in the Franchisors office and the support team, and if they are approachable?

And finally, everyone wants to know when they will get their investment back. Existing franchisee would be reluctant to share finer information but would generally advise you on what sort of percentage EBITDA you can expect. The rest is then up to you."
Salman Qureshi, multi-brand franchisee for Subway/ Wok&Go / Delta Pizza
Are there any hidden or unexpected costs?
While an ethical franchisor should be up-front and honest about the costs associated with owning and operating your business, it is always worthwhile to ensure that you will not be caught unaware by any unexpected fees. As unforeseen costs are something that are sure to anger even the calmest of people, there is a fairly good chance that a franchisee who has been put in this position will be willing to share all the details with you.
What kind of training and support is provided?
Training is one of the most crucial aspects of becoming a franchisee and good training can be the difference between the success and failure of your business. While many franchisors promise extensive training programmes and ongoing support, it is useful to ask existing franchisees whether the franchisor keeps their word and provides the training and support promised in the franchise agreement.
"I'm always approached with one question; "Does the level of support you receive from Subway outweigh the restrictions of joining a franchise?" My answer is YES YES YES!"


Rohit Handa, Multi Unit Franchisee at Subway

"How much support do you receive from your Franchisor and do you feel that this is enough or would you benefit from more support? If starting all over again, would you go with this franchised business or look around at others, if so, why."
Graeme Tobias, Tim Hortons Franchisee
What is the relationship like between franchisees?
Many franchisors encourage their franchisees to maintain a strong working relationship and even facilitate this through conferences and online communication channels. However, since franchisees, particularly those who own units within close proximity to each other, are essentially competitors, this ideal relationship is not always the reality. Speaking with existing franchisees about this issue should provide insight into how friendly and supportive the franchisee network is and whether you may face hostility in your new role.
What is your relationship with the franchisor like?
"I would ask about the ethics of the management, their attitude towards franchisees and examples of them doing good or bad in the past."
Daryl Perkins, Card Connection Franchisee
How much flexibility is allowed?
Some companies will have a fairly rigid protocol when it comes to the operation of franchise units that all franchisees will be expected to follow. On the other hand, some franchisees may find they have a level of flexibility in anything from the décor of the store to the number of units they can open. Asking existing franchisees about this will give you a good idea of how much of your own preference you will be able to incorporate into the running of your unit(s) as well as how compatible the franchise is with your lifestyle.
"How supportive is the franchisor? Not only with the basics, but when things aren't going to plan. Also, how much freedom do you have to operate your business the way you want to? Is the franchisor overbearing?"


Matthew Hancock, DPD Local franchisee, Hull
How are employees trained and supported?
"After giving this much though the question for me that is vital is staff. If you are purchasing an existing franchisee what are the staff like, as in most cases you have to take then on board under TUPE and you need to know where they all lie with the change and what to expect from individual staff. If you are buying a new franchisee, does the franchisor have the correct training in place to empower you to hire the correct staff. Without the correct staff in place in any franchisee new or existing you will suffer and this can be costly and demoralising for everyone, along with your business which will suffer."


Sam Panesar, Wiltshire Farmfoods Franchisee Manchester
What are your working hours like?
As franchisees are running their own business, it will be very difficult to work in a set pattern or for a specific number of hours. However, some franchises will take up more of your time and be more demanding than others. Asking a franchisee how much of their time they devote to their business is beneficial in deciding whether the franchise is right for you, especially if you have other commitments that require your time and attention. Although you cannot guarantee that the amount of time that other franchisees devote to their franchise will reflect your time commitment, it may provide an approximation that franchisors will be unable to provide.
What does your average working day involve?
Having a clear understanding of what your role as franchisee will entail is crucial before making the decision to sign a franchise agreement. Some franchises will require hands-on, physical work, while others will be much more management-focused. Although the franchisor will be able to outline the duties you can expect to have, current franchisees will be able to give a personal account of their tasks and provide far greater detail.
"One question we encourage incoming franchisees to ask is 'How hard do you have to work?' This question is sometimes missed in the whirlwind of buying a franchise, it's all glamour and excitement in the early stages, We don't want to take this away from the incoming franchisee, however we do want them to know it's not easy, it's hard work and you get out what you put in! Nothing comes easy nowadays."


Paul Smith, Franchise Partner, Water Babies HO, Honiton
How much can I expect to earn?
Although franchisors should be happy to provide you with financial information that will give you an idea of your earning potential as a franchise owner, they may be inclined to paint the most positive picture possible in order to attract a new franchisee. To receive more unbiased and candid information on this area, is it worthwhile including this question in your interviews with current franchisees. You may also wish to ask franchisees how long it took to recoup their investment to determine whether the opportunity is right for you from a financial standpoint.
Unsuccessful franchisees: why did your franchise fail?
While interviewing franchisees who are currently in business is undoubtedly an excellent opportunity for gaining useful information, a step that is seldom taken by prospective franchisees is to seek out and interview those who did not manage to make their franchise a success. However, taking the time to question those whose franchises were unsuccessful can reveal potential pitfalls of the business and make you aware of mistakes to avoid. The reasons behind the franchisee's failure may be enlightening: while it may simply be that they did not put in the amount of work necessary to succeed, their failure may also have resulted due to problems like lack of franchisor support or being situated in an unsuitable location.
Former franchisees: did the franchisor support you in the sale of your business?
While many franchisors offer support throughout the duration of your franchise ownership, the level of support they will provide when you decide to move on or retire is generally less clear. Ethical franchisors should facilitate the selling of units to new franchisees, allowing the exiting franchisee to go on to their next venture with a lump sum of cash from the sale; however, some prefer to focus their attention on opening new units due to money they will earn from franchise fees. Therefore, speaking to former franchisees is an important aspect of planning for the future.
"The key areas I would cover are:

Staffing level and payroll

Compliance reports

Food cost figures

Rent and Rates

Saurabh Sharma, Subway Livingston