12-February-2021
New Marla Franchisee Mark Lands First Order - Fast!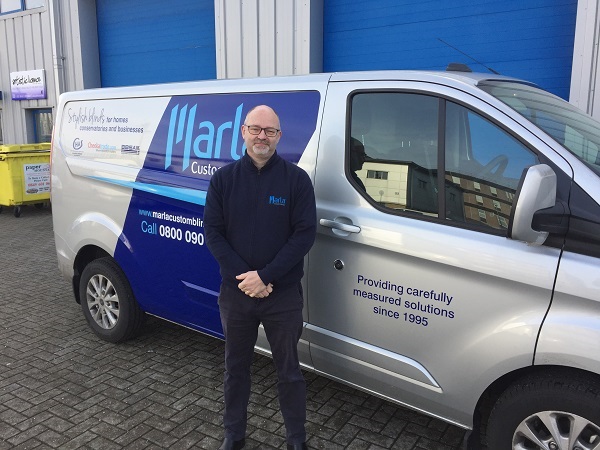 Are you considering taking up a Marla Custom Blinds franchise?
If so, you'll probably be wondering "How long will it take me to get my first order? Well, for Mark Berry, our newest franchisee, the answer was "Sooner than he thought!"
Mark signed up as our franchisee for the Durham and Sunderland area in mid-December 2020. He completed his training just one month later, and within two weeks he had received his first confirmed order! Talk about hitting the ground running – we think Mark could be auditioning for the starring role in the next Flash movie at this rate!
Mark's new customer initially asked him to quote for a single kitchen blind. By the time he walked out the door, Mark had been asked to price for a much bigger job.
She asked his advice on how best to solve a privacy problem in her utility room and overheating in her large semi-circular sunroom. Mark's solution included a Custom Collection Venetian blind in the kitchen, Intu pleated "bead-fit" blinds in the utility room, and a set of Intu Venetian "bead-fit" blinds for the sunroom.
The total order came to just over £2,000 plus VAT. Not bad for his first order!
When he asked the client how she had found him, it turned out that her mother had seen his van parked outside another house in the village. Her mum also commented on how smart Mark's van was, saying "a smartly kept van says a lot about a company."
Having worked all his life in the HVAC/building services sector, Mark was pleasantly surprised by how easy it had been to land his first order.
"It's so alien to me to have such a short sales cycle. In the Heating and Ventilation Industry, I was used to a minimum of six months between 1st enquiry and order. Sometimes it could even take up to two years"!
Needless to say, Mark is delighted that he chose Marla, from the host of other franchise opportunities available.
"I was initially attracted to Marla by the fact that there's real substance to the franchise. It's a fully scalable business, with unique and exclusive products, full support and training, and a proven track record.
As time went on, it became clear that Marla is committed to the success of their franchisees. They even provide me with access to an experienced business development manager. He supports my ambitions to take the business in a management franchise direction, and to scale it up to become the leading domestic, commercial and contract blind supplier in the North East."
We wish Mark good luck with his new business, although somehow, we don't think he'll need it!