12-January-2022
Hannah wins award for making athletics franchise a runaway success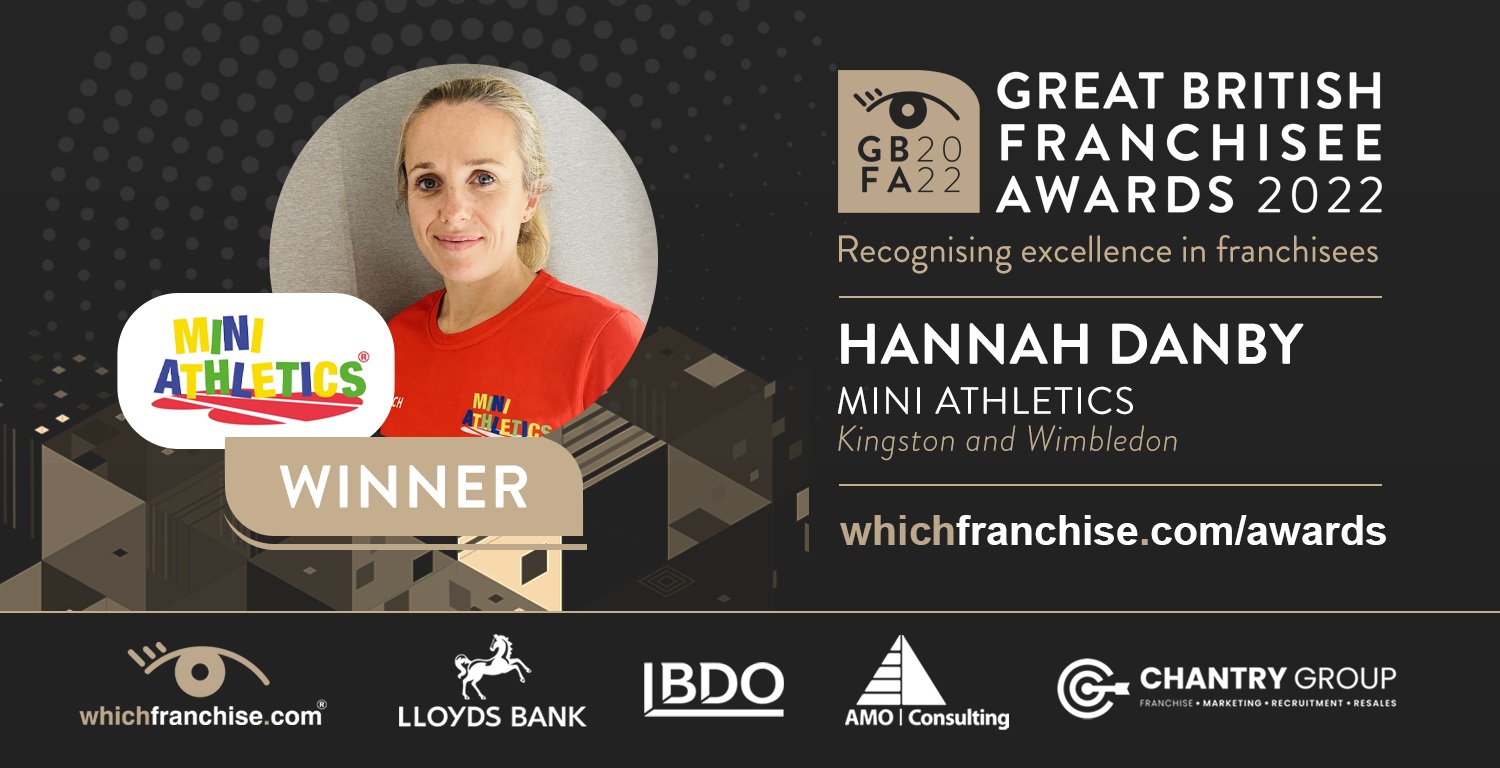 Hannah Danby is a hop, skip and a jump ahead of the competition in the world of children's athletics coaching - and has just won a major industry award to prove it.
Despite spending 10 years in an NHS desk job with no experience of sports coaching, Hannah, the owner of the Mini Athletics franchise in Kingston and Wimbledon, has leapt so far over the heads of her rivals that she's been honoured in the Great British Franchise Awards 2022.
"She's consistently been one of our top two performers for the past 12 months," says Kirk Bowyer, owner of Mini Athletics.
"As a mother of three young children, she runs the business around them and is so efficient that she's bought another franchise next door to her current territory."
Hannah made her business profitable in its first six months and has expanded to offer classes to two to seven-year-olds in nine locations.
"My three children aged 10, eight and five have taught me a lot," she says. "Running a brand that caters for similar ages is so beneficial as I can really appreciate the needs of the children at our classes and know the behaviours to expect.
"I also have a Masters degree in Human Resource Management, and that, along with HR experience, has given me a great base for building relationships with customers and staff."
Unable to run in-person classes during lockdowns, Hannah switched to online sessions including Sports Days when she dressed as a Superhero.
Her team won the Mini Athletics Superstar Event and were crowned champions by Olympian Martyn Rooney.
Two of her coaches have gone on to buy their own Mini Athletics franchises, and she's considering taking on a third territory in partnership with another franchisee.
The Great British Franchisee Awards recognise franchisees' exceptional performance and business experience, ability to drive business growth, staff retention, customer satisfaction, community involvement, inspired leadership, and franchise involvement.
The awards are run by whichfranchise, supported by Lloyds Bank, BDO, AMO Consulting and Chantry Group.
• Read more about the awards at www.whichfranchise.com/awards