03-May-2017
Fifteen Years Of Inspiring Imaginations Celebrated In A Very Unique And Sparkly Way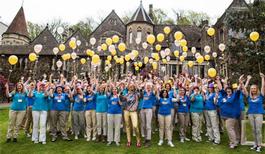 Winners of The Best Creation Station Franchise Awards Announced at the 15th Annual Inspiring Imaginations Conference along with Debra Searle MBE Key note speaker and #GlitterChallenge launched The Creation Station team and franchise owners from across the UK gathered at Cadbury House Hotel in Bristol on 21st and 22nd April, to celebrate 15th years of inspiring imagination at the annual Creation Station national franchise conference.

The day, gala evening and new booking system and website seminar, provided all franchise owners with the opportunity to celebrate successes, to learn about new developments and to share ideas together.

"When I started The Creation Station back in 2002, I never imagined the calibre of the team I would be working with," said Sarah Cressall, founder and Managing Director of The Creation Station. "Our Creation Station family has helped to inspire over 325,000 children and families, and with our new online booking system, it's even easier for people to get involved and enjoy fun arts and crafts classes, parties and events delivered by our exceptional team across the UK."

The celebrations had an extra sparkle this year with The Creation Station's #GlitterChallenge. The challenge was created to encourage people to wear something sparkly to brighten children's lives and to nominate two friends with a £2 donation to raise funds for UNICEF.

The key note speaker was the brilliant Debra Searle MBE MVO. Debra resonated with everyone as she spoke about building resilience, managing a successful business and creating a fulfilling life. There were also workshops where franchise owners got creative with the new Creation Station services now on offer. These include 'Tiny Treasures' – parent and newborn craft keepsakes, adult and elderly 'Creative Crafters' events and the new monthly 'Family Fun' events.

The evening gala included an award's evening recognising franchise owners who have contributed to their community or made significant developments in their business.

"Our franchise owners make such positive contributions to their local community," says Fran Long, the franchise dedicated support manager. "We are really proud of the differences all of our Creation Station family makes, so judging the awards is really tough. Our one hundred and twenty-four franchise owners are becoming more and more successful and the calibre is really high."

The prestigious title of the "Best Franchisee of the Year 2016" was awarded to Ruth Morris from Aberdeen for delivering the core values with such passion to her local community.
The prestigious title of "Best New Franchisee of the Year 2016" was awarded to Helen Naraine from Solihull for a phenomenal first year.
The prestigious title of "The People's Choice Award" (chosen by the network) was awarded to Nicole Norman from Stevenage for her incredible support to the team.
A new 'Innovation Award' was given to Emma Theunissen for developing the Tiny Treasures newborn keepsakes, after the birth of her third child, Mae.
Additional awards were given out for outstanding actions, these included: "Best Member of Staff", which was awarded to Donna O'Donoghue who works in Kirsty Hickson's team in Driffield.
The "Best Retailer" was awarded to Claire Darnley from Halesowen.
The "Best Can Do Attitude" was awarded to Suzie Smith from Grantham.
The prestigious silver award for inspiring over 3,000 children in a year was awarded to: Lisa Hagg, Suzie Smith and Jann Thorpe.
The bronze award for inspiring 1,000 children in a year was awarded to:
Alex Chaundy, Debbie Kersley, Emma Hinkins, Rebecca Wootton, Jo Rivett, Lisa Tye, Nicola Cliffe, Emma Winterbourne, Stephanie Swann, Tracey Pennell, Hayley Cronin and Alex Parker.