22-October-2008
Company Gold & National Silver awards for Pirtek franchise Stoke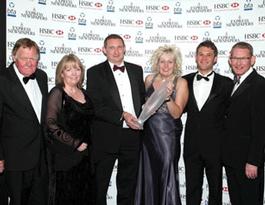 Craig Harrison, proprietor of leading local hose service provider Pirtek Stoke, has achieved an unprecedented double. Having already been named Pirtek Franchisee of the Year, Craig was named as the silver place runner-up in the British Franchise Association's own Franchisee of the Year award last week.
Craig's story is not so much rags to riches as coal miner to company director. Having worked as a miner since leaving school, Craig joined Pirtek in 1993, initially working as a Mobile Sales and Service Technician (MSST) at the Stoke Centre.
Within three years, Craig's hand-on experience and enthusiasm earned him a promotion to Senior MSST. Two years later, he was promoted again, this time to the role of Centre Manager, a critical role in any of Pirtek's network of over 90 Centres across the UK and Ireland. Having proved his capabilities at the front-line of the business, Craig seized the opportunity to purchase the Pirtek Stoke operation when it became available in 2001. Craig believes that his meteoric rise has given him a unique insight into the Pirtek business. "From working as a man on the van to becoming company director gives me the knowledge of what can and cannot be done across all aspects of the Pirtek business," he says.
It is an insight that has clearly paid dividends. Since taking over the Pirtek Stoke operation, turnover has grown from £650,000 per annum to over £1.2 million. Craig subsequently underlined his confidence in the Pirtek business model, acquiring additional Centres in Warrington and Wigan and setting both of them on an equally ambitious growth path.
Craig's achievements were recognised earlier this year when he was named as Pirtek Franchisee of the Year for 2008, and again last week when he came second in the world-renowned British Franchise Association's Franchisee of the Year later this month. "I was up against other franchisees from a diverse range of companies and industry sectors so the competition was stiff," Craig Harrison concludes. "But 15 years ago, I was driving a van and wielding a spanner for a living and today I am the proud owner of three very successful Pirtek businesses. I know that with a bit of hard work and commitment, anything's achievable."