Last Updated: 05-June-2018
Exclusive Interview: "We supplied a James Bond movie set in London at Pinewood Studios!"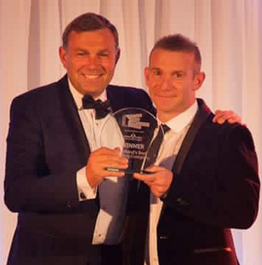 Franchisors Names: Ross Nicholl & Richard Snape
Name of Franchise: The Wooden Floor Store
Tell us a bit about yourself including when and why you joined The Wooden Floor Store and your past employment within or outside of franchising
Myself (Ross Nicholl) & my business partner Richard Snape established the company close to 20 years ago now. The company has evolved massively over that time, at that stage both of us were fresh from completing our university degrees. We have worked at every stage within the business and have now gained extensive experience across the whole sector from sourcing to manufacturing internationally, as well as dealing with a vast array of client types right from retail to restaurant groups, schools, celebrities and movie sets.
When was The Wooden Floor Store established? And what were the factors for deciding to go down the franchise route?
The business began in Northern Ireland in 1998 and in 2000 we opened our first store in Scotland. Some 20 years later and with both of us still pretty young given that we came straight from university into the market we now have a wealth of experience, big ambitions, key business differentials and importantly a track record which we believe will make the business a success with going in this direction.
What have been The Wooden Floor Store's biggest achievements/successes to date so far?
For almost everything we sell we are involved at every stage of the process, right from the forest to the floor, the vast majority of our sales are accounted for by our own lines, our own unique and company owned - non compete- own brand wooden floor collections. This has taken years of experience and know-how to put together.
"Our most high profile sale was when we were selected to supply thousands of square metres for a James Bond movie set in London at Pinewood Studios."
What challenges have you had to overcome?
As we were becoming established and were not in the position we are in now we had strong local retail competitors, many of whom have now fallen by the way side. We have also come through the recent recessions and credit crunch when the property market crashed.
What marketing/promotional tools do you use to grow your franchise?
Online marketing through whichfranchise! As well as this we are working with a few consultancies.
What differentiates The Wooden Floor Store from the competition?
We are the only wooden flooring specialist franchise within the market. Our main differentiation from other flooring companies is that our franchisees are able to compete and out perform their local competitors due to our involvement in the production. We have many niche products that sell well and the brands, we own our own brands – that is a big differential.
What qualities do you look for in a franchisee? What makes a successful franchisee?
"Drive, commitment, organisational skills, local knowledge and sales ability."
We will support the franchisee through our training program and beyond but the attitude and focus must be there throughout from the franchisee. We can set the foundations but they have to make it happen. With the right partners we can only see success.
What changes have you seen in your industry over recent years? And how have you adapted to them?
From a consumer point of view, there are trends that come and go and we try to stay at the forefront of this. Myself and Richard are continually visiting our manufacturing partners in Europe and the Far East both at their factories and trade shows and we look to take the best from a collective basis and improve on the offering available. Very few retail businesses in any sector, (never mind in flooring) have the ability to do this, we set our own direction.
What does the future hold for The Wooden Floor Store?
Our first franchise is open now a matter of weeks only. Already the business is performing very strongly and ahead of forecasts and projections. We are speaking to other interested prospects and working with our consulting partners with a plan to grow the base with a focus across England and Wales in the years that come.
What expansion plans have you got nationally and internationally?
Internationally would be nice, never say never but for now our focus is within the UK, we would like to see the brand become the top recognised name within the retail market.
What advice would you give to someone considering franchising their business?
Understand the franchise model, take advice from specialists and work with people you can trust. Be sure you have the infrastructure within to support as you go forward.
If you had to do it all again, what would you do differently?
The franchise business is new to us – come back and ask us in 5 to 10 years when hopefully we will have been a major success and we will be able to answer – "not much". It is important to listen to your customer base and understand each of the processes and stay focused, on this basis we will move forward.
To learn more about franchisee opportunites with The Wooden Floor Store request an obligation-free prospectus here!
view The Wooden Floor Store profile