Last Updated: 11-January-2019
From store manager to multi-unit owner of Camile Thai franchises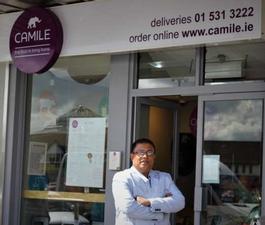 Pramod Thankappan started his Camile Thai career as a store manager in 2011. Since then he has opened 4 franchises with plans to open more. Pramod tells his story about his journey with Camile Thai so far.
I began my career at Camile back in 2011 as a manager, and I never imagined that I would be the owner of 4 franchises, with more on their way.
Camile was only in its infancy when I joined, with only 1 restaurant in Dublin to their name. I had never encountered a fast-casual restaurant that is insistent on using fresh and high-quality ingredients. Camile deserved to be classed apart from your average takeaway, whose food is usually riddled with MSG and is generally very unhealthy.
Over the years, we built a strong brand and reputation as the Best Thai in Dublin, which allowed us to successfully open restaurants every year. As a company, Camile now has 10 company owned restaurants and 11 franchises.
I had significant management experience in the food industry and that allowed me to progress through the company and become Camile's first head of operation. I saw that Camile's business model was thriving in the Dublin market and the more I've seen of this market develop, the more you can see people's attitude towards food is changing. More traditional restaurants are giving way to fast casual and delivery restaurants and it's an exciting market to be a part of.
As a franchisee, it is great to be able to be in an environment where you work closely with people in the Camile head office. There's always a worry that a company may lose interest in a restaurant once it becomes franchised as their responsibility diminishes. That hasn't been the case at Camile, as they have been very attentive to all my needs and offered their support when I've faced certain issues.
Camile has grown and developed enormously since I first joined, but it has kept the core culture and principles which drive it. It has been a pleasure to have been working with Camile for the last eight years. I've learnt a vast about the restaurant industry and that has enabled me to achieve success with my 4 franchises. I hope that I'll be working with them for many more years to come.
Visit Camile Thai Franchise page