About whichfranchise - the leading UK franchise website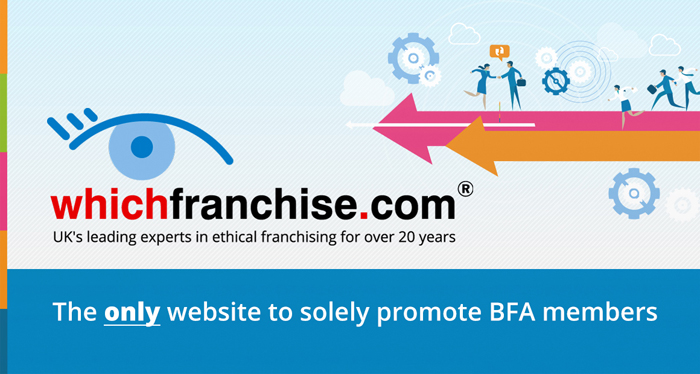 whichfranchise.com, the official online partner of the British Franchise Association (bfa), has been providing prospective franchisees with free, impartial and ethical franchise information and advice for over 20 years. We are the only website to solely promote bfa members.
As well as whichfranchise UK, we currently have websites for Franchising in Ireland, Franchising in South Africa, Franchising in Australia and the US Franchise Resales.
The story so far...
whichfranchise.com is the brainchild of Johnny Sellyn who has been actively involved in promoting ethical franchising for over 25 years. Johnny is recognised as one of the leading experts in UK and international franchising and spends his time between the UK and the US, working with many the world's biggest franchise brands.

Johnny started his career in retail, where he spent 20 years in managerial and ownership positions. In the mid 1990s, Johnny sent up a franchise consultancy with on of the top accounting firms in the world; he primarily worked with prospective franchisees to help them find brands that were right for them. Identifying the need for more accessible franchise information, Johnny and his team developed two CD-roms - "Cdfex", the world's first Interactive franchise exhibition and directory, and also "The Franchise Advisor", an educational guide to buying a franchise. Both products were endorsed by the British Franchise Association (bfa).
Though the CD-roms proved a success, a more effective and efficient way of delivering this information to a mass audience was needed. The answer was to provide the information online, which led to the development of whichfranchise.com.
We are not just another franchise website!
whichfranchise.com is more than just a 'franchise for sale' directory; our experience and knowledge of franchising means that we are the leading online provider of franchise information and advice in the UK.
Our "step-by-step guide to franchising" provides prospective franchise owners with everything they need to know about buying a franchise; from what is franchising, to how to research the best franchise for them and how to identify an unethical franchise opportunity. We have dedicated advice for what legal assistance is needed and how to raise finance for buying a franchise.
Through exclusive interviews with successful franchise owners and behind-the-scenes insights from franchisors, we give prospective franchisees a taste of what franchising entails. We also keep them up-to-date with the latest franchise news, events and opportunities, nationally and in their local region.
"We've been working closely with whichfranchise for many years now and for very good reason. The website is full of useful, impartial advice that should be noted by every prospective franchisee. Like the bfa, whichfranchise focuses on educating and informing its readers, not on selling them something."
The website includes features and interviews that can't be found anywhere else from some of the leading names in the sector, and exclusively showcases bfa-accredited franchise brands that have demonstrated their commitment to franchising ethics, rather than simply promoting any business willing to pay for the privilege. That alone should tell you everything you need to know about the quality of information on offer.
We're proud to call whichfranchise our official online partner."
Pip Wilkins, Chief Executive, British Franchise Association
Contact Details
Email: suzanne@whichfranchise.com
Address: whichfranchise.com, Suite 4/4,75 Bothwell St, Glasgow, United Kingdom, G2 6TS
Tel Number: 0141 204 0050
Fax: 0141 204 0048